Ball In A Bucket Funfair Games Hire
Another of our traditional games.

Again a nice simple concept, but fiendishly difficult to win on. All you need to do is throw a ball into the bucket. Oh, did we mention it has to actually stop in the bucket to win. To make it even more difficult you can require 2 out of 3 to stay in, or even 3 to be really tricky.
Ask for details. Quote me on your balls games.
Games Should Be Fun, And Winnable
Our brightly coloured interiors and cute characters add a touch of fun to any event. We can supply prizes for you, or work with you to source something suitable for your event.
Unlike many games on a traditional funfair, ours are designed to enable your guests to win, so everyone goes home happy.
Custom Personal Branding
Like all of our games units, we can add custom branding to the balls in a bucket game. The bottoms of the buckets, front panels of the stall, and the bucket holder cann all be printed with your custom names or branding.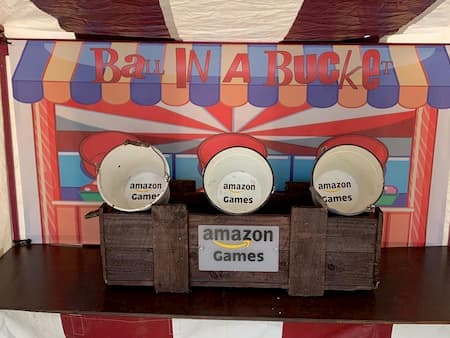 Perfect for weddings, parties and events, our games stalls can be set up indoors or out and provide a funtime for guests of all ages.
F.A.Q.
WHERE CAN I HIRE A BALL IN A BUCKET STALL NEAR ME;
We can provide a ball in a bucket game anywhere in the U.K.
CAN WE HAVE PRIZES;
Yes all of our stalls can come with traditional funfair prizes, or we can work with you to provide custom gifts.