Hire A Funfair Ride For Your Event
Make your life like a funfair. Be crazy, be weird, have fun. But don't be sad

There are just too many scruffy cowboy operated funfair rides out there, being used part time in the events industry.  You need industry leading safety documentation, images of the actual rides you are hiring and a professional service.
WHEN IT COMES TO FUNFAIR RIDES HIRE DON'T SETTLE FOR
•Scruffy Rides
•Poor Service
•Unsafe Attractions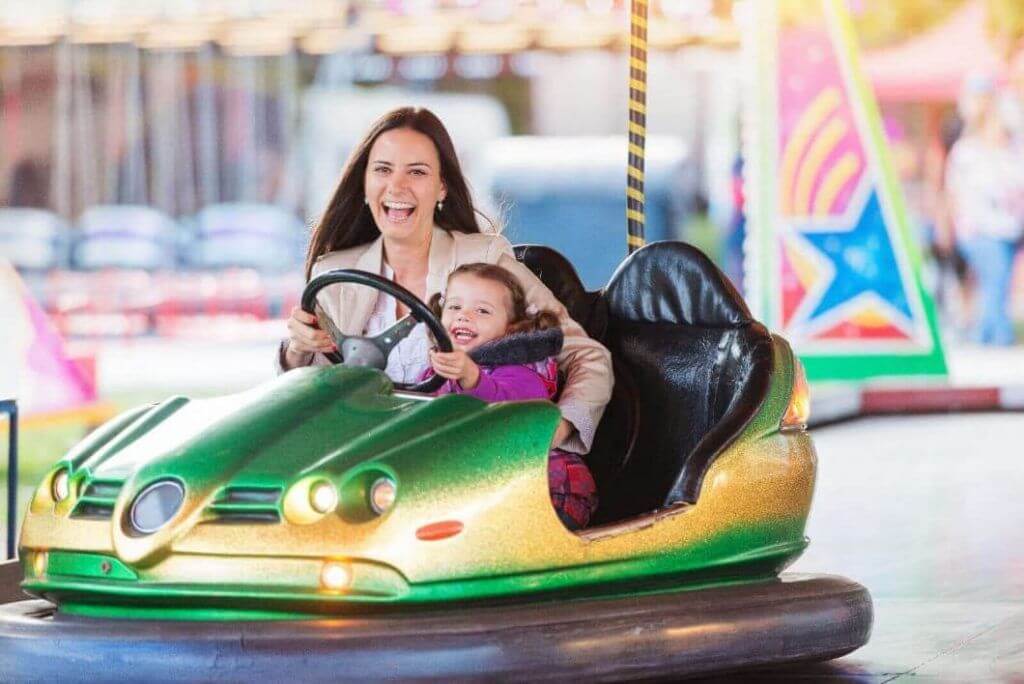 Dodgems
Dodgems are easily the most popular fairground ride to hire. Beloved by all ages, we offer a range of tracks. In both traditional and ultra modern version. Read our top tips for hiring dodgem cars. Hire Dodgems…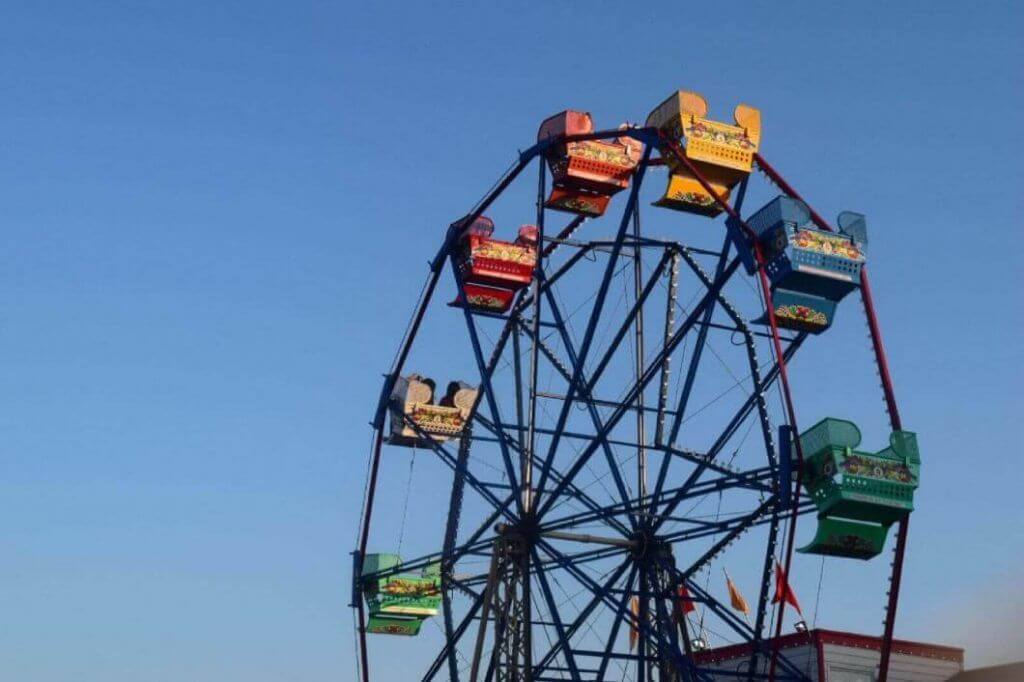 Ferris Wheel
An oldie, but definitely a goody. The ferris wheel has a timeless appeal that means its always high on the desirability list. Hire The Ferris Wheel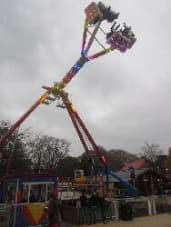 Freakout
The Freakout is one of the most up to date white knuckle rides available for funfairs. Tall big and definitely fast. This one is not for the fainthearted adding a real buzz to any event
Waltzer
Another traditional ride that is still going strong on the fairground. A Waltzer is still high on the fun factor list when planning an event. Take A Look At The Waltzer.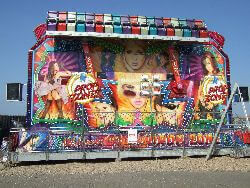 Miami Trip
The Miami Trip. A good choice when your guests like a fast funfair ride. Due to the small footprint this can be used where many other rides won't fit. More About The Miami…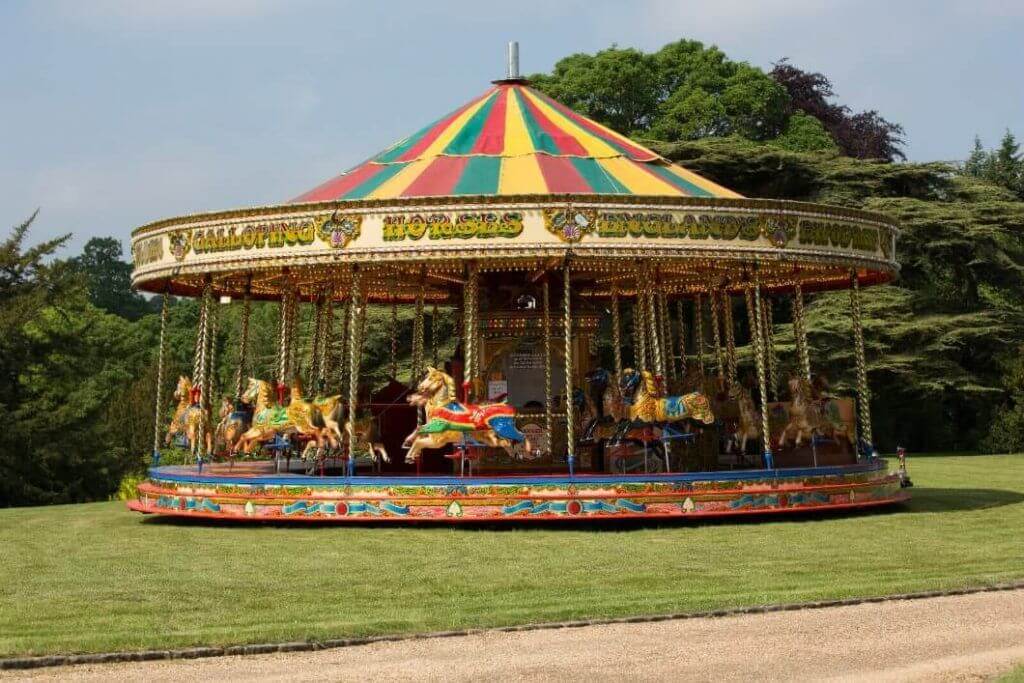 Victorian Carousel
The Carousel, or "Galloping Horses" is a slightly more sedate ride than some of our othes.   Ornately decorated this provides a stunning backdrop for wedding photos. More About Carousels…
Cyclone Twister
Another fairground ride which is fast and fun. This one is also tame enough for some of the younger children to enjoy. Hire The Twister.
Fairground Rides Hire
All of the fairground rides and attractions you will be supplied with carry;
•£10 Million Public Liability Insurance.
•Industry Leading Safety Documentation
•Environmental Statement Policy.
•Named Event Manager.
•Annual Inspection Certificates
•Clean Up Service After The Event.
Meteorite
Another older ride that is still going strong on the fairground. Due mainly to its enduring popularity. Centripetal force sticks you to the cage as it rotates at high speed.
Wave Swinger
This is a modern take on a traditional favourite. The flying chairs have been updated for the 21st century . Turning  a vintage favourite into a modern thrill ride.
Rotor
This is an unusual thrill ride, you enter a giant drum, which begins to rotate, until the force sticks you to the wall. Then the floor disappears. More About The Rotor…
Swing Boats
Another Victorian era funfair ride that is still being hired on a regular basis. Swing boats, or Shuggy Boats as they are know in the North East are still a fun attraction.
This is only intended as a short guide to some of the most popular fairground rides for hire. You can have any ride currently active on request.

Planning A Funfair Event With Adult Rides.

We have a massive amount of experience in planning funfairs for private clients for all types of events. Many just choose a selection of funfair rides from a list and think they will work fine, which sometimes they do. We prefer to investigate just what and who an event is for before making recommendations. This allows us to take into account the correct selection of rides for the ages and numbers of guests present. It's of little use to specify all high speed white knuckle funfair rides if 90% of your guests are under the age of 10 or over the age of 60.
Similarly some events lend themselves more readily to the vintage fairground attractions that are available. A selection of sidestalls, and things like candy floss and hot dogs may also be needed. This is to produce a nicely balanced funfair that is enjoyable for everyone.
Our experience allows us to advise on just what will and wont work in any given scenario. The single most popular funfair ride is the dodgems, some specialist advice is available to help you understand the choices you have.
Health And Safety.
You will have a selection of high quality attractions that carry all of the correct annual ADIPS certificates. These are a legal requirement when operating fairground rides in the U.K. We also provide the most comprehensive safety documentation in the industry. Our public liability insurance cover is  £10 million to ensure peace of mind for you in the highly unlikely event of anything going wrong.
The Health and Safety Executive estimate that you are far more likely to be injured on the way to a fair, than you are once you get there. For safe funfair ride hire let us help plan your event.
Specialist Funfair Rides Hire Providers.

Like most industries there are some excellent operators and some real cowboys around. Providing you with private funfairs,  is a specialised area that we excel in. Why take the chance of hiring a jack of all trades, that operates fairground attractions at corporate events as as sideline to his normal funfair business.
If you are a corporate client consider the effect be of hiring  shoddily presented attractions or funfair rides  breaking down at your event. Imagine the  harm to your companies brand.  This is definitely not acceptable at corporate events, but equally how would you feel at your wedding or birthday party if the attractions didn't turn up, because the operator suddenly decided that good weather meant he would rather be at a traditional funfair charging the public?
We are totally dedicated to the private funfair rides hire market. We do not attend traditional funfairs coming to private events as a sideline, our only business is providing fun, safe attractions to private clients.
You wouldn't hire a butcher to bake a loaf of bread, so why take the risk of hiring a bog standard funfair guy to provide a specialised corporate event or your wedding with attractions?
Branding.
Many of the attractions on offer can be branded for sales promotions or exhibitions. Most funfair rides and games are suitable for this and we can help you with the design of any package of branding requirements.
F.A.Q. Click Here
HOW LONG DO YOU OPERATE FUNFAIR RIDES FOR?
As standard 4-6 hours, but you can pay for extended times.
HOW LONG DO RIDES TAKE TO SET UP?
It varies between an hour and upto a couple of days depending on the type of ride.
ARE THEY INSURED?
Yes for £10 Million public liability.
WHERE CAN YOU OPERATE?
Anywhere in the U.K. and Western Europe.
CAN YOU SET UP ON GRASS?
Yes, and we can provide trackway if it is soft.
DOES ANYONE TEST THE FUNFAIR RIDES?
Yes all rides undergo an annual 'mot' called an ADIPS inspection.
CAN WE HIRE RIDES FOR WEDDINGS?
Yes of course, and for parties, film shoots, pretty much anything you want.
HOW MUCH DO RIDES COST TO HIRE?
That depends on many factors, contact us for a quick, free quote.
We offer a funfair rides hire service throughout the U.K. Including Scotland, London, The Midlands, The North East, Yorkshire, Lancashire. For all the fairground favourites such as helter skelters, waltzers, dodgems, ferris wheel, hoopla, hook a duck, swing boats, carousels,ghost trains, catering, funfair games and children's funfair rides, crazy golf.