Children's Funfair Ride Hire

When the safety of your children are concerned you need to ensure that you use a fully insured, safety certified operator for peace of mind.  Well, you could use a cowboy if you really don't like your kids, but you are on the wrong site if that is what you are looking for.
Operators offering prices well below everyone else are doing so for a reason. Usually because they are cutting corners. Would you trust the well being of your most important treasures with some shady Dickensian character just to save a couple of pounds? Hire children's funfair rides that are presented to a high standard, and above all safe and give the children at your event a real treat!
Toytown
One of our most popular children's rides. The toy-town has a selection of different attractions that allow kids of various ages to ride safely. More about the Toytown..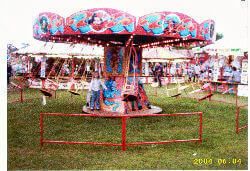 Flying Chairs
Perfect for slightly older kids. The flying chairs is a faster, more thrilling ride that has been popular since Victorian times.
Train Ride
A perennial favourite. We have various types of train rides for hire, all of them still as popular as when you were a kid.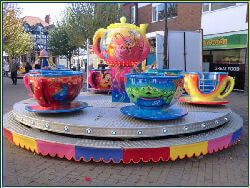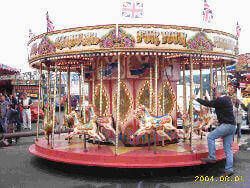 Mini Carousel
A miniature version of our Victorian Carousel, specially for the children, this is almost as stunning as the full sized ride. More About The Carousel…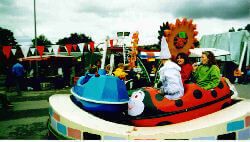 Ladybirds
One of the smaller rides available, the ladybirds is only really suitable for the younger children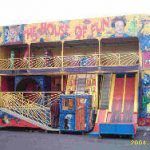 House Of Fun
The funhouse is like a super play area, with moving parts, swings, barrel rollers, moving staircases, and more, an ideal complement to a selection of children's rides.
All of our attractions are supplied with;

•Industry Leading Safety •Documentation
•£10 Million Public Liability Insurance
•Daily Safety Check Books
•Annual Safety Inspection Certificates
•Trained Operators
Helter Skelter
One of the classic funfair rides for hire, a helter skelter has been entertaining kids for well over 100 years.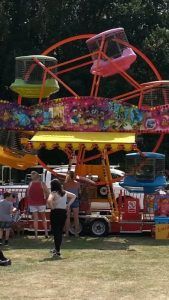 Mini Ferris Wheel
A ferris wheel in miniature, perfect for the younger kids with totally enclosed seating. The decoration and lights make this a great centrepiece.
Jumping Jack
A totally different ride to most of the others available, the seats jump straight up and proceed to bounce up and down, again not suitable for the smallest of children.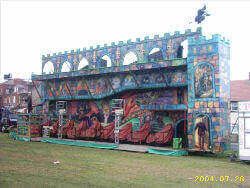 Ghost Train
One of our more spookier rides for hire, a ghost train is a great attraction, not just for Halloween events but suitable any time of the year.
Fun Swing
A totally different ride to anything else, where most rides go in circles, this one has swing. More About The Swing…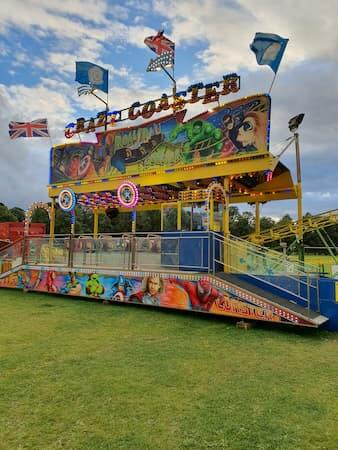 Mini Roller Coaster
One of our larger kids rides, the Crazy Roller Coaster. Fast enough to thrill, gentle enough for all the family. More About The Roller Coaster…
Bungee Trampolines
High powered elastic trickery. Loop the loop, bounce higher and higher, maximum fun for kids of all ages. More….
This is only intended as a short guide to some of the most popular children's ride hire. You can have any ride currently active on request.

Children's Ride Hire Selection
When you want to hire kids funfair rides, the best combination of rides depends on a number of factors, how many kids do you have coming to the event, what ages are they, how long is the event running for, can you access the site with a trailer mounted ride? With all of these factors taken into account we can advise you on the best selection to suit your precise requirements.
In line with all of the fairground attractions we provide, all of our rides come with ADIPS certificates, this is the Amusement Device Inspection Procedure Scheme and is basically like an annual MOT that each ride must have every year, and must be carried out by an approved independent engineer. Any ride that fails this inspection, cannot legally be operated until the faults have been rectified, and the ride re-inspected.
SAFETY
In addition to this, all of our attractions have to carry a daily log book, which is signed at the start of each day following a prescribed daily inspection of the ride or attraction, any incidents, or faults must be logged into this book, and after the fault is rectified, the person responsible must sign it to accept responsibility.
Hiring a ride or 2 is fine for say a birthday party or really small event, but for a normal sized company fun day you really need a selection of different attractions, ideally games, rides, perhaps a helter skelter, and something like candy floss or ice cream. Based on the large number of events we have provided attractions for in the past, we have an intimate understanding of what works well together to create the complete event. Please note that we no longer supply bouncy castles.
We can design a complete event for you. supply and install the funfair rides and attractions from our huge range. operate them, then derig and remove them, and finish up by cleaning the site before we leave. We have comprehensive insurance to cover any eventuality, in depth safety documentation to cover all the necessary emergency procedures, and trained operators, stewards and event managers to ensure the smooth running of your event.
We offer a hire service throughout the U.K. Including Scotland, London, The Midlands, The North East, Yorkshire, Lancashire. For all the fairground favourites such as helter skelters, waltzers, hire dodgems, ferris wheel, hoopla, hook a duck, swing boats, carousels, catering, funfair games and children's funfair rides.