Hire A CamperVan Photo Booth
What happens in the campervan stays in the campervan

You can turn up the fun at your event with something different. Our mini replica camper van may be small but its packed full of fun.
Utilising our standard set up of Dye Sub professional print system, Canon DSLR camera and touch screen control system, we have added a beach theming, Beach Boys music system and a stunning pearl white and candy apple red paint job.
This has proven super popular at weddings parties and numerous corporate events. It can be customised and decorated to suit corporate promotions and brand awareness events.
Do you really want a booth in a box?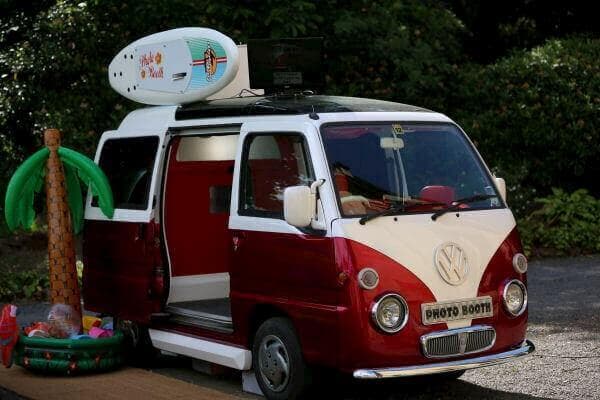 Hire A Camper Van Photo Booth
Betsy is our mini campervan VW photo booth. Built into a vintage mini VW camper van replica, this is a booth with added fun and unique experiences, another of our unique photo booths.
A hifi music system plays all the Beach Boys favourites, a green screen backdrop places your photos in the midst of some of the world's most stunning beaches (though different themes are available), and the prints are dispensed from the roof mounted surf board, like the beach boys song, we'll have fun fun fun.
This is a perfect booth experience for;
•Weddings
•Parties
•Sales Promotions
•Company Fun Days
•Exhibitions
•Anywhere you want your guests to have fun.
Check out our other crazy booths!
Camper Booth Is Supplied With
In common with all of our booths, Betsy comes as standard with;
•Guest Book
•Instant Prints
•Extra Set Of Prints
•Custom Themed Prints
•Box Of Themed  Funky Props
•Fun Booth Butler
•Web Gallery Of Photos

She Also Has;
•Custom themed backdrops
•Beach Boys Music System
Additional Options Available;
•External Screens
•Large Print Sizes
•Additional Set Of Prints
•Custom Branding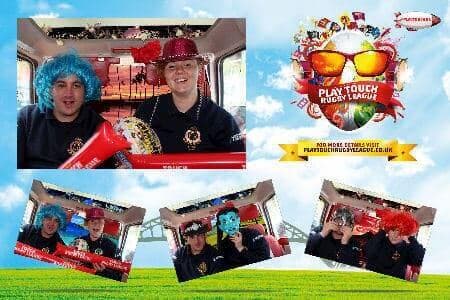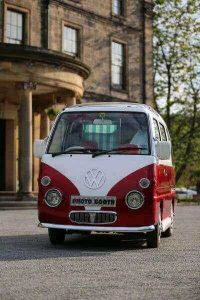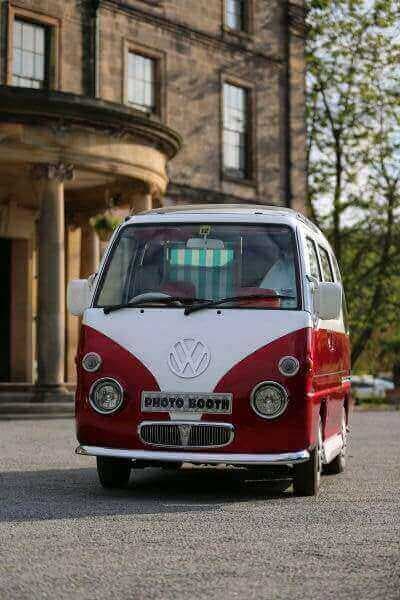 High Quality Personalisation
Our camper booths can be personalised to suit any event, be it a wedding with coloured ribbons to match the brides theme and the bride and grooms names, or a full vinyl wrap for a series of sales promotions.
Our camper booths use the latest state of the art photo booth systems. including;
•Award Winning Professional Dye Sub •Instant Dry Print Systems
•Canon DSLR Cameras
•Integrated Touch Screen Control Units
Don't settle for booth that still use outdated inkjet printers and web-cams, they are definitely second best. A dye sub print system is instantly dry, none of the old fashioned waving your photo around to try and stop it smudging.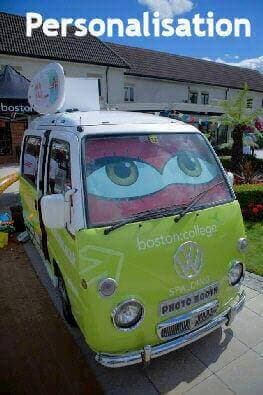 SOCIAL MEDIA SHARING
Use our wireless social media tablets to offer instant uploads to Facebook, Twitter, Instagram or your guests email address. Great for weddings, perfect for spreading brand awareness at a corporate event.
PERSONALISATION
We offer a full customisation service for our camper van photo booths. This can be as simple as adding coloured ribbons for wedding, through to a complete vinyl wrap. The interior of the camper can be customised with different coloured decorations, or custom backdrops for the green screen. The camper is ideally suited to exhibition use, corporate fun-days and promotional use.
CALIFORNIA COOL BOOTH
Another classic icon, a child of the 60's the camper booth will be forever linked with that carefree California beach lifestyle. Throw a surfboard or two in the back, hitch up with some friends and head for the beach. Our camper booth brings a ray of sunshine to any event, with classic beach theming and the best in Beach Boys music, this is entertainment even before your guests enter the booth.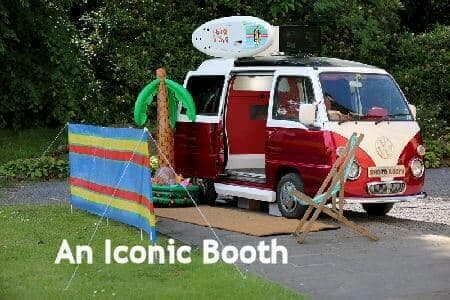 F.A.Q. Click Here
WHERE CAN I HIRE A CAMPER VAN PHOTOBOOTH NEAR ME;
We can provide you a service anywhere in the U.K.
WHAT TYPE OF VEHICLE IS YOUR CAMPER VAN;
It is actually a Subaru, the Japanese have a passion for VW camper vans, and turn various other vehicles into replica's.
CAN THIS BE USED INDOORS;
Certainly, as long as the doors are large enough for it to come through, and obviously there are no steps to navigate.
Hire a CamperVan Photo Booth, add a unique mini VW campervans available Throughout Lancashire, Yorkshire, London, The Midlands, The North East, Scotland And The Rest Of The U.K. And Europe. Perfect for weddings, birthday parties, corporate events, exhibitions and fun days.