History Of Crazy Golf

A much played game, with many names, Mini Golf, Goofy Golf, Mini-Putt, Midget Golf (not sure that one is used any more) and no doubt many others from around the globe.
Basically a course of 'holes' with crazy obstacles. These can range from simple slopes and blocks, to themed items such as our wedding cake and windmill on our wedding themed game.
Like actual golf, the idea is to make your way around the course in as few shots as possible. Because it is basically a putting game, it can be installed in quite compact areas, inside buildings or even venues such as a bar or restaurant.
Like many things there are conflicting ideas as to how the game came to be, read on to read a few opinions.
If you would like to hire a Crazy Golf game check out our page.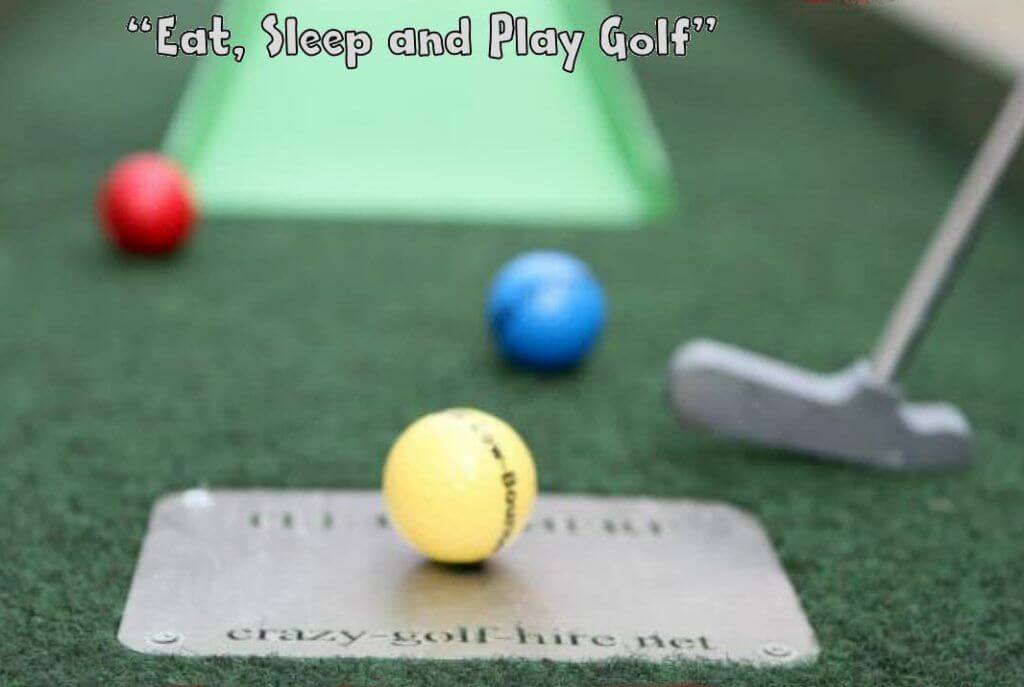 In Today's Instagram Generation, Everything You Do Will Be All Over The Web, It hasn't just got to be good, it has to look good too.
St Andrews Ladies Putting Club

At the famous St Andrews golf course in Scotland, the caddies laid a small putting area out. During quiet times a few ladies would play.
Evidentally there was some tension between these ladies and the caddies, so much so that a Mr D.L. Burns had a 9 hole course laid out as a 'miniature links' by Old Tom Morris, and so the St Andrews Ladies Golf Club was formed in 1867.
The first competition occured in 1867 with a gold locket as first prize and a silver pebble brooch as second. These are still played for annually.
The club flousrished at one point it claimed over 400 lady members and 200 associate Gentleman members. History records a umber of romantic matches being made at the club, so it might also be considered the precursor to the modern dating agencies as well!
Garnet Carter

The owner of the Fairyland Inn hotel, already operated a real golf course. In the late 1920's he decided to open a miniature one. His wife Frieda believed it was meant to distract the 'golf widows'.
This course was different however, it had gnomes and hollow tree trunks and other 'obstacles' meant to complement the Never Never Land atmosphere of his hotel.
This brainchild became a fad, by 1930 it was reported that there were 25,000 mini golf courses in the USA.
This initial craze died down, but the baby boomers sparked a resurgance. Nowadays there are around 5000 mini courses in the US.
The Chinese Claim

There is a game in a chinese book dating from around AD945 describing a prominent chinese magistrate instructing his daughter to 'dig holes in the ground so that he might knock a ball into them with a purposely crafted stick'. Obviously this can't have been golf, because the Scots invented that, so obviously this must have been crazy golf.
We provide event management, team building and our services for private clients including weddings, parties, bar mitzvahs, bat mitzvahs, Military balls, college balls, university balls, corporate events, corporate , company fundays and exhibitions throughout the U.K. and Europe, including Scotland, London, North Yorkshire, Lancashire, The North East and The Midlands.