Hire A Horror Themed Taxi Cab Photo Booth
It's creepy and its kooky, mysterious and spooky. Horror photo booth hire

Meet Penny Dreadful, not for the faint hearted, our horror themed taxi booth, complete with ghoulish props, spooky music, chilling sound effects and props galore this is perfect for Halloween or any other spooky themed event experiences.
Our range of stunning high quality latex props really make the theme, and are a step up from the usual cardboard cutouts.
If you want to make an impression at a spooky party then this one fits the bill.
Our horror themed taxi provides a vintage spooky booth experience, but still uses our world class booth system of;
•Canon DSLR Camera
•Dye Sublimation Print System
•Integrated Touch Screen Control System
This provide professional standard photos, printed in under 30 seconds and totally dry to the touch when they are dispensed.
When it comes to photobooths, inkjets just dont cut the mustard and our professional dye sublimation print system are the only way to achieve high speed quality prints.
Our Horror Themed Taxi Booth Is Supplied As Standard With;
•Guest Book
•Additional Print Package
•Horror Themed Props Box
•Spooky Music and Sound Effects
•Booth Butler
•Custom Themed Prints
•Green Screened Backdrop
•A Selection Of High Quality Horror Props
We also offer a selection of horror themed stalls and catering units.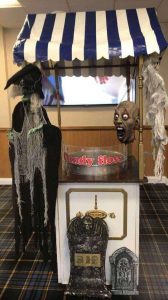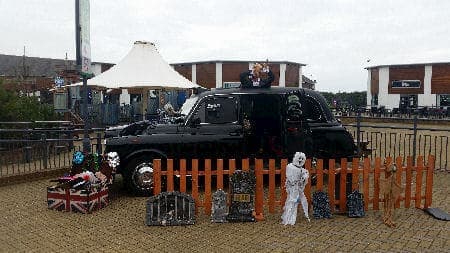 We also offer a range of additional options with our horror taxi booth including; 
•Larger Sized Prints
•Additional Print Packs
•Customised Number Plates
•VideoBooth Facility
•Social Media Uploads
•Custom Branding
This is one of our most popular booths around Halloween so don't hang about as we have limited availability for that period.
Our themed prints can have really gory customisation, or if little ones are part of the party we can dial the gore down and produce a fun themed Halloween print.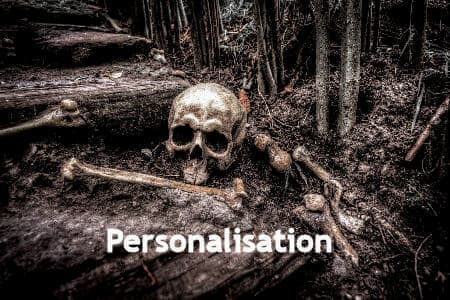 SOCIAL MEDIA SHARING
Our horror taxi booth can link wirelessly with one of our tablet social media units, this allow your guests to instantly spread the social media juice by sharing their images on Facebook, Twitter, Pinterest and via email. For corporate clients the tablet can collect information such as email addresses, ask the user a series of questions and even send out special offers.
PERSONALISATION
Penny Dreadful comes pre themed as a spooky horror cab, but the opportunity still exists to add corporate branding both inside and out. Give your clients a real spooky experience, whilst promoting your brand at the same time. For major promotions we can supply Penny fully wrapped in corporate graphics incorporating both the company graphics and the horror theme.
DARE YOU DO IT
Everyone loves a good horror, its one of those conundrums that people enjoy being scared. Our booth adds spooky sound effects, atmospheric music and gory horror props to provide a fun, but spooky experience. If you are having a horror themed event, or a Halloween party there is nothing out there to match our spooky booth..
F.A.Q. Click Here
CAN I HIRE YOUR SPOOKY PHOTO BOOTH NEAR ME;
Yes we cover the full U.K. with our booths.
Our Spooky Horror Taxi Booth Is Available For Hire Throughout The Full U.K. And Europe Including London, Scotland, Yorkshire, Lancashire, The North East and The Midlands, and is perfect for halloween or gothic themed events. Its perfect for military events, college balls, weddings, parties, exhibitions, company events and corporate fun days.