Hire Del Boy Trotter Photo Booth , the only one in the U.K.
You know it makes sense!

Mange tout, you can have the most unique photo booth in the country, we will save you from dull booths.
Lovely Jubbly, out of all the photo booths we offer for hire, this is far and away everyones favourite.
Loaded with themed props from the series, including Del Boy's classic sheepskin jacket, and mobile phone, Grandads hat and Rodney's combat jacket, this is a must for any fan of the classic series penned by John Sullivan.
The integrated touch screen control system has been programmed with sound clips from the series, so be prepared to be called a plonker and a dipstick whilst having your photo taken.
Nothing beats this for sheer fun, and if you are planning a corporate event or promotion, nothing attracts as much attention from the public as this iconic 3 wheeled van, hire only fools and horses photo booth go on, you know it makes sense.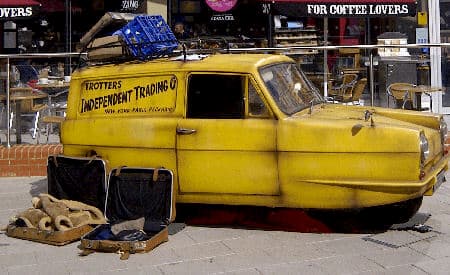 Cushty, our Only Fools and Horses photo booth comes with a fabulous range of themed props including;

•Grandads Hat
•Uncle Alberts Hat
•Flat Cap Hat
•Del Boys Sheepskin Coat, Mobile Phone and •Filofax
•A Trotter Crash Turban
•A Russian Army Camcorder
•Triggers Broom
•A Blow Up Doll
•Canary In A Cage
Of all the booths we offer, nothing creates a bigger impression than this little 3 wheeled van, and for the record it isn't a Robin Reliant, it is actually a Reliant Regal Supervan Mk III, and though you probably wont see one down the Kings Avenue, it may turn up parked outside the nags head, or even a wine bar, to give someone called Cassandra a lift home.
OFAH Photo Booth Hire
Our OFAH photo booth utilises professional grade equipment to offer the best photo booth experience possible, standard equipment includes;
•Canon DSLR camera system (No web-•cams here)
•Dye Sub print system
•Integrated touch screen control system
•Sound system with themed clips
•And A Big Dose Of Yuppy Love
The industry leading package of components provides hi resolution top quality prints every time.
Social Media
Our wireless social media tablets provides a seamless way to spread the photo love. Via various social media, with instant uploads to Facebook, Twitter and Instagram.
This is perhaps our qurkiest booth and is a must for any fan of the series.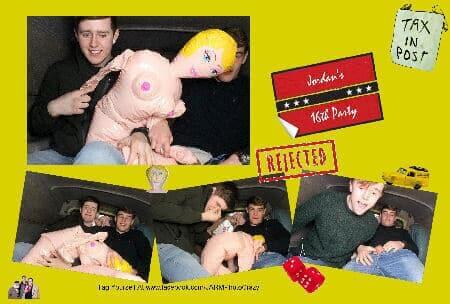 SOCIAL MEDIA SHARING
Like all of our booth, the Del Boy booth can be supplied with a social media tablet, allowing your guests to spread the love via Facebook, Twitter, Pinterest and email. This works super well for corporate events, allowing branded images to be spread via social media to help create brand awareness and publicise your company.
PERSONALISATION
We can help create the perfect event for you by personalising any of our booths. Whilst the Del Boy booth doesn't lend itself to being totally wrapped, it can be mildly themed to help promote a company or business. It works really well when being used humorously, for instance we ran a promotion with a car leasing company along the lines of deal with the professionals or you could end up with a car like this.
A TRUE BRITISH DIAMOND
Del Boy and the rest of his family are true British treasures, and must surely be some of the best loved television characters of all time. The classic clips from the series are too numerous to mention, though falling through the bar counter, or the exploding dolls are surely 2 of the best. Now you can treat your guests to this magical booth and bring a touch of the Trotters in, go on you know it makes sense, don't be a dipstick and pass this opportunity up.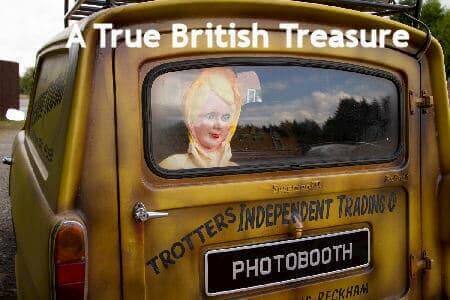 Luvverly Jubberly
Of all our photo booths this one is our favourite. Based on the much loved sitcom, Only Fools and Horses, with Sir David Jason and Nicholas Lyndsey. Throughout the series they drove a 3 wheeled van.
In the series, they continually referred to the van as a Robin Reliant. However this was incorrect on two counts. Firstly the manufacturer was Reliant, not Robin. So the correct name would have been Reliant Robin. Except it wasn't, as the actual vehicle was a Reliant Regal Supervan Mk III.
This was the forerunner to the Robin, and a much older design. The Reliant motor company, resulted from a buyout by the management at Raleigh Cycles. They had decided to leave the motor car business and sold off their stocks of parts.
Because many parts were stamped with R for Raleigh, the new company was called Reliant so that the R still worked.
Don't Be A Plonker Rodney
The sitcom about a cockney wide boy market trader and his soppy younger brother is one of the all time greats. Spawning a host of catchphrases such as you plonker, dipstick, cushty  luvverly jubberly, and this time next year we will be millionaires.
The series followed the ups and downs of the sibling pair. Along with their elderly grandfather, then later their uncle Albert, ("Don't mention the war").
Ultimately they triumphed achieving their life long ambition to become millionaires, though it wasn't to last long, and they returned to their roots at Nelson Mandela house.
F.A.Q. Click Here
WHERE CAN I HIRE A DEL BOY PHOTO BOOTH NEAR ME;
We can provide a booth anywhere in the U.K.
IS THIS THE ORIGINAL VAN OF THE SERIES;
Unfortunately not, they are too expensive to buy, and there were a number of them not one single van, it is however an exact copy and built on the exact same vehicle.
IS IT A ROBIN RELIANT;
No, contrary to popular belief Del never used a Robin, it is actually a Reliant Regal Supervan MkIII.
HOW MANY PEOPLE CAN IT HOLD;
3-4 is comfortable.
Hire Del Boy photo booth in London, Scotland, Lancashire, Yorkshire, The North East, The Midlands and the rest of the U.K. and Europe. If you are a Only Fools And Horses fan, then this booth is the perfect treat, ideal for military functions, weddings, parties, college balls, company fun days, corporate events, exhibitions and sales promotions.