Hire Splat The Rat
Oh so simple, but wickedly difficult

The concept is so simple. Drop a toy rat down a drainpipe, as it come out the other end the player has to wack it with a bat.
Sounds easy right? It's not only fiendishly difficult, its hilarious to watch your friends waving a bat in vain as the rat shoots past them like, well, like a rat up a drainpipe.
Ask for details. Quote me to rat me out.
Wickedly Simple, Fiendishly Difficult
This one is so simple, just whack the rat with your bat. Of course rats don't like being splatted so tend to shoot down the pipe like an exocet missile on steroids. Laugh at your friends vainly waving the bat around, cos they will certainly laugh at you.
Unlike games on many traditional funfair, ours are designed to allow your guests to win, so everyone goes home happy.
Animal Friendly
We can confirm that no rats are harmed during the operation of this game.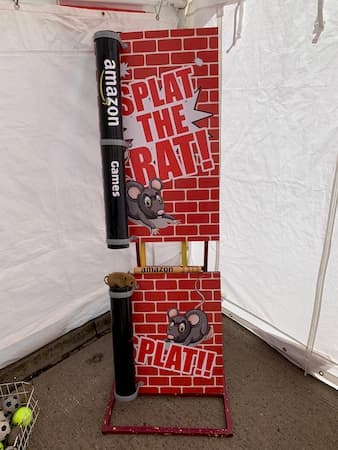 The game can be lightly branded with a corporate logo or happy couples details on the bat and the drainpipe. Or a completely custom backdrop can be supplied.
F.A.Q.
WHERE CAN I HIRE A SPLAT THE RAT STALL NEAR ME;
We can provide a splat the rat game anywhere in the U.K.
CAN WE HAVE PRIZES;
Yes all of our stalls can come with traditional funfair prizes, or we can work with you to provide custom gifts.