Tips For Hiring Funfair Games

When planning an event, there is a large amount of different games available. From the classic hook and duck and hoopla, to the latest paintball shooting galleries. So which should you choose? Well, are you looking to entertain your guests, or are you after the authentic funfair experience, if so we can let you have guns with bent barrels, blunt darts and rings that don't fit the blocks. Just kidding, contrary to popular belief, the funfair doesn't use those dirty tricks, well not all of us.
Figure Out The Age Of Your Guests

One of the main factors, is the age of your intended audience. Something like knock the cans off the shelf is a game of skill/strength and is impossible for smaller kids to win on. Whilst hook a ducks is perfect for little kids, but even slightly older children will find it boring.
Like many things in life, the old classics, are classic precisely for the reason that they work so well. A coconut shie is a challenge for adults, and gives them bragging rights when they win, but at the same time, we can let the kids come a lot closer to make it easier for them, so everyone loves it.
We can help guide you to a choice of games that will suit the age group you specify.
Small Traditional Games Units, Or Large Impressive Units

Again this will depend on what you are trying to achieve. Are you attending a massive conference, and need to impress your clients, and/or competitors. Or is it a family fun day and you want to maximise what you can offer your staff on their day out.
As an example, our smaller Victorian side-stalls are available with many different games, shooting gallery, hoopla, ball in a bucket etc. We also offer larger shooting galleries constructed on purpose built vehicles, with airbrushed artwork, sound systems and impressive lighting. Thing is, the underlying game play is basically the same. The same guns fire the same corks at the same targets. The larger units are designed for traditional funfairs, where many different operators are competing with each other, and are the funfair equivalent of a Peacocks plumage. If you need to make an impression, this is what you want. If you want to maximise the fun for your budget, then you can have between 2 and 4 small traditional units for the same price as 1 large system.

A Balanced Package

A good package of basic games we would usually recommend are;
•Shooting Gallery
•Hoopla
•Knock The Cans Off The Shelf
•Coconut Shie
These can be made easier when smaller kids play and harder for the adults, whilst offering a range of different game play options.
For the record, we never ever recommend Hook A Duck, to make it viable, it is usually operated as a prize every time, because people aren't paying to use it, they will play continually so the prizes tend to be exhausted pretty quickly. Once they are gone, it is a boring game and tends not to be used. If you insist on having one, we are happy to supply it, but we think your money is better spent elsewhere.
In addition to funfair games we also offer Rides and Catering Options.
Read some of our other tip sheets;

In Today's Instagram Generation, Everything Has To Look As Good As It Performs. Everything You Do Will Be All Over The Web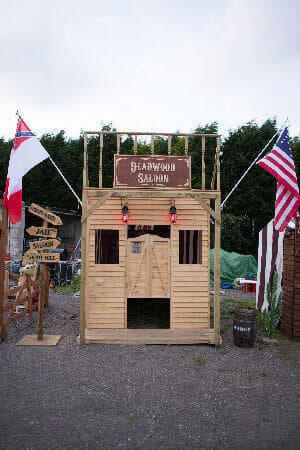 Themed Cowboy Side Stall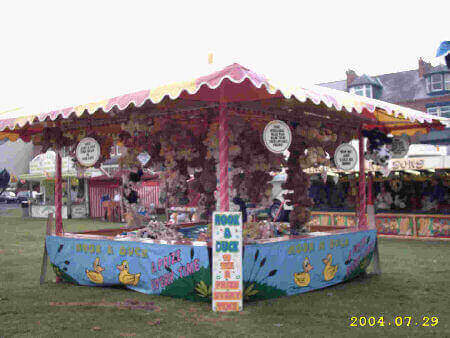 Square Centre Stall
We provide our services for private clients including weddings, parties, bar mitzvahs, bat mitzvahs, Military balls, college balls, university balls, corporate events, corporate , company fundays and exhibitions throughout the U.K. and Europe, including Scotland, London, North Yorkshire, Lancashire, The North East and The Midlands.