Hire Funfair Hook A Duck
One of the traditional iconic games.

They don't come much easier than this, the cute little duckies glide serenely around the pond, we could say they were paddling furiously underneath but really its the miracle of electricity and a water pump.
All you need to do is hook a duck and you win, prize every time. Of course if you need a little more difficulty mixing in then we can mark up some of the ducks as winners, the amount is up to you, as easy or as hard as you like it.
Here ducky, ducky, ducky. Quote me on your cute ducks.
Games Should Be Cute And Fun
Our brightly coloured interiors and cute characters add a touch of fun. Perfect for the kids to enjoy, still great fun for adult parties or sales promotions and exhibitions.
Custom Personalisation
The stalls, hook a duck tank and even the ducks can be custom branded for your event. This can be the initials of the happy couple on their wedding day, or a corporate logo at an exhibition or company fun day.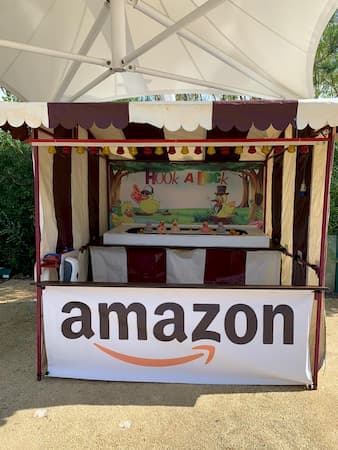 F.A.Q.
WHERE CAN I HIRE A HOOK A DUCK STALL NEAR ME;
We can provide a hook a duck game anywhere in the U.K.
CAN WE HAVE PRIZES;
Yes our stalls can come with traditional funfair prizes, or we can work with you to provide custom gifts.