Belgian Desserts

Waffles are another of our international desserts, popular at weddings and corporate events.  Take a look at our waffle service if you fancy the crisp airy dessert, smothered in sauce and topped with fruit.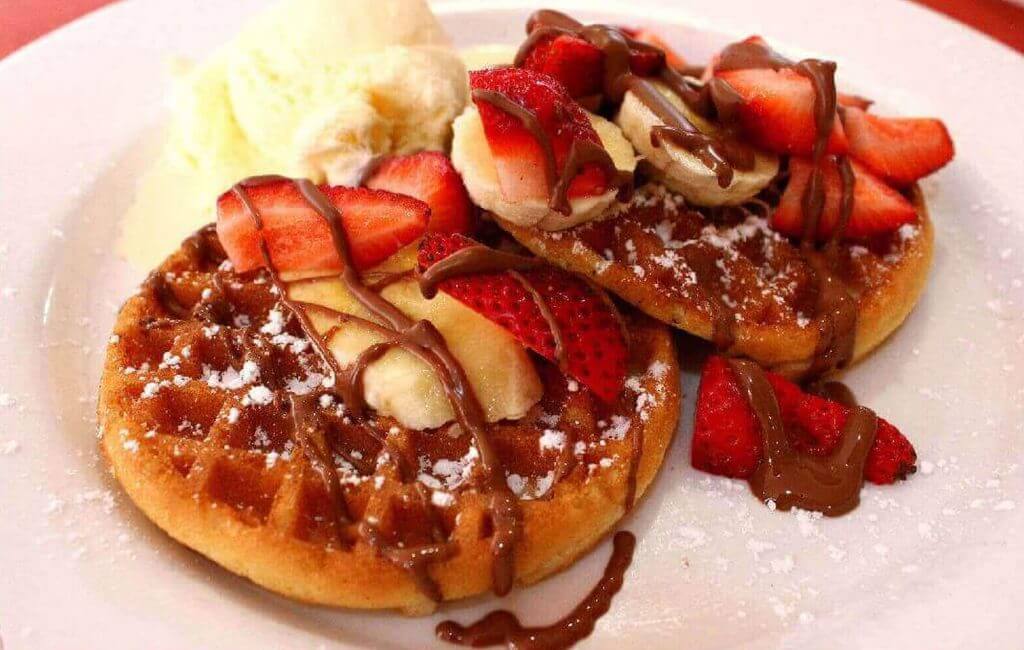 In Today's Instagram Generation, Everything You Do Will Be All Over The Web, It hasn't just got to be good, it has to look good too.
Gaufres A La Flamande

The Brussels and Liege waffles are the more popular of the little European nations waffle offerings. But there is a third offering. The 'Flemish Waffle' is usually eaten after it cools down adn without any toppings.
Couque de Dinant
Another Belgian tradition, cookies made from only two ingredients, wheat flour and honey, that are baked at 300C which gives them an extra hard texture. So hard in fact that they are given to babies to suck on when they are teething.
The dessert dates back to the Roman cake called placenta. As time progressed the savoury parts of the dish were left out leaving the hard sweet cookie of today. They are available with detailed imprints and are sometimes used as Christmas tree ornaments.
Sneeuwballen
A seasonal dessert only available from September to March. A cloud of vanilla coated in dark chocolate and smothered in icing sugar. Invented in the early 20th century be one August Larmuseau a resident of Ghent.
Belgian Pralines

Take the world famous Belgian chocolate, fill them with a soft or liquid centre and you have a praline. Dating back to 1857 when a pharmacist from Brussells called Jean Neuhaus used chocolate to mask the bad taste of medicine. His son took the idea and later used it with a sweet filling and called his invention a praline.
He used a box designed by his wife to store the praline individually. A practice that still continues.
La Dame Blanche

A sweet dessert consisting of vanilla ice cream, whipped cream and hot chocolate sauce.
The dessert shares its name with a famous French opera, one of Sir Walter Scotts works.
Belgian Chocolates

No list of Belgian culinary delights is complete without the mention of their chocolate. Famous throughout the world, the Belgians began by borrowing techniques from Swiss chocolatiers to blend chocolate with nuts, liquers and fruits.
The chocolate industry burst into life during the reign of Leopold II who had access to a variety of cocoa plants throughout the Belgian empire.
We provide event management, team building and our services for private clients including weddings, parties, bar mitzvahs, bat mitzvahs, Military balls, college balls, university balls, corporate events, corporate , company fundays and exhibitions throughout the U.K. and Europe, including Scotland, London, North Yorkshire, Lancashire, The North East and The Midlands.