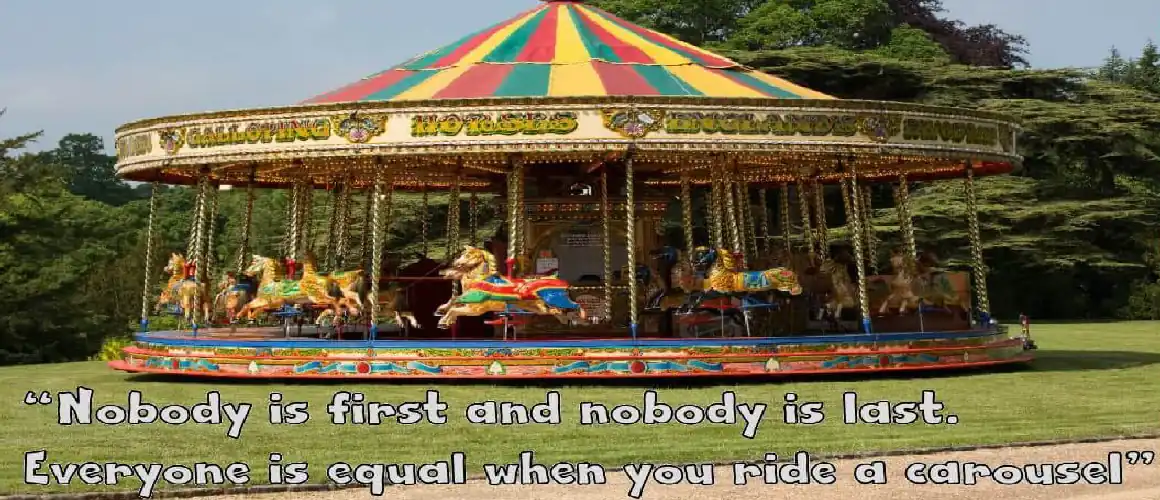 Hire A Carousel When You Want A Touch Of Class
Life is a carousel, it just goes up and down. All U gotta do is stay on

Easily the most ornate ride on the fairground. The Victorian Carousel, or "Galloping Horses", dates back to the golden era of steam.
This is not only a funfair ride suitable for young and old, it also makes a brilliant backdrop for wedding or promotional photos.
Not as fast and stomach churning as some of our thrill rides, this is nonetheless still one of our most popular attractions and makes an undeniable statement at your event.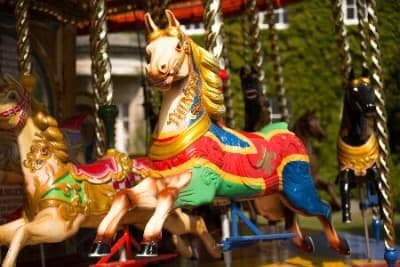 Hire Wedding Fairground Carousel
Probably the most iconic funfair attraction of all time, the Carousel is available in both full sized and miniature (for children only) forms.
A number of spectacularly decorated horses, galloping up and down as the ride turns, along with a selection of chariots, suitable for adults and children.
When you add the overall presentation, with acres of gold leaf, fabulous coloured lights, and when available, an authentic vintage organ, there is very little out there that makes such a stunning centerpiece for your event.
You can hire this with other traditional rides such as the helter skelter, or ferris wheel, giving you a perfect package for Victorian themed events.
Safety Considerations With Our Rides
In line with all of the attractions we offer, our Carousels are provided with;
•£10 Million Public Liability Insurance
•Risk Assessments
•Fire Assessments
•Method Statements
•Manual Handling Procedure Statements
•Child Protection Policy Statements
•Maintenance Records
•Daily Check Records
And any other legal documentation currently required.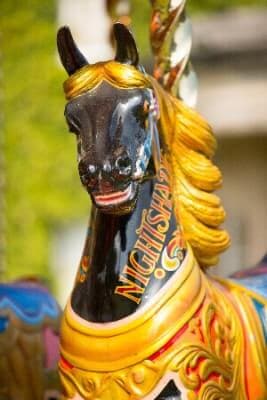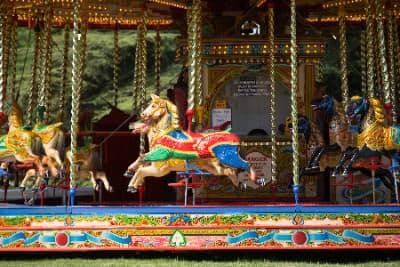 The original funfair rides were small merry go rounds, usually powered by either the operator himself (or probably a selection of children) or as things progressed, a mule or donkey.
A farm engineer by the name of Frederick Savage in 1868, invented a method of powering a funfair ride via a horizontally mounted steam engine in the centre.
This allowed for much larger rides carrying greater numbers of passengers to be created. Indeed in a short time period, many of the huge ornate carousels began to populate events up and down the country. The carousel pictured above, still has its original steam engine in place, though it is no longer usable.
Eventually steam gave way to the new fangled elastic trickery stuff, more commonly known as electricity, and rides gradually switched over to this cleaner power source.
F.A.Q.
WHERE CAN I HIRE A VICTORIAN CAROUSEL NEAR ME;
We can supply all of your carousel needs throughout the U.K.
HOW OLD ARE THE RIDES;
They range from original Victorian examples through to new replicas made with modern techniques.
WHAT AGE ARE THEY SUITABLE FOR;
Older children through to adults. Smaller kids can ride with their parents.