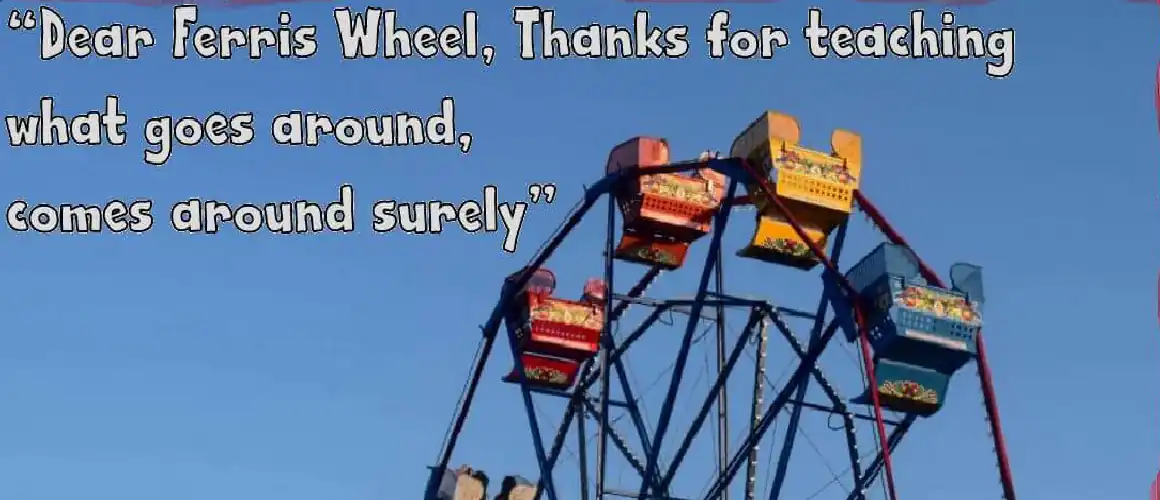 Hire A Ferris Wheel.
Life is like a ferris wheel, sometimes you're up sometimes you're down.

You can now book one of the most iconic of the traditional rides, a Ferris wheel is superb when you need something a little slower for those who don't want to be turned upside down and inside out. Contact Us to see what great deals are available on traditional big wheel hire.
Traditional Funfair Big Wheels have been regular fixtures at funfairs throughout the world for over 100 years.  George Washington Gale Ferris Jr. designed the first ever one in 1893. Your guests will love this!
They are a superb attraction, but also a landmark centrepiece for any event due to its height. Being visible from all over your venue the Wheel is sure to attract attention. A great draw for your bonfire or party night, and one of the most popular of our old fashioned attractions.
Ferris Wheel Hire

The Ferris or Big Wheel, is one of the mainstays of any funfair event. Its one of those  rides like the Carousel or Helter Skelter that is instantly familiar to everyone, being one of the iconic fairground rides.
The view from the ride is unrivalled letting you look out across the entire event especially effective in a city centre.
The ride consists of two giant spoked wheels parallel to each other. Between them are suspended a number of cars for the riders to sit in. As the ride turns, the cars remain upright due to being mounted on rotating axles.
Sizes
The rides need around 44ft width and 35ft depth for installation and 3-5 hours for setup. We have used them successfully at many indoor venues, though obviously they do need suitable headroom.
There are even bigger wheels out there, usually referred to as continental observation wheels. These can be supplied, but realistically, for anything less than a major event they are prohibitively expensive. Mainly due to the logistics required to transport and install them.
Safety
In common with all of our attractions we supply the following with big wheel hire ;
•£5-£10 Million Public Liability Insurance.
•Risk Assessments.
•Fire Assessments.
•Wind Risk Assessments.
•ADIPS Certificates.
•Method Statements.
•Daily Inspection Records.
Many of these documents are legal requirements. Never hire from an operator that cannot supply these. There are plenty of fairground rides available to rent without you having to use a cowboy operator.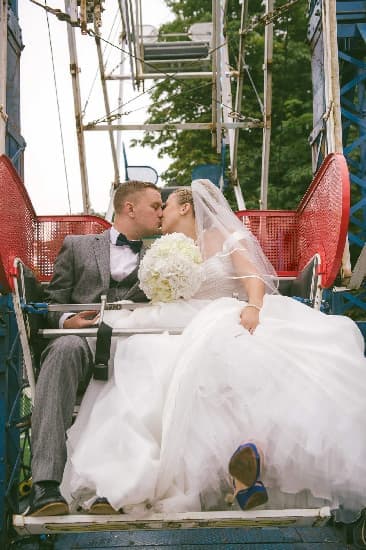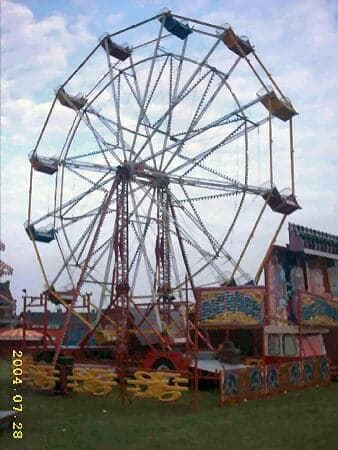 Complimentary Attractions
There are a number of funfair attractions that work great with wheels, if you are going for a nostalgic feel, for the fair of yesteryear, then a Carousel and helter skelter are a must.
On the other hand if you are catering for todays white knuckle crowd, with Miami rides, Cyclone Twist, Waltzers and the like, the wheel makes a great chill out ride, for those a little less daring, of course the ever popular dodgems works as well. Check out our other great rides for more ideas.
Ferris Wheel History
The very first wheel of a type that would be familiar nowadays  was called the Chicago Wheel . Designed by George Washington Gale Jr. It was 264ft (80.2) metres high. This was the tallest attraction at the Worlds Columbian Exposition in Chicago in 1893.
There are historic depictions of pleasure wheels going back as far as the 1600's. With the same basic idea though obviously with a more primitive design.
The oldest surviving wheel is the antique Weiner Riesenrad operating in Vienna, built in 1897. This has enclosed cabins for groups of people to gather in rather than seats as are traditional nowadays.
Most of the traditional rides in the U.K. are imported from the United States, being built by a company called Eli Bridge.
Fun Facts About Giant Wheels
The Singapore Flyer, completed in 2008 was said to cost $240 Million.
The current worlds tallest wheel is 550ft high. The High Roller in Nevada U.S.
The 668ft wheel in Dubai will carry 1400 passengers once it is completed.
The oldest wheel still in daily use is the Riesenrad in Vienna, Austria, dating from 1897.
The original wheel carried 2160 passengers in 36 cars.
The first wheel charged 50 cents per ride, thats the equivalent today of $10.52
The first version cost $380,000 (the equivalent of $8,223,226) to build.
F.A.Q.
HOW BIG IS A FERRIS WHEEL;
The type you would normally hire for a single days event is around 25ft high, 40ft wide and 33ft deep.
HOW MUCH DOES IT COST TO HIRE A WHEEL;
It depends where and when but the cost would range from £1400 to £2500
CAN I HIRE A FERRIS WHEEL NEAR ME;
We offer a service throughout the U.K., so we should be able to provide a ferris wheel to your event.
ARE FERRIS WHEELS SAFE;
All of our attractions are tested annually by an independent engineer, they have full risk assessments and method statements supplied with them, and they carry a daily check book showing the ride has been checked that day.