Branded Sidestall Services For Weddings And Events
Remember the power of social media, everything you do is on the net, 5 minutes after you do it.
We offer a complete custom branding and personalisation service for all of our games units. For weddings and parties it can be the happy couples / birthday persons names. For companies it can be corporate logo's, sales messages, promotional events.
For private parties and weddings upto 150 guests we have our own in house printing and cutting systems and offer a personalisation package, for higher volume corporate events, we can offer professional graphics services from HGGraphics.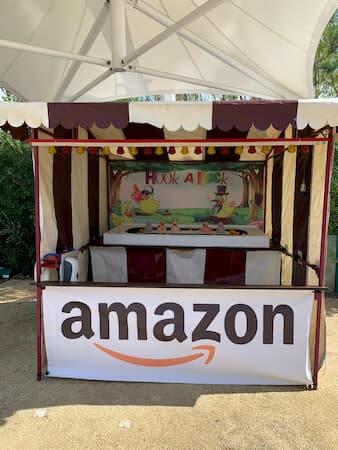 Branded Cans Off The Shelf

The tables for the game have a branding panel, and each individual can has the ability to accept branding, this can be identical on each can, or all 5 on each table can be different.
Branded Ball In A Bucket

The box holding the buckets has a large brandable panel, and the actual bottoms of each bucket provide a nice circular canvas for a logo or sales message.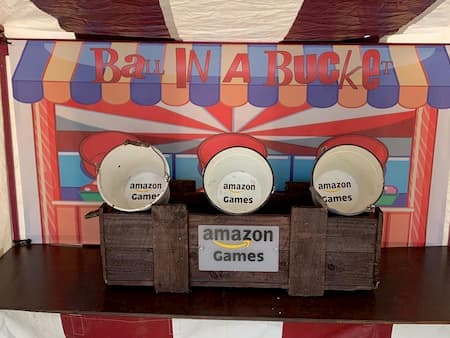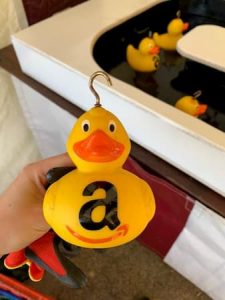 Branded Ducks

The hook a duck tank provides a long thin strip capable of taking full colour branding, and each individual duck provides a brandable surface. Although small it still allows a logo to be prominent.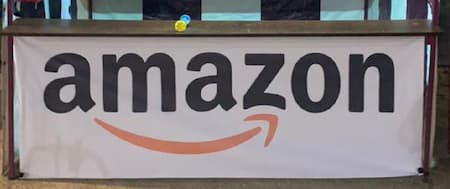 Branded Front Panels
Each stall has a large 7ft wide by 2ft deep panel that can be branded up in full colour at a very cost effective price. It can be something as simple as the Amazon logo above, or a highly detailed artwork.
Branded Ball In A Milk Churn
The two churns provide a nice canvas capable of taking sales promotions, a logo, the names of a bride and groom or ote custom branding.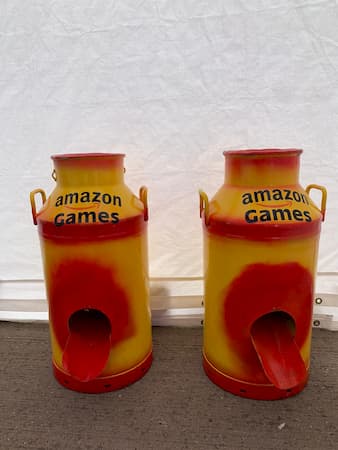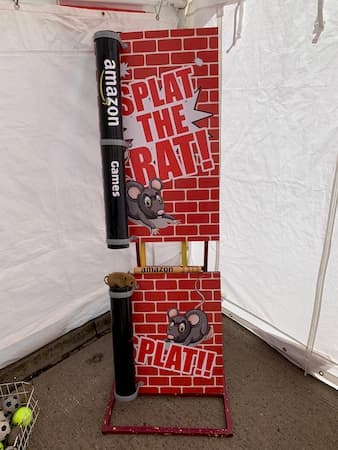 Branded Splat The Rat

The drainpipe the rat runs through can be branded with your corporate details, and even the bat used to hit the rat provides a brand opportunity.
F.A.Q.
HOW MUCH DOES BRANDING COST;
For  corporate branding we can provide a quote based on the complexity of what you want, for weddings and parties there is a small cost to be added.
HOW LONG IN FRONT DO WE NEED TO ORDER CUSTOM BRANDING;
For high volume corporate use lead time can be upto a week. For weddings we offer an in house service that can be provided within a few days.