Event Planning, funfair events
1 November 2020
There is a large selection of funfair games for your Christmas party, from the timeless hook a duck, to themed Christmas shooting galleries.
Over the years we have provided thousands of stalls to different events so have a good understanding of which work the best, not only at parties, but at weddings and corporate events.
There is no one size fits all, as it does depend on the age of the guests, type of party etc, and talking to us would allow us to put a package together to suit your specific requirements.
Hook A Duck
We have included this one first, just to point out that it is a game we DON'T recommend.
Everyone assumes this is the go to game if you have young kids, because it's a prize every time, and something they remember from their childhood. The truth is that there are no games as boring. Because it's usually used as a prize every time game, after a couple of hours the prizes are all gone and no one bothers playing it. Something like a coconut shie, even with the prizes gone, the guests will keep playing just for the prestige of showing they can do it.
And if you want a prizes every time for the kids, well we can do that with any of the games.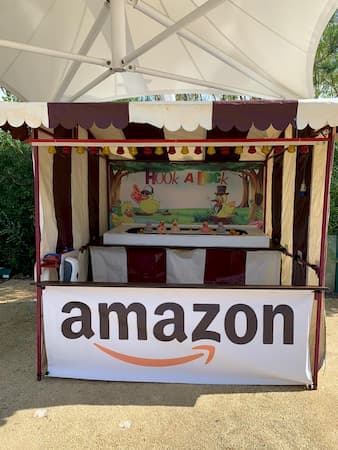 Coconut Shie
Now this is one that we always recommend. Its another of those classic fairground games that everyone remembers. By varying the throwing distance, you can make it easier for the kids and harder for the grown ups. If you are putting together a package of games this should always be on the list.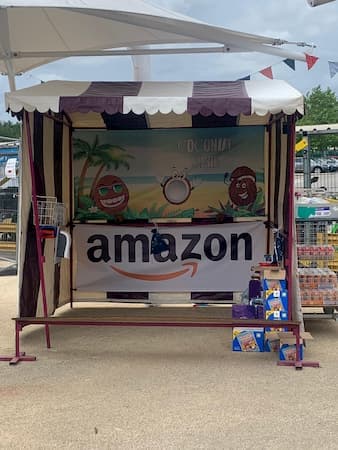 Tin Can Alley
This one is one of our harder games, throw the soft balls and knock all of the cans off the shelf. It makes a good second game for events with adults, as this really brings the competitive streak out in everyone. We help younger players out by removing some of the cans and giving them extra throws, but its one we recommend for the older crowd.
Darts An All Time Classic
This is one of those super versatile games. If you need it difficult, no probs, 3 darts and score over 50 with 3 separate numbers. Sort the men from the boys. Want an easier one, bust the balloon, not as easy as it looks, but still doable by the kids.
Test Your Strength
Another all time classic. Again a perfect mix for all ages, the big boys have to ring the bell to win, the kids can score over 5. But its not totally about strength, the peg needs to be struck perfectly level. We have seen small ladies ring the bell, whilst big hairy bikers struggle to get past the half way mark.
Hoopla
One of the easier games, and again suitable for all ages. Throw the ring over the block, but remember, it has to lay flat on the table, just hanging over the prizes doesn't count, Stevie Wonder could do that. When we used to operate at traditional funfairs, this game caused more arguments then all the others combined, because people didn't bother reading the rules.
Shooting Gallery
A personal favourite, mainly because growing up when I started out, my first stall was a shooting gallery. On the traditional funfairs we used pellet firing air rifles. Unfortunately as many of our events are weddings and corporate parties, where alcohol is involved, we now fire corks.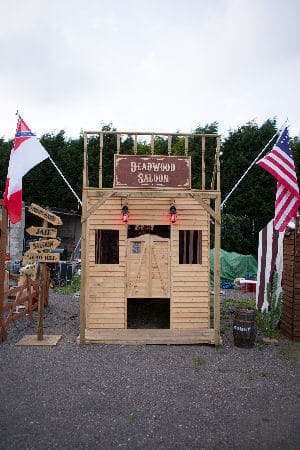 Most clients tend to go for a package of three games, our usual recommendation is coconut shie, cans and hoopla. But of course the client is always right so we can put a package together from these games and
ball in a bucket
ring toss
ball in a milk churn
penny on a plate
knock the teeth out
Mini Crossbows
Mini Basketball
Penalty Shoot Out
We can also design and build custom games for corporate promotions with custom branding and even custom games. These are the best funfair games for your Christmas party, but work equally well at weddings or summer events.
Drop us a line if you want to hire funfair games.