Giant Christmas Snow Globe Photo Booth Hire

Remember those little glass baubles you used to shake as a kid, the ones where the snow would swirl about. Well imagine if we could shrink you down small enough to fit in one, cool eh?
Sadly we can't do that, yet. However we can make the globe bigger. Much bigger, big enough in fact to fit groups of people in, to play in the artificial snow and have their pictures taken.
Our smaller sized globes are ok for 5-6 people, the largest globes ideal for groups, creating a unique attraction with real wow factor.
Ask us for details of how we can shrink you, supply you a giant globe.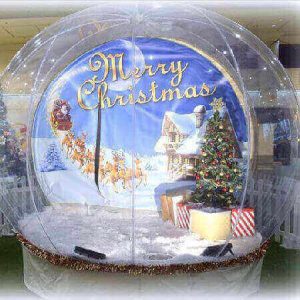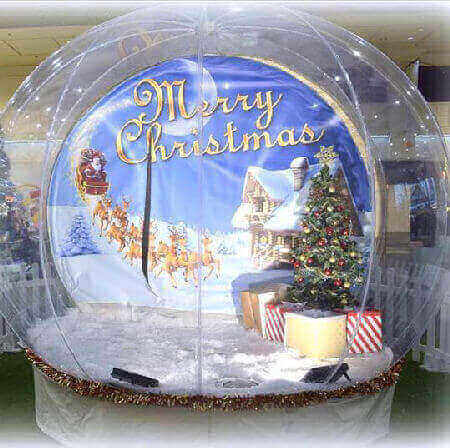 Hire A Giant Inflatable Snow Globe

Our giant inflatable Christmas Snow Globes use external photographers rather than the automated system installed in our regular booths, for the Globes we used;
•High Speed Dye Sublimation Printers
•Canon DSLR Cameras
•Modern Laptop Systems For Processing

This is an ideal festive booth, but it can be themed for different events by changing the backdrop for a themed option. We have operated inflatable snow globes for a number of years and can advise on the best options for your specific requirements.
Our snow globe booths come with;
•Themed Backdrop
•Internal Christmas Themed Props
•Special Fake  Snow
•2 Globe Butlers
•Unlimited Use
•Guest Book If Required
The standard backdrops are festive themed, but we can have custom printed panels installed to suit any requirement. For corporate events you can have your logo or sales message on the backdrop, sure to be a big hit with your customers, and a wonderful long term attraction.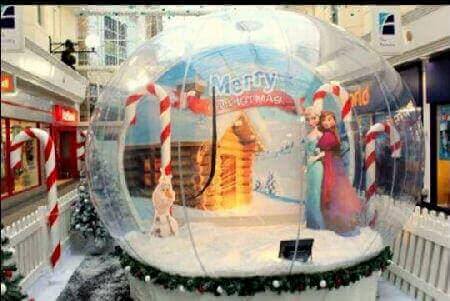 The Giant Snow Globe is a unique type of attraction available for events throughout the U.K. and Europe. This is totally different to the usual booths in a box and makes a stunning centrepiece for any event.
As the globe is supplied fully dismantled it can be carried into any venue, subject to the roof being high enough.
It can also be operated outdoors, and makes an ideal attraction to draw people to an exhibition stand or pull them into a shopping centre.
Although its main use tends to be at Christmas events, or winter wonderland themed parties, it can be themed in many different ways to create a perfect photo opportunity year round.
For those festive themed parties we also offer a Christmas Taxi Booth and a Giant Christmas Bauble Snow Globe.
SOCIAL MEDIA SHARING
Our snow globes can be set up to automagically share the images via social media, whether this is to a companies Facebook page, or to a page set up specifically for a wedding or similar. We can also supply social media tablets allowing guests to share their images on Facebook, Twitter, Pinterest and via Email.
PERSONALISATION
Our globes are provided with a Christmas themed backdrop as standard, but the removable rear panel allows a fully custom printed backdrop to be installed to promote a companies brand, ideal for exhibitions or sales promotions. The external fencing and control booth can be similarly branded to provide a comprehensive corporate promotions package, coupled with our social media sharing options this allows sophisticated branding opportunities.
MERRY CHRISTMAS
What do we need to say about Christmas, that time of Yuletide cheer and goodwill to all, beloved by young and old alike.
F.A.Q. Click Here
CAN I HIRE YOUR GIANT SNOW GLOBE NEAR ME;
Yes we cover the full U.K. with our booths.