Hire Hot Roast Chestnut Carts.
Treat Yourself To One Of Yesteryears Classics

This is one of those misty nostalgic treats that everyone remembers from their childhood. Hot chestnuts roasting over the fire. The smell is supreme, and the taste heavenly. Pair them with a mulled wine service and you have the perfect winter time welcome for weddings and parties. This is easily one of the most popular lines in the run up to Christmas and the New Year.
Choose from a number of traditional style carts that are perfect for chestnuts.  Don't forget the first thing everyone does at an event is take pictures for social media. Do you really want pictures of a paste table associated with your big day and splashed all over the internet.
For  corporate events such as exhibitions you can have a custom cart designed and built to your specifications with custom branding, and for your wedding you can have the cart decorated with ribbons and bows.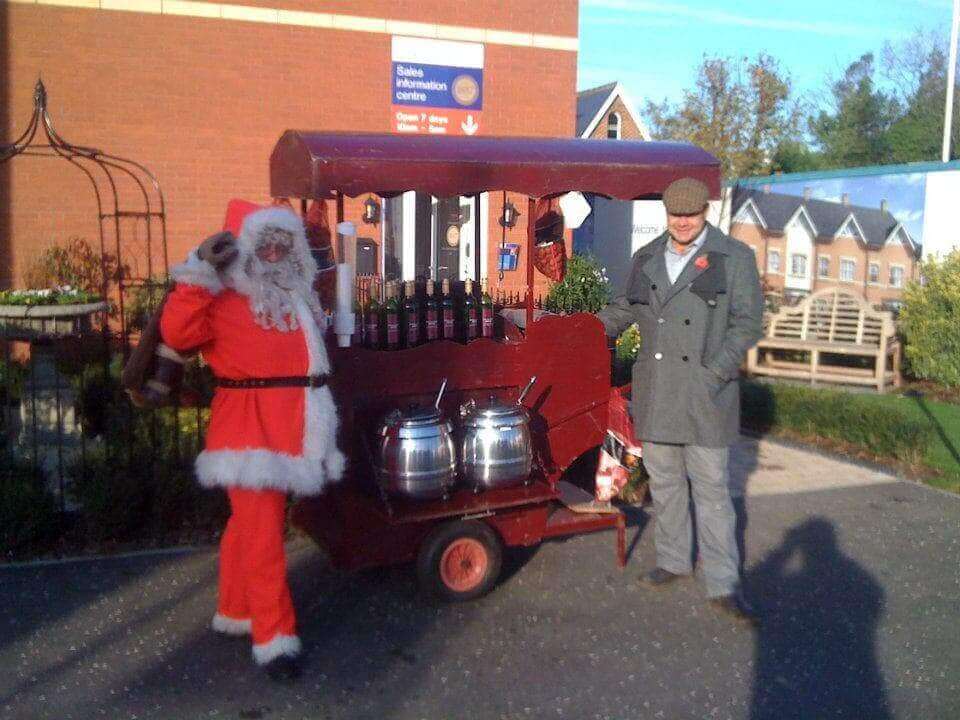 Available Carts For Chestnuts
The most popular cart is the old fashioned engine type. Perfect for your traditional Victorian or Edwardian themed events. This can dispense freshly roasted chestnuts. You can also add mulled wine, spiced cider or hot Pimms if you want a complete treat.
You also have the choice of a range of other carts suitable for chestnuts and mulled wine;
•Horse Box.
•Alpine Hut.
•Traditional Victorian Hand Cart.
•Rustic Wooden.
The nuts are served in the traditional environmentally friendly little paper bags or you can have them in bamboo boats either way your protecting the environment. Alternatively they can be served in cups,trays, any way you like them.
Personalisation
We now offer a personalisation service and can custom print the bags. For weddings and parties this is FREE, for larger corporate events there is a small charge to cover the higher numbers required. The carts can also be custom branded.
What Are Chestnuts
Chestnuts, (not to be confused with conkers which are poisonous) are one of the most versatile of natures gifts.  They can be made into bread, beer, or eaten as they are. Indeed in some remote parts of Europe it is said that  a village can never starve if it has a crop of chestnuts.
They differ from most other nuts in that they have very little protein or fat. Their calories are derived chiefly from carbohydrates. Contain much lower calories than walnuts, almonds or other nuts. They contain very little fat, mostly unsaturated and no gluten. They are the only nuts that contain vitamin C.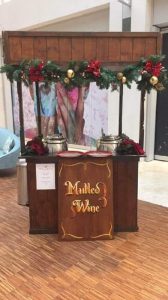 History
Roman legions would plant chestnut trees on long campaigns to help feed them. Legionnaires were given chestnut porridge before going into battle. In Asia Minor in 401BC a Greek army was said to have survived a long retreat due to their stores of nuts.
Whilst we wouldn't fancy living on them alone they do make a great treat for winter events. We always advise guests to peel the shell off before eating them. We have seen a number of guests eat them whole. Usually with the comments of "These are a bit crunchy."
Try roast chestnut hire for a traditional treat.
Chestnut Facts
In France, Central Europe and Brazil, They are used to produce beer. They have similar chemical properties to malted barley.
They are also used to produce a flour that is used in baking cakes. Also making Mont Blanc. A dessert of pureed sweetened nuts topped with whipped cream.
The oldest and largest chestnut tree in the world is called Hundred Horse Chestnut,. This is on the Eastern slope of Mount Etna. Believed to be between 2000 to 4000 years old. Its name originates from a legend that the Queen of Aragorn and a company of 100 knights sheltered beneath it during a thunderstorm.
It is Japans most ancient fruit, cultivated even before growing rice.
They can be used to produce sugar.
An old Corsican wedding tradition says to prepare and serve 22 different chestnut dishes on the day of the wedding.
They are the only nut that contains vitamin C.
The trees tend to stop bearing fruit, North of the fifty-second parallel.
Check back for more roast chestnut hire facts.
F.A.Q. Click Here
Toggle content goes here, click edit button to change this text.
You can select from  a range of hot roast chestnut carts for hire throughout the U.K. Including London, Lancashire, Yorkshire, The North East, The Midlands and Scotland, and are ideal for college events, military functions, parties, weddings, corporate events, company fun days, exhibitions and college balls.