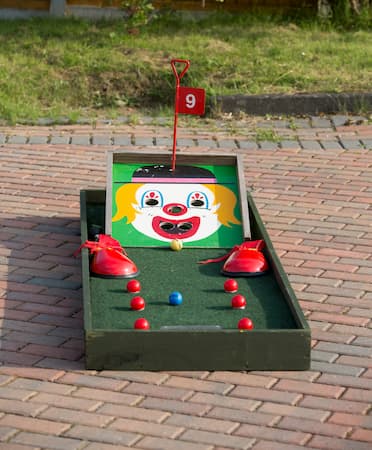 Hole 9 – Send In The Clowns.

Our clowns are happy clowns, the kind with big red noses and oversized shoes. Not the pennywise type killer clowns of hollywood.
Our final hole is a nice easy one, through the field of red noses, up the slope and into one of the holes in the clowns face.
In Today's Instagram Generation, Everything You Do Will Be All Over The Web, It hasn't just got to be good, it has to look good too.
Clowns Shoes

After the noses, you just need to avoid the shoes, then up the slope and into any of the 5 holes.
We provide crazy golf, event management, team building and our services for private clients including weddings, parties, bar mitzvahs, bat mitzvahs, Military balls, college balls, university balls, corporate events, corporate , company fundays and exhibitions throughout the U.K. and Europe, including Scotland, London, North Yorkshire, Lancashire, The North East and The Midlands.