The Cyclone Twister Ride For Hire
But there's a twist. There's always a twist

High speed thrills with a unique twisting motion a modern take on a classic fairground attraction.
State of the art lighting and modern sound systems make this a perfect family thrill ride, capable of taking slightly younger children for a thrilling ride.
Making a great centrepiece for your event and suitable for almost any venue, with the benefit of being one of the fastest rides to erect and dismantle.
In addition to the cyclone twister, we offer a full range of rides and attractions, including;

•Dodgems
•Victorian Carousel
•Miami Trip
•Big Wheel
•Childrens Rides
•Fairground Games
•Funfair Catering Options

If you need more details on what attractions would best suit your event, please contact us, or check out our tips on hiring funfair attractions.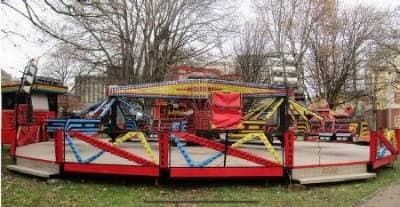 History Of The Twist
Like many rides, the Twist originated in the good ole USA. Eli Bridge, famous for its production of ferris wheels created the first "Grasscutter twist", similar to the modern ride but without the flooring and constructed from scratch at each event.
Edwin Hall, a renowned U.K. based manufacturer acquired the licence to produce copies of this ride and it was introduced to the domestic market around 1959.
The ride carries many names in this country, usually intended to evoke the feeling of speed, such as cyclone or sizzler. At full throttle the ride is an exhilarating speed machine, but the sophisticated hydraulic control system means that it can be slowed down a little for your younger riders to give a more sedate experience.
Its relatively speedy set up and derig make it suitable for your events on a short timescale, where you just don't have time to wait for a dodgem or waltzer to be erected.
Check out the National Fairground Archives history of the twister.