Hire A Miami Thrill Ride
Too hot to handle, too cold to hold

Fast and furious. Modern high speed thrills with decor, light and sound systems to match. This is more compact than any other fairground thrill ride, and can be installed quicker than most.
Known by various names including Miami, Cliffhanger, Spritzer.
Its perfect for all you thrill seekers, from the slightly older children to any age adult, and is a great complement to many of our other attractions.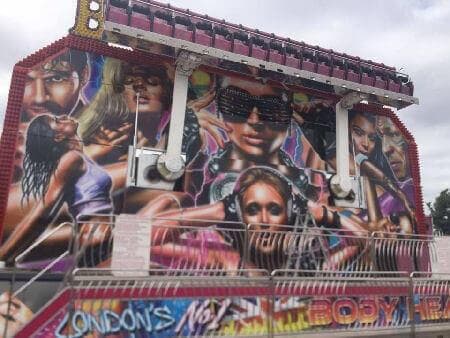 Safety Is Our Main Feature
In common with all of our rides, the Miami has a full complement of safety documentation comprising;
•Annual ADIPS Inspection (A Rides MOT).
•Risk Assessments.
•Fire Assessments.
•Method Statements.
•Daily Inspection Log Sheets.
Most of these are legal requirements, so don't hire a ride from an operator that is unable to supply them, you have to ask what other corners they are cutting if they can't supply necessary documentation.
We specialise in providing top quality attractions that are well presented and maintained, but above all safe for your guests. In today's litigation hungry world can you really take the chance of anything less
Complementary Attractions
We are happy to provide you with the Miami ride on its own, or we can design and install a complete package of attractions for your event including;
•Other Thrill Rides.
•Dodgems
•Carousel
•Big Wheel
•Twister
•Waltzer
•Children's Rides.
•Games Units.
•Catering Units.
•Photography.
•Toilets.
•Fencing.
Popular rides to complement the Miami are the Dodgems, Twister and Waltzer, if you are planning an event contact us and we can tailor a package to meet your precise requirements.
Ride History
Originally designed in Holland, the ride started life around 1978 and saw a number of smaller manufacturers attempt different versions, most with limited success.
The rides U.K. debut was in 1990 at an event in Manchester's Picadilly Garden's Christmas fair. The ride quickly took off in this country and saw an absolute explosion in the number of rides being operated over here. It has remained as one of the No.1 rides in this country ever since, and is still as popular at most events.
If you visit the National Fairground Archives site it will give you an in depth history of this thrill ride.
F.A.Q.
WHERE CAN I HIRE A MIAMI THRILL RIDE NEAR ME;
We can provide a ride anywhere in the U.K.
IS THIS A FAST RIDE;
Yes it is classed as a modern thrill ride.
IS IT SUITABLE FOR CHILDREN;
Kids over about 12 should be fine, but there is a height restriction.