Frozen Cocktail Carts For Hire
Life's just a cocktail party

Just imagine during those hot summer days, a refreshing blended frozen cocktail. Pina Colada, or fruit daquiri, frozen drinks are perfect as a wedding reception drink. Or ideal to treat your guests at an exhibition or sales promotion.
With a choice of stunning flavours like Pina Colada and Mojito. Our slushy drinks are super refreshing with an added kick from the alcohol.
We can also offer the same drinks but as mocktails rather than alcoholic cocktails for younger clients. Or perhaps when religious or other reasons mean alcohol is not allowed.
Frozen Margarita Cart Hire
Hire one of our premium frozen cocktail slush machines and give your guests a real treat during those sweltering summer days.
Various flavours available including;
•Pina Colada.
•Strawberry Daiquiri.
•Mojito.
•Margarita.
•Gin and Tonic.
•Frose
An adult take on the popular slush machine services, all of our frozen cocktails contain alcohol and add a refreshing kick to your day.
Our frozen cocktail carts are supplied with everything you need including;
•Frozen Cocktail Machine
•Disposable Cocktail Glasses.
•Straws.
•Cocktail Umbrellas.
•Bar Tender To Serve Your Guests.
•Slush Mix And Alcohol.
Complement Our Frozen Daiquiri Cart Hire
To complement our frozen cocktails we have a wide range of fun foods that are sure to delight your guests. From the traditional favourites such as popcorn or candy floss. To something with an international flavour. Try Spanish Churros or French Crepes. Ask us to put a package together based on the type of event and number of guests. We can provide services to suit any sized event.
We also offer a range of bar services such as gin bars, whiskey bars, even tequila bars, our frozen drinks services can be combined and supplied to create a complete bar service.
If you have a particular flavour you would like, let us know and we will see what we can do for you. If you hire a Candy Floss service at the same time we can even top your cocktails with candy floss.
This is a super classy service ideal for events of any kind.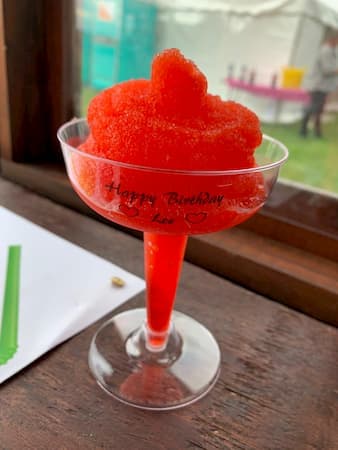 For corporate events we can design and build a completely one of bar to suit your precise requirements. Or cocktail slush can be served from any of our existing range of themed bars.
•Wild West Saloon Bar.
•Vintage Victorian.
•Tiki Beach Bar.
•Rustic Wooden Bar.
•Contemporary Bar.
•Ultra Modern L.E.D. Bar.
For corporate clients planning an exhibition, or sales promotion. We can design, build and operate a full custom set up to your precise requirements. This can include full branding of both the carts, drinks machine and delivery vehicles. We can also brand the glasses and other consumables.
Hire frozen cocktail cart services throughout the U.K. Including Lancashire, Yorkshire, London, Scotland, The North East and The Midlands. This is just perfect for weddings, parties, corporate events, military functions, exhibitions and company fun days. Our slushy machines are top quality high speed twin tank versions for industrial use and produce frozen ice slush cocktails in less than an hour. Hire a candy floss machine and add it to the cocktails.