Hire A Mini Carousel.
No matter its age, a carousel remains an essential centerpiece for any good
party
The Victorian Carousel is  the most ornate, breathtaking ride available on the fairground. Together with the helter skelter and ferris wheel it makes up a trio of the iconic funfair rides.
Unfortunately due to the work involved and the operating costs, it is one of the most expensive to hire for corporate events. It also isn't as relaxed and tame as it looks, for smaller kids, they will need an adult to accompany them whilst riding it.
You can have a great alternative, why not hire the mini carousel. It isn't really suitable for adults, but it is fabulous for kids. A carbon copy of its larger companion, this has all the same decoration and lighting just in a smaller package. This can be set up in around an hour as opposed to the 5-6 it takes for a full sized alternative, allowing you to hire it at a vastly reduced price.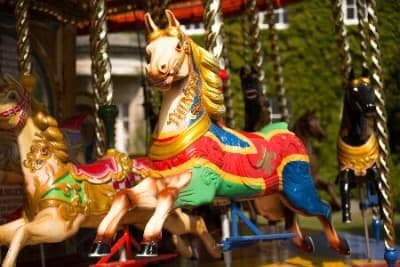 Mini Carousel Wedding Hire
For weddings and parties this offers the same photo opportunity, with the bride and groom in front of a traditional carousel horse, with a backdrop of traditional artwork and lights.
Weddings have moved from the staid boring affairs of your grandparents times, nowadays people expect to be entertained and have some fun.
Corporate Events And The Mini Carousel

Its also a super ride for corporate use. Whether its as part of the entertainment at you company funday, or a sales promotion for your latest product launch. This can help get the social media love flowing, and makes a change from handing out the usual pens, or stress balls to your guests.
Complimentary Funfair Attractions
A carousel of either size ticks all the boxes and can be teamed with any of the following to make it an even better day;
•Waltzers
•Dodgems
•Ferris Wheel
•Helter Skelter
•Fairground Games
•Thrill Ride Hire
•Funfair Catering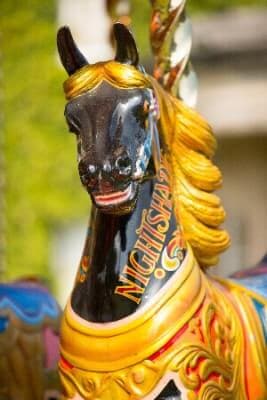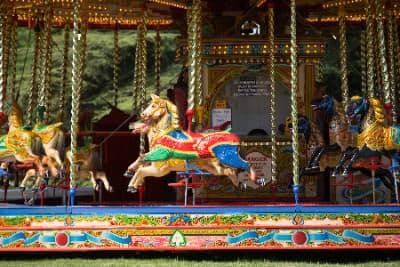 Safety
In line with all of our attractions, the carousel is supplied with;
•£10 Million Public Liability Insurance
•Method Statements
•Risk Assessments
•Annual ADIPS Saety Certificate
•Fire Assessments
•Maintenance Records
•Daily Check Records
Most of these are currently legal requirements to operate fairground rides, so beware any supplier that cannot cover these.
Brief History Of The Carousel

The original Carousels appeared during the golden age of the fairground, when most of the larger rides were powered by steam engines. The first of the rides appearing had been much smaller, powered by a hand turned crank, and limited by the strength of the person winding the crank.
A farm engineer called Frederick Savage invented a method of powering rides from a centrally mounted steam engine. This led to a massive increase in the size and complexity of the rides, and many of them were highly gilded and decorated.