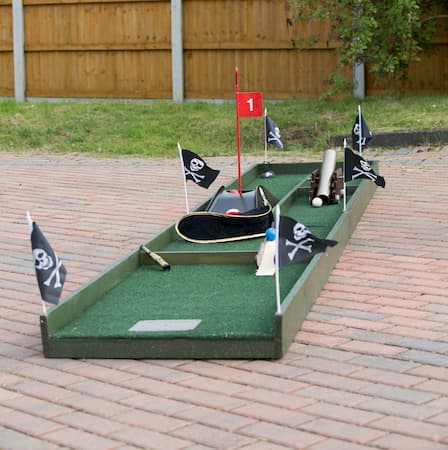 Hole 1 – Shiver Me Timbers.

Our crazy pirates golf hole. Everyone loves a pirate, well, we suppose all those pillaged, robbed and made to walk the plank probably didn't, but you know what we mean.
The first obstacle is the shipwreck bridge. Remember, the two ships you never want to sail are a sinking ship and a partnership (Morecombe and Wise and the Two Ronnies might argue that point).
Next up is the Olde Cannon Marke 1. Shoot the ball through the barrel, then its round the cape of good hope also known as a corner and up the bridge into the hole. AAAArgh matey.
Sinking Ship

Over the deck of the sinking ship is the only way through.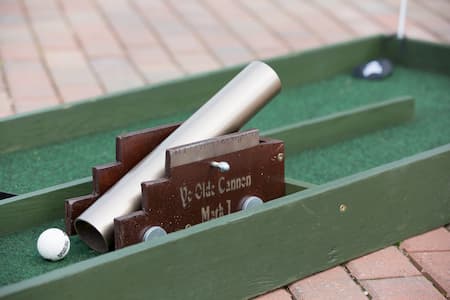 Ye Olde Cannon Mark 1
Blast the ball through the cannon. Too gentle and it rolls back out, too hard and you risk leaving the hole altogether. Thats a one stroke penalty.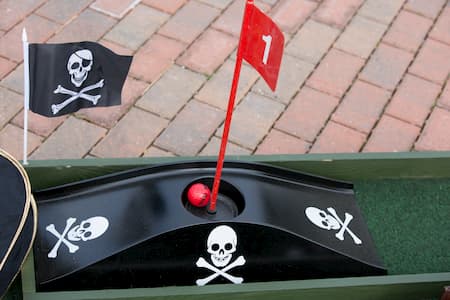 Jolly Roger Bridge
The final stretch and you need just enough force to crest the bridge and drop into the hole. Now, what should we do with a drunken sailor.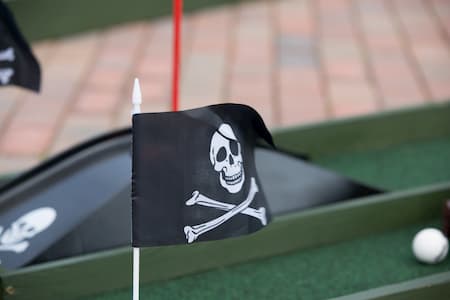 The Jolly Roger
The universal symbol of pirates throughout the world. Watching this crest the horizon was guaranteed to right put you off your rum.
We provide crazy golf, event management, team building and our services for private clients including weddings, parties, bar mitzvahs, bat mitzvahs, Military balls, college balls, university balls, corporate events, corporate , company fundays and exhibitions throughout the U.K. and Europe, including Scotland, London, North Yorkshire, Lancashire, The North East and The Midlands.