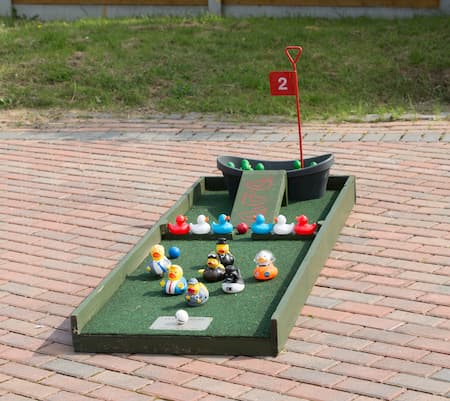 Hole 2 – Ducky Ducky Ducky.

Not your common or garden variety rubber duck. These's ducks have character, literally. Boris Johnson, President Trump, Winston Churchill and more, all in the shape of a rubber duck.
Of course we have some traditional fairground ducks, the type you would usually shoot at, along with a cute little bath filled with hook a duck, ducks.
Barge through the gang, or is that a gaggle, of colourful character ducks, through the shooting gallery ducks and up the little ram to make a splash in the bath to finish hole two.
Note, we know its not a gaggle, thats geese, ducks can be a raft, a team or a paddling.
In Today's Instagram Generation, Everything You Do Will Be All Over The Web, It hasn't just got to be good, it has to look good too.
A Paddling Of Character Ducks

This is the full gang. Sherlock duck at the front, flanked by President Trump duck and Duck Vader. Bringing up the third row are Bojo Duck, Aviator Duck and Buzz Aldrin. With Sir Winston Duckhill at the rear.
Its usually a couple of strokes to get through these guys.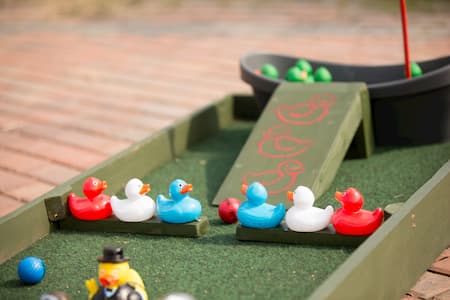 Target Ducks
Next up are our traditional shooting gallery target ducks. A little bit of power needed here as you are straight on to the jump ramp.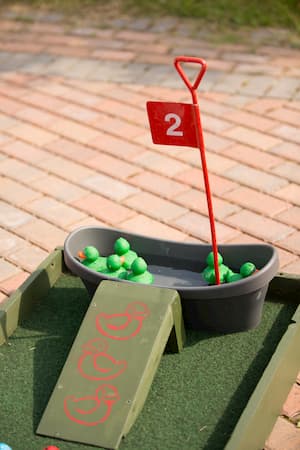 Take A Bath
Make a splash to finish the hole. Up the ramp and a short hop to join the rest of the hook a duck ducks in the water.
Bojo Duck
Introducing you to a few of our characters, first up is BoJo himself. Catching the hairstyle and unkempt look to perfection.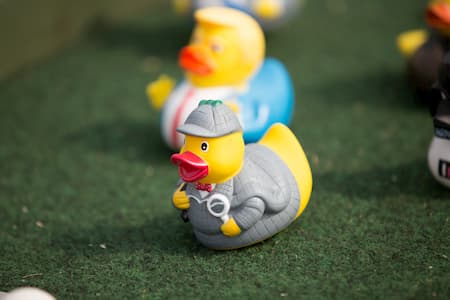 Sherlock Duck

With a cool calculating mind, Sherlock is sure to put a stop to your plans. One of literatures most famous characters, but in a duck!
Duck Vader, The Duck From The Dark Side

Lord Vader, using the force to stop you. A duck with a dark side.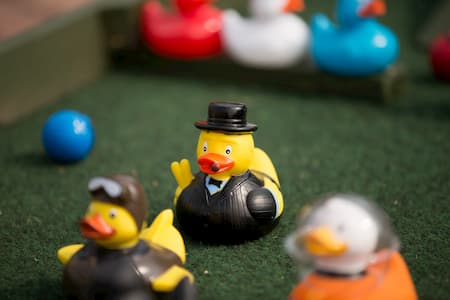 Winston Duckhill
V for victory, one of the most famous characters of the last 100 years. We shall never surrender.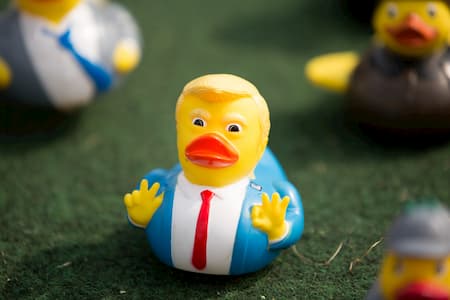 El Presidente, Trump Duck

What can we say, except that it captures his style perfectly.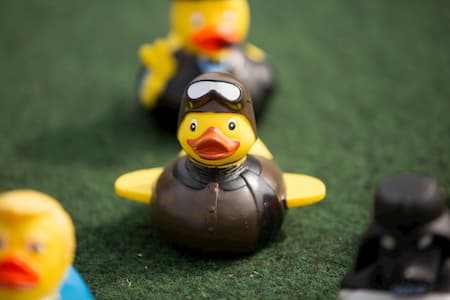 It's A Pilots Life
The MD's favourite duck, on account of him being an aviator (Thats the same as a pilot, but he's not allowed to tell you that, cos Emmerson get's really cross).
We provide crazy golf, event management, team building and our services for private clients including weddings, parties, bar mitzvahs, bat mitzvahs, Military balls, college balls, university balls, corporate events, corporate , company fundays and exhibitions throughout the U.K. and Europe, including Scotland, London, North Yorkshire, Lancashire, The North East and The Midlands.