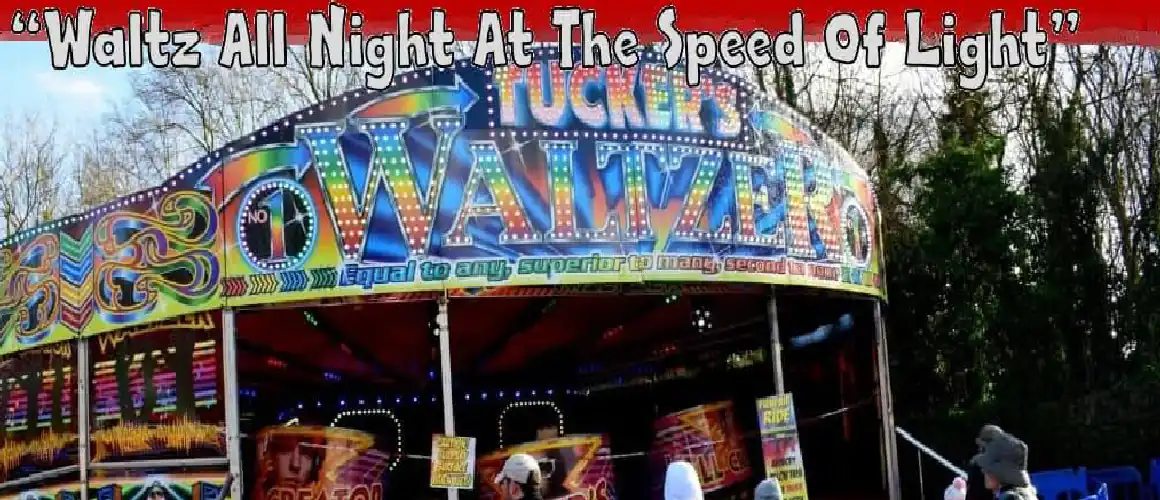 Hire A Waltzer Ride, Fabulous Fun
Spin around to the speed of sound

Just for you, an all time classic funfair ride, the waltzer has been entertaining people for generations.  Many a young lady can remember screaming for Mick the waltzer guy to spin her car faster.
Fast and thrilling, but still suitable for younger kids due to the enclosed cars, this is fitted with state of the art sound and lighting systems to create a true centrepiece for any event.
Waltzer Ride Hire
The waltzer consists of a series of cylindrical spinning cars, placed on a large platform, which not only spins but also has a number of hills which as the ride rotates, causes the cars to begin spinning.
One of the oldest thrill rides on the fairground, this has been brought bang up to date with the latest sound and L.E.D. lighting systems to create a stunning modern waltzer.
This is like having a mobile disco at your event and provides a fabulous atmospheric experience, suited to almost any age guests.
You can also choose a mini waltzer, ideal for the youngest generation and a perfect complement at family fun days, special packages are available when hiring both sized rides together.
The waltzer makes a perfect complement to many of our other fairground rides, including;
•Dodgems
•Miami
•Twister
•Ferris Wheel
•Carousel

We can advise on the most suitable combination of attractions to cater for your precise requirements, not just rides, but games, catering and photography services as well.
You can have a stress free event, with our experience in organising events of all sizes, from a small private birthday party to a major festival event for a multinational company. Check out our other rides for more ideas.
Safety
Like all of our attractions the waltzer comes with;
•£10 Million Public Liability Insurance
•Risk Assessments
•Method Statements
•ADIPS Certification
•Daily Inspection Records
•Fire Assessments
To ensure that you and your guests have a fun and most importantly safe experience. Most of these documents are currently legal requirements, if your potential operator cannot supply them then you should walk away, if they are cutting corners here, what else are they neglecting.
History Of The Waltzer
The waltzer was invented around 1920, reputedly by a Mr Dennis Jefferies of Congleton, the first passengers being his nieces, Phyllis and Dolly Booth.
Many of the established waltzers were built by the Musselburgh firm of Maxwell and Sons, with 10 passanger cars, although some rides that were converted to waltzers had 9 and 11 cars.
More information is available at Wikipedia and I-Maths
F.A.Q.
WHERE CAN I HIRE A WALTZER RIDE NEAR ME;
We can provide rides throughout the full U.K.

ARE WALTZERS INSURED;
Yes we carry £10 million public liability insurance

HOW LONG DO THEY TAKE TO SET UP;
Around 6-8 hours.

ARE THEY SAFE:
Very, we have never had a serious incident on any of our waltzers, however we do require the co-operation of the guests to ensure safe operation.