Hire Wild West Photo Booth, The Duke
Never approach a bull from the front, a horse from the rear, or a fool from any direction

Hallelujah, your salvation is at hand. This will surely save yer from them there dull booths.
The rootin, tootin unique Wells Fargo stagecoach photo booth system, the only one of its kind in the U.K.
Complete with cowboy and Indian booth butlers, themed props, even cowboy music playing. Throw in a couple of cactus, a totem pole, even some tumble weed and you have a stunning centrepiece for your event, the envy of Jesse James.
This booth is unbeatable for wild west themed events. We also offer a range of wild west themed games to accompany it. You can have your own little wild west town to entertain your guests.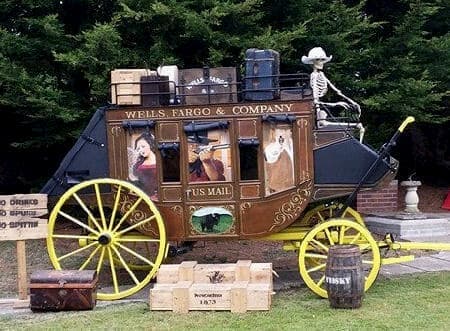 Our fantastic stagecoach comes with;

•Booth Butlers Dressed As Cowboys.
•Wild West Music Playing.
•Cowboy & Indian Sound Effects.
•Wild West Themed Props Box.
•Wild West Accessories.
•A Totally Unique Themed Booth.
This isn't just a booth, it is a centrepiece for any wild west themed event, with cactus plants, a whiskey barrel an Indian totem pole and more for decoration at no extra charge.
Our booth butlers wear real cowboy dress and even carry blank firing cowboy guns. Altogether a total league above any other booth on the market for an event like this. "The Duke" is a booth even John Wayne would have been proud of.
Wild West Town
To complement our wild west photo booth, we also offer a range of themed games. A Deadwood Saloon shooting gallery (using replica Winchester guns), cactus hoopla and Boot Hill graveyard horseshoe toss.
We can supply a whisky wagon, or a chuck wagon with hot dogs. Taken all together we can provide you with a little replica town to entertain your guests.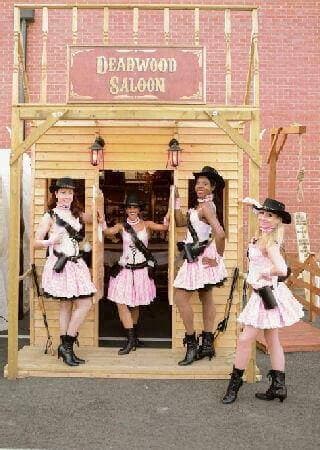 Our Stagecoach photo booth uses only the best equipment;
•Professional Dye Sub Print Systems.
•Canon DSLR Cameras.
•Integrated Touch Screen Control System.
•Cowboy Sound Effects.
•Cowboy Music System.
Every Booth Hire Is Provided With;
•Guest Book.
•Additional Set Of Prints.
•Custom Themed Prints.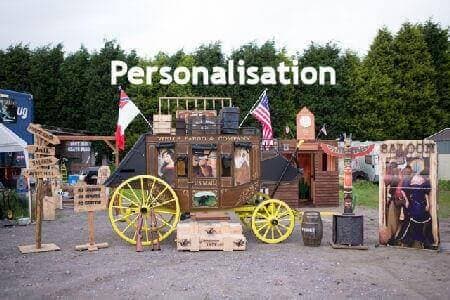 SOCIAL MEDIA SHARING
Our Stagecoach booth can be supplied with a range of social media tablets. Wirelessly connected to the booth they allow the guests to upload and share their images via Facebook, Twitter , Pinterest and via email. Spread your brands social media juice. Perfect for corporate parties, sales promotions and exhibitions.
PERSONALISATION
Any of our booths can be custom themed to suit your event. Whether its an appearance at an exhibition, or a sales promotion. We can add custom branding, personalised flags, themed prints, even cowboys dressed to match your colour scheme.
YEEHAA
It was a tough race of men and woman that won the West. The stories from yesteryear left us with many classic icons Winchester rifles, the Colt Peacemaker gun. Apache, Sioux and Comanche Indians, and the Wells and Fargo stagecoach. We commissioned the building of a totally one off custom replica stagecoach. Designed to install our photo booth in.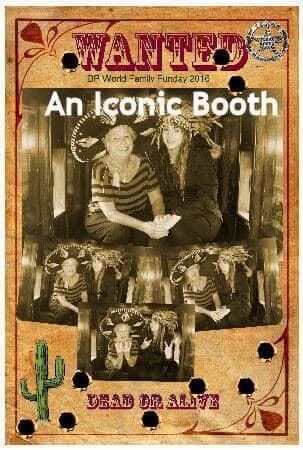 The Stage Coach
Based on the plans for a Concord Stagecoach, our wild west stagecoach photo booth is a one off. The original Concord coach was designed by J Stephen Abbot, a coachbuilder and the wheelwright Lewis Downing. They were based in Concord, New Hampshire, hence the name.
In its time the Concord was a high end, expensive coach, but one with long lasting build and ride properties that beat its competitors. Contrary to the many Hollywood movies, coaches didn't gallop across the west persued by Indians. The name comes from the fact that they travelled in stages.
From one relay station to another at around 5 m.p.h In a day they would cover perhaps 60 to 70 miles. At each station or 'stage' the team of horses would be swapped for fresh ones, hence the name.
The stage ours is based on would have had bench seating for 9 passengers inside, and could carry another 6 passengers on the roof.
F.A.Q. Click Here
WHERE CAN I HIRE A WILD WEST PHOTO BOOTH NEAR ME;
We cover the full U.K. with all of our services.
CAN THIS BE USED INDOORS;
It has been many times, but note that it is a full sized stagecoach so needs large industrial sized doors to get in.
HOW MANY PEOPLE DOES IT HOLD;
You can comfortably get 6 inside.
DOES IT COME WITH HORSES;
Sadly not!