Wild West Games Hire For Events
For when you want to play cowboys and indians
If you are holding a wild west event then we have just what you need. A range of wild west themed games, along with a full sized stagecoach, which is not only a fabulous centrepiece but also a fully functioning photo booth. Catering for the culinary requirements of your guests we also offer a chuck wagon, and an indian teepee with bangers and mash or even a whisky bar.
Of all our themed events, this is far and away our favourite. With staff in western dress, toting blank firing six shooters, and cowboy themed music and sound effects, this will delight and impress your guests.
These are great with our Wild West Stagecoach Photo Booth.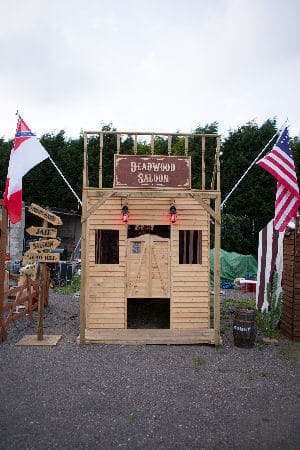 Deadwood Saloon
Our Deadwood Saloon is a shooting gallery themed as an old Western saloon bar. Cork firing replica Winchester rifles, a bar themed interior, and prizes for the winners. This sorts the men out from the cowboys.
Boot Hill Graveyard
A graveyard with some of the old west's most notorious characters. The game us the classic horseshoe toss, with spooky mist effects and themed lighting, another fun game for your party.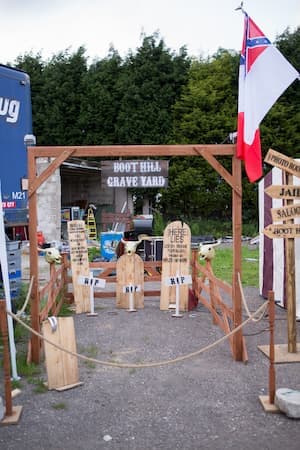 Wells & Fargo Ticket Office
The third of our themed games is a take on the classic hoopla game, this one is hoop the cactus. Built into a little railroad ticket office, with period lighting, a clock tower and tumbleweed decoration. Add in our full sized stagecoach and you have Crazy Town, the baddest town in the old West.