Hire A Popcorn Cart, Fun For All
Keep calm and eat popcorn
It's OK, you don't have to share, we have enough for everyone.
A fabulous range of cinema style traditional popcorn carts available for weddings, parties and corporate events.
Available in salted, sweet or a selection of gourmet flavours. This is an all time classic treat, popular throughout the world, loved by all ages.
Pair it with candy floss to make an ideal dessert cart for any event. Everyone loves the aroma of freshly popping corn as it fills the entire room
Love someone enough to share you popcorn, get it here!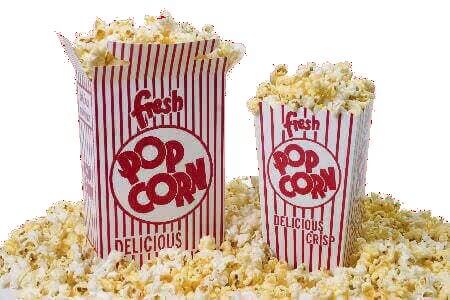 Popcorn Flavours
Our hot freshly popped corn is available in various flavours;
•Sweet.
•Salted.
•Caramel.
•Chocolate.
•Blue Raspberry.
•Red Hot Cinnamon.
The aroma from freshly popping corn will fill the room, attracting your guests and customers.
We also offer a combined candy floss machine and popcorn cart, two of our most popular treats together. These can be served from any of our range of themed carts. Or we can design and build a full custom cart for your precise requirements.
Popcorn machine hire is perfect for almost any event. It goes down a treat at weddings (we can dress the cart in ribbons and flowers) and parties, but is equally popular at college balls. For corporate promotions and company sales days you have a guaranteed winner.
When hiring a popcorn maker from us it is provided with;
•One of our themed carts.
•Experienced operator.
•All bags and other consumables.
•Unlimited popcorn.
•Range of flavourings.
•Safety certificates and PAT test.
•£10 Million Insurance.
•Level 3 Health Certificates.
We can provide multiple branded carts, and custom branded popcorn boxes for corporate promotions. Additionally branded hostess trays for your promotion staff to take your popcorn to the guests are available.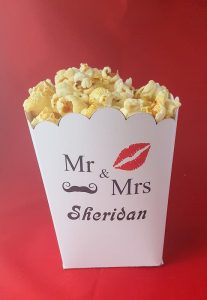 We can provide custom printed popcorn boxes for  corporate events.
Popcorn History
Archaeologists have discovered remnants of popcorn in Mexico that date to 3600 B.C., some historians believe that it may be the first corn that humans even knew about.
Nowadays the United States is the world's biggest producer of popcorn, typically being grown in states such as Kentucky, Indiana, and Nebraska.
Popped corn is an incredible healthy snack. Unfortunately by the time people finish adding butter, salt etc it loses much of that healthy appeal. On flavour alone it has long been one of the most popular snack foods around. Paired with our candy floss carts its an unbeatable combination that fills a room with its delicious aroma and is sure to attract guests to your exhibition stand or sales promotion.
Popcorn Fun Facts
Popcorn kernels can pop up to 3 feet high.
Unpopped kernels are known as 'old maids'.
Popcorn contains more protein than any other cereal grain, it also has more than eggs or roast beef.
The largest ever popcorn ball in the world was 12 feet in diameter, weighing 5000 pounds, it needed 2000 pounds of corn, 40,000 pounds of sugar and 400 gallons of water.
Popcorn comes in 2 shapes, either snowflake or mushroom. Because snowflake tends to be bigger, that is the preferred corn from vendors to sell.
The ancients made popcorn by heating sand in a fire and then stirring the kernels into the sand
By volume, popcorn is the favourite snack in the U.S.A
F.A.Q. Click here
WHERE CAN I HIRE A POPCORN CART NEAR ME;
We provide carts throughout the full U.K., so can cover your event.
IS POPCORN HEALTHY;
Reasonably so, although adding butter and things like toffee don't help.
Hire a popcorn cart throughout the FULL U.K. and Europe. Including Lancashire, Yorkshire, London, Scotland, The North East and The Midlands, and is perfect for college balls, parties, weddings, military functions, exhibitions, corporate events, company fun days, bar mitzvah, bat mitzvah.

If you want something with an international flavour, try our Spanish Churros.