Hire Waffles On A Stick
Fluffy melt in the mouth waffles. Dipped in Belgian chocolate, then covered in sprinkles. What's not to like.

Hire waffles on a stick, same great taste as Belgian waffles, but in an easy to eat lolly waffle. Dipped in chocolate and sprinkles for your guests.
You also have a Vegan Waffle option and even a savoury option, with molten cheese toppings.
Try them, they are waffly good. Available from here.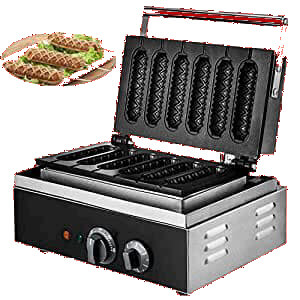 Our Service
The lolly waffles on a stick are cooked fresh in front of your guests, dipped in chocolate, then covered in the sprinkles and sauces of their choice.  All the fun and great taste of our Belgian waffles, but in a more convenient offering that can be carried about and eaten on the go.
Environmentally friendly wooden sticks and paper trays mean that everything is recyclable, so you can eat assured that you are doing no evil as the mighty Google would put it.
Of course the carts come with full health and safety documentation, along with 5 star hygiene ratings.
Toppings
The main topping is molten chocolate. Added to this you have the options of;

•Whipped Cream
•Nuts
•Thousand And All Sorts
•Chocolate Sprinkles
•A Selection Of Sauces
If you have a favourite topping you would like then let us know and we can usually source it for you to create your perfect tailored package.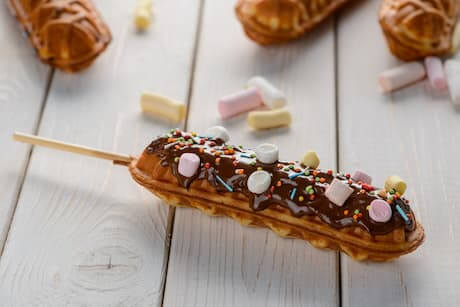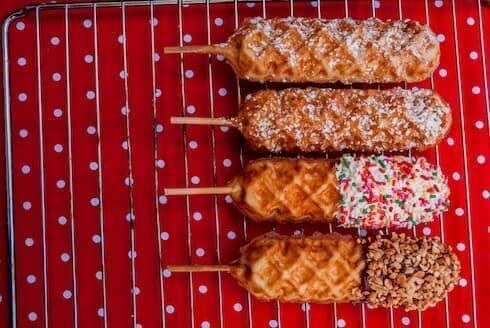 Themed Carts For Weddings And Events
Plain paste tables aren't really suitable for todays image conscious generation. Don't you want your event to look as good on Instagram as it tastes? We offer a range of themed carts for your waffle service including;
•Rustic Bar
•Horse Box
•Contemporary Branded Cart
•Victorian Hand Cart
•LED Bling Bar
•Outdoor Sidestall
For corporate use you can have us design and build a full custom unit to promote your brand. Check out our carts!
F.A.Q. Click Here
WHERE CAN I HIRE A WAFFLE ON A STICK CART NEAR ME;
We offer a service throughout the full U.K., so can cover all of your needs.

CAN WE HAVE SAVOURY WAFFLES INSTEAD OF SWEET;
Yes we can work up a savoury menu if that is what you require.

WHAT SORT OF WAFFLES DO YOU OFFER;
Standard Belgian, bubble waffles and waffles on a stick.
CAN WE HAVE WHITE CHOCOLATE;
Yes you can have white, milk or dark chocolate coverings.