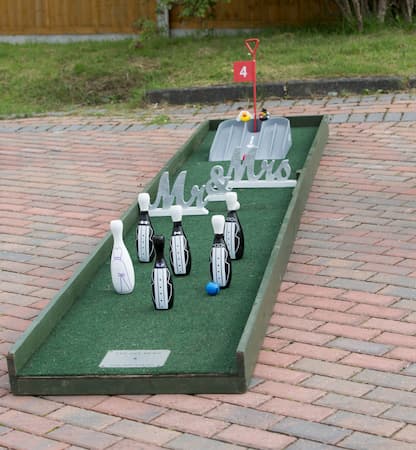 Hole 4 – Happy Ever After.

FACT: Do you know the maximum sentence for bigamy? Two mother in laws.
This is one for the romantics out there, our wedding themed hole for all you lovestruck couples.
Through the bridal party skittles, around the Mr & Mrs slalom and up the slopes of love, where you will meet Mr and Mrs Ducky.
FACT: Most men can remember where they got married and when, very few can remember why.
In Today's Instagram Generation, Everything You Do Will Be All Over The Web, It hasn't just got to be good, it has to look good too.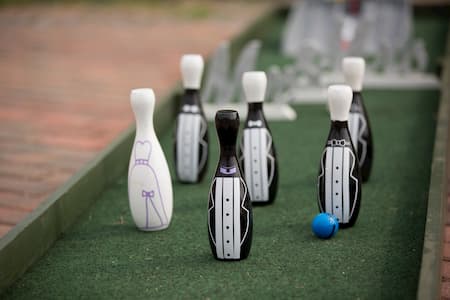 Skittle Bridal Party

If you are hiring this for a wedding, let us know whether you want Mr & Mrs, Mrs & Mrs, Mr & Mr or any other combination.
All done in the best possible taste, as Kenny Everatt would say.
Mr & Mrs Slalom
Next up the love slalom. Available in any combination of genders, just let us know beforehand.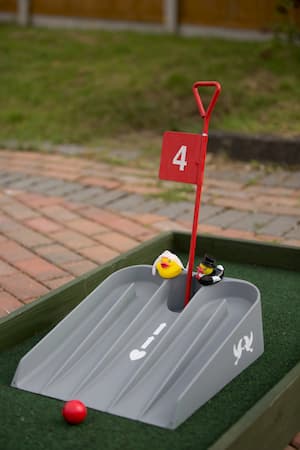 At The Alter
Up the slopes of love to the alter. There to meet the happy couple.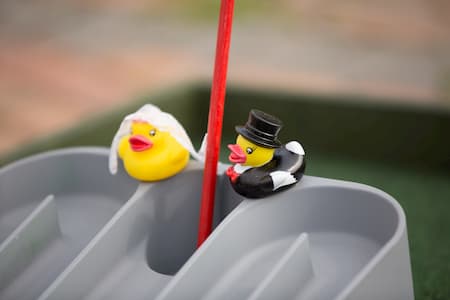 Mr & Mrs Duck
Into the hole and you can celebrate with our happy couple.
We provide crazy golf, event management, team building and our services for private clients including weddings, parties, bar mitzvahs, bat mitzvahs, Military balls, college balls, university balls, corporate events, corporate , company fundays and exhibitions throughout the U.K. and Europe, including Scotland, London, North Yorkshire, Lancashire, The North East and The Midlands.