Catering
9 February 2020
One of our most popular lines is our range of luxury hot chocolate carts. Available on any of our range of carts and bars, the Alpine hut is the favourite in the winter months.
We have a wide range of carts, which get busy at different times of the year. Obviously things like frozen slush tend to be preferred in the middle of a hot summer. Mulled wine in the depths of winter.
We offer two varieties of hot chocolate carts. The ever popular Cadbury's, and the more upmarket Charbonnel Et Walker. Both come with whipped cream, chocolate sprinkles, marshmallows and a range of syrup flavourings.
Cadbury's needs no introduction, it has long been a favourite drink in the U.K. The other, Charbonnel, is made from actual chocolate flakes rather then cocoa powder. It is more akin to drinking molten chocolate, and is quite nice, though many do prefer the Cadbury's version. Possibly more from habit than anything else.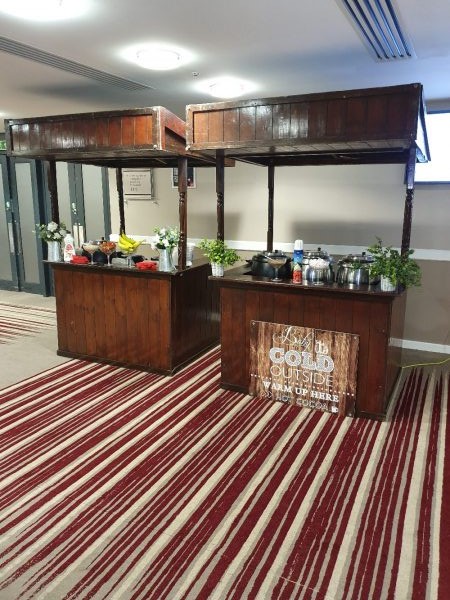 Extra Options
We also offer a range of complimentary options to go with the hot chocolate carts. Ranging from Spanish Churros, to Belgian Waffles, all going down a treat.
This is the perfect winter warmer for weddings, parties and corporate events, we can even build a custom bar for corporate or exhibition use. Not bad for a drink that is reputed to have been consumed by the mayans around 500 B.C., although as sugar wasn't available then, it is said to have been an exceptionally bitter drink. Cocoa was even used as a currency at one point, and it was considered an ill omen for someone of low status to even drink it.
Around 1828 a Dutchman invented a machine that separated the cocoa butter from the seeds, this gave rise to chocolate powder and was the first incarnation of what we drink now.
Some countries such as Italy have a particularly thick version called cioccolata calda, whilst the Americans have a thin watery version.