Catering, Equipment, Event Planning, Food Trucks, Fun Story
22 September 2022
Vintage Horsebox
Next up in our new range of food trucks is our converted horse box. We looked at a wide range of converted horse trailers, but were never 100% happy with the design. We happened by chance upon a maker called Sinclair, long defunct, but their trailers were different as they had a curved front panel rather than the usual triangular style.
After much searching we located one at the other end of the country, a brief conversation and we were told that it is perfect, ready for the road.
Cue and early morning trip to Bournemouth. On arrival, the rather vacant sounding young man informed us that actually the lights don't work. Hmm, so not quite road worthy then. Luckily I had the foresight to throw a lighboard in.
However upon examining the trailer we discovered that it had four different sized wheels.
"Tell you what mate, I'll ring the boss and tell her about the trailer and let you know"
Check out our other food trucks.
Knutsford
Luckily I had a back up plan, I had found another trailer at Knutsford, only about 100 miles out of our way on the return trip lol, and this one was described as 'mint'.
We duly arrived at Knutsford. The trailer was far from mint, but it was suitable for what we wanted. We struck a deal, coupled up and discovered that a short on the trailer lights had blew the lights on the van. That turned into a whole other saga as changing the fuse necessitated a full strip down of the dash to reach the bloody thing.
But I digress, we set off home sans lights. On the way we did receive a text message from the first seller asking when we would be returning for the first trailer. FFS, we left there 7 hours ago.
The Initial Strip Down
After careful consideration we decided that rather than doing what most people seem to do, a quick coat of brush paint and throw some counters in, we decided to make it something nice.
So we started with a complete strip down to the bare frames, leaving my other half to retort, all you have actually bought is a bloody frame!
Taking it back to bare metal we primed everything with rustcoat, then coated the entire frame with black Raptor, one of our favourite products. This gives a hard wearing textured finish that protects everything and covers amazingly well.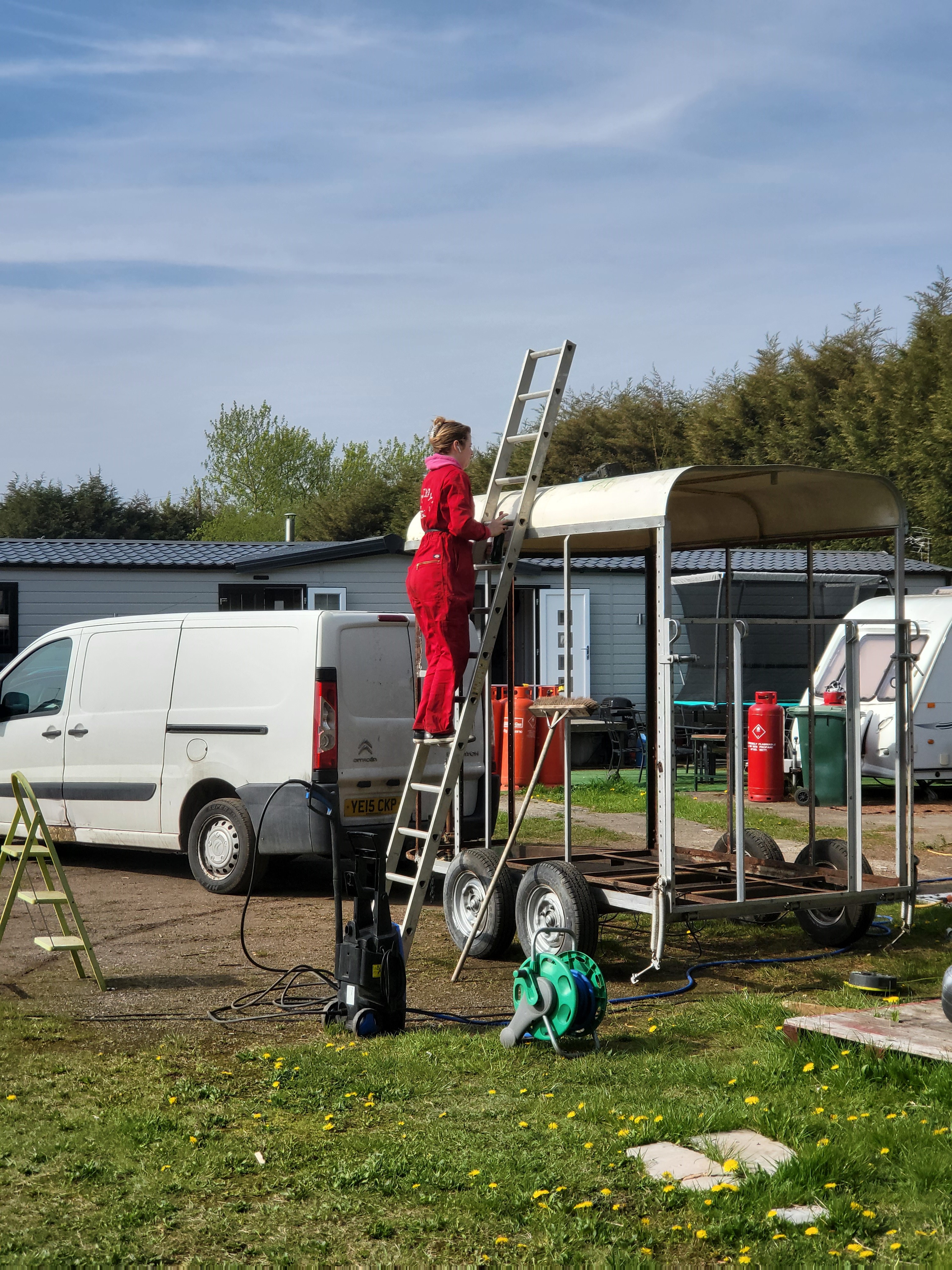 New Flooring
One of the concerns the health inspector had was that the original floor would contain years of horse urine soaked into the wood. No probs, as we stripped and burned the original wood flooring and binned the rubber coating.
A new wood floor was fitted, two coats of stain to seal it, then a new rubber coating.
Big Decision, Wooden Cladding
One of the major decisions was how we were going to finish the exterior. The original wood was a high grade hardwood, but because all the screws and bolts were seized in, we pretty much destroyed it taking it off. A trip to our local wood guys yard and a look through his collection of woods saw us settling on Sapele. A tropical hardwood that is related to mahogany, and is a fabulous colour, ranging from red to golden brown.
We used a soak in wood treatment on all the panels, then a number of coats of satin varnish, as we didn't want an overly glossy look to the trailer.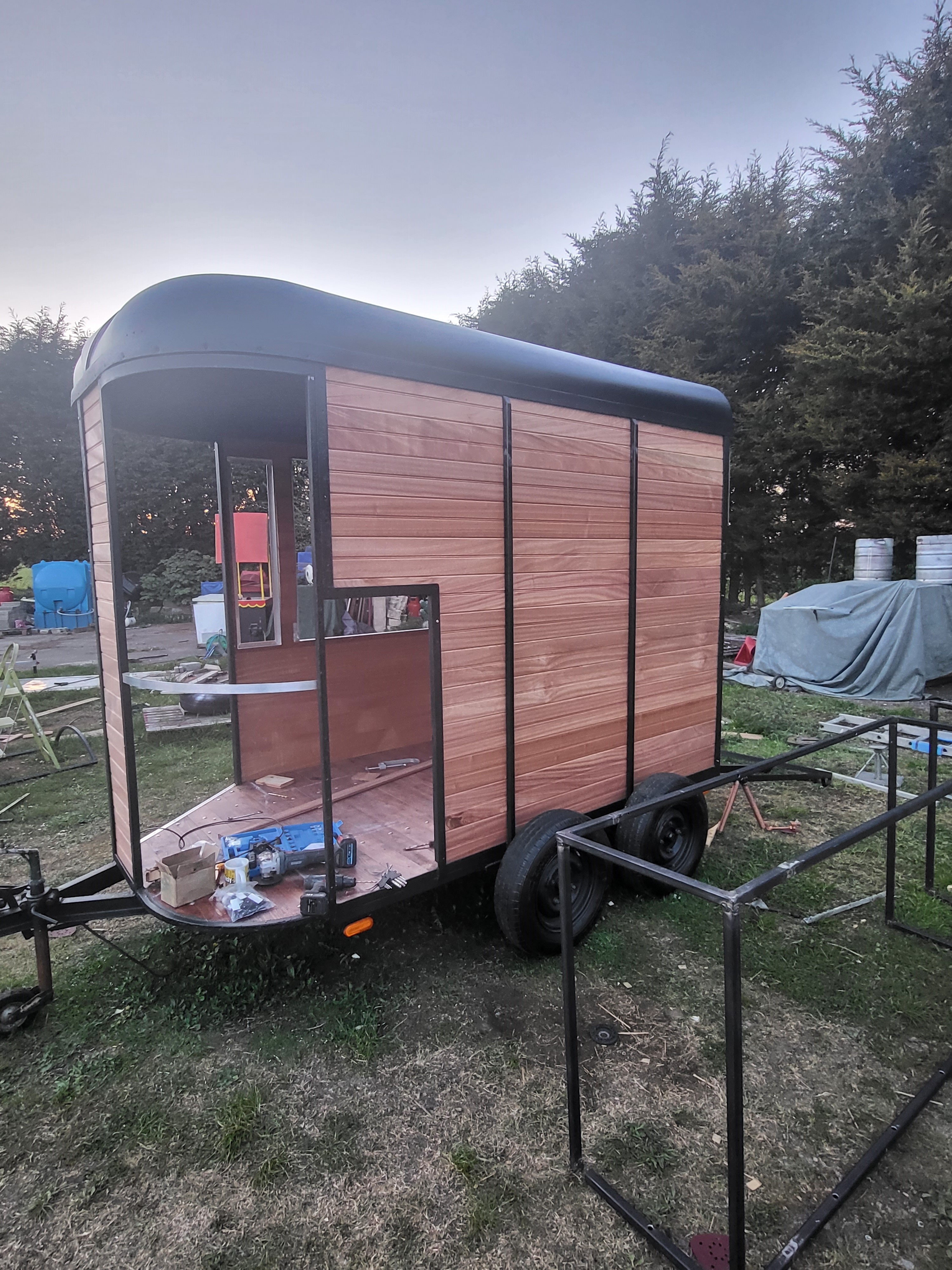 We also settled on a satin black for the fibreglass roof and aluminium corner panels. Again, we wanted a less shiny look, though I admit the satin clearcoat was a nightmare to spray without it looking patchy. In the end after numerous attempts I gave up. But curiously, after a couple of weeks the patches disappeared and a uniform coating appeared????
Front Panels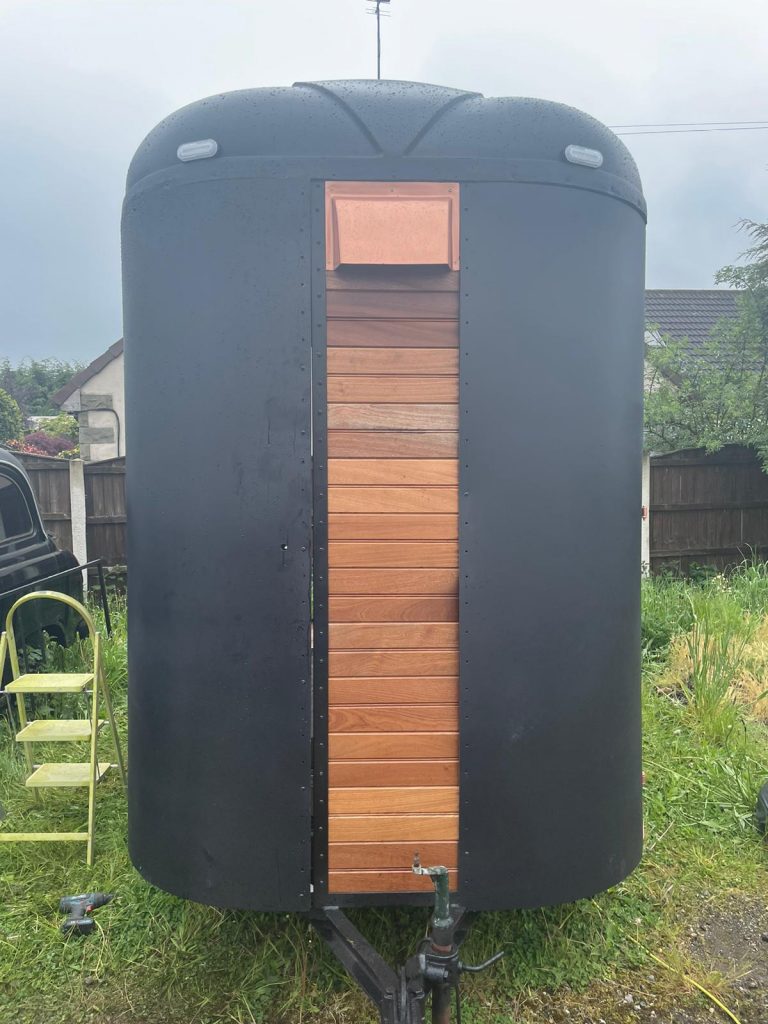 The front corner panels were steel, they were overly heavy and badly rusted, so we replaced them with three mm aluminium. In retrospect two mm might have been sufficient as the three really took some bending.
Making It Different
We wanted a different look to the usual horse trailers, and I freely admit that we had seen an American horse trailer that we loved, so we used that for inspiration. One of the things we added to achieve this different look was a number of windows, both to let light into the trailer, and to add some visual appeal.
On To The Interior
Finally we got started with the interior. A number of steel frames were built in situ, with sapele front panels added and temporary countertops in MDF. A water tank, water heater and waste system, single and three phase electrics and a cooking fume extraction system. Also in common with our other food trucks we added a 42 inch display for menus and such.
The interior corners we added alternating sapele and idigbo strips to add some visual effect.
Another Of Our Food Trucks Almost Finished
Our programmable light panel.
We added decorative copper panels to the exterior and additional windows to the front. Just waiting on the production of our top sign at this point.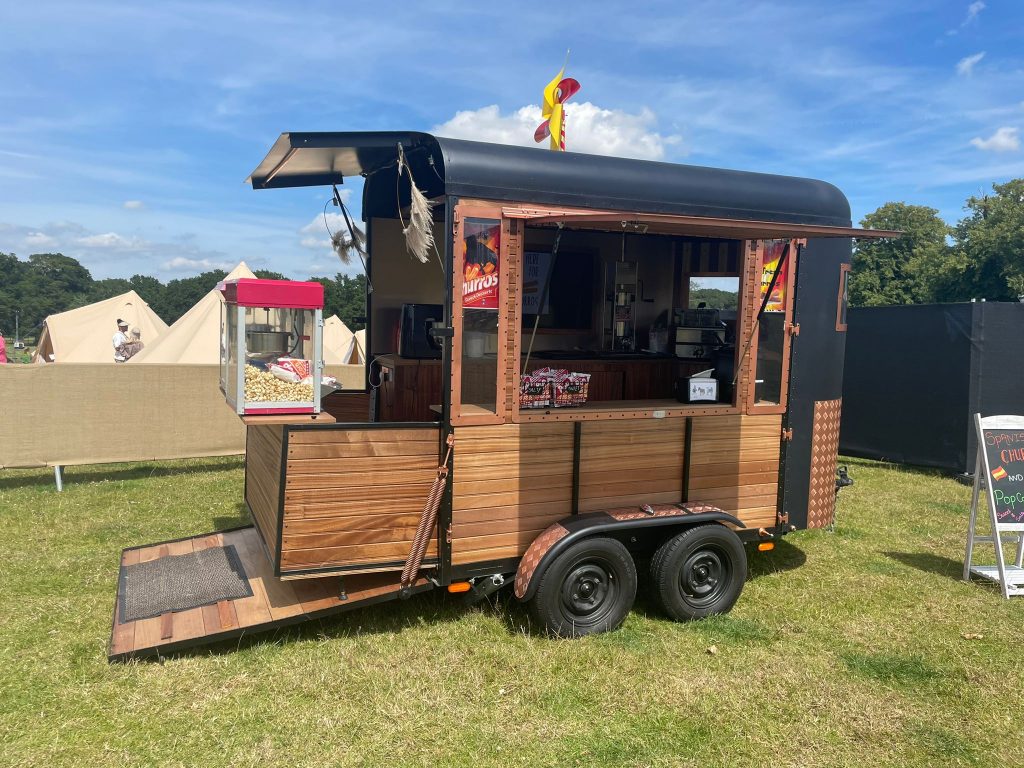 Sign finished and fitted