Fun Story
11 March 2023
Waffles are one of our most popular dessert offerings. We started with Belgian waffles, then added waffles on a stick. Perfect as a walk around whilst you eat kinda food. Currently we are starting a roadshow for a major financial company, with visits to some 20 universities around the UK offering waffles on a stick.
But it got me thinking, what do waffles around the world look like. So here is a quick look at some of the weird and wonderful options from around the world.
Belgian Waffles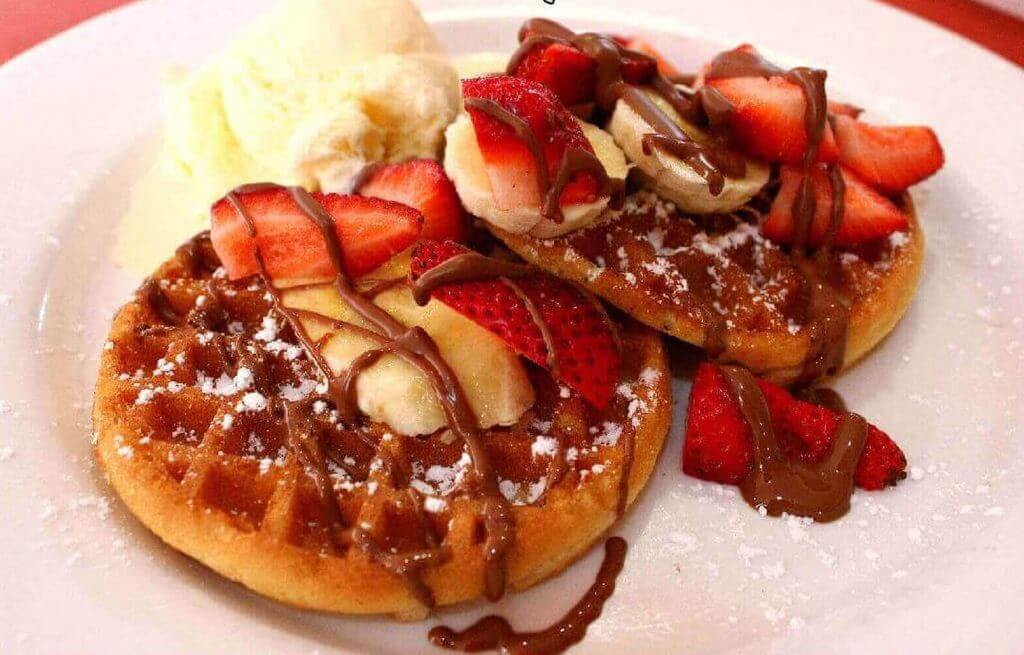 Probably the best known of the waffles. Introduced at the 1958 Expo in Brussels. They were introduced into America in 1962 by Belgian Walter Cleyman and served with strawberries and cream. Still a popular option today.
They were based on a simplified recipe for the Brussels waffle, legend has it that the name in the States was changed to the Bel-Gem due to the average American being unable to identify Brussels as being in Belgium.
Bergische
A specialty of the German region of Bergische, these are heart shaped and served with cherries, cream and rice pudding as part of the traditional Sunday's dinner in the region. Less dense and crispier than their Belgian counterparts.
Pandan Waffles
Or 'Green Vietnamese Waffles', a popular street food in Vietnam. The Pandan flavouring and coconut milk in the batter give it the distinctive green appearance. Unlike most waffles elsewhere these are typically eaten plain.
Gofri Waffles
Next up is Italy's entry. Or to be more precise the Piedmont region. Containing no egg or milk they are lighter and crispier in texture than other variants.
Moffles
This one is something different, by the Japanese (Who else). a Mochi rice cake cooked in a waffle iron. A crispy exterior with a glutinous mochi insides. Served both as a dessert with condiments, or as a savoury offering with ham, cheese or cod roe.
Stroopwafels
From one of our favourite countries (The Netherlands) comes the stroopwafel. Originally from the Dutch city of Gouda. Made from flour, butter, brown sugar, yeast, milk, and eggs. Balls of batter are placed on an iron, whilst it is still warm, it is cut in half, and the filling spread over the surfaces gluing them together.
Taiyaki
A Japanese entry dating from 1909, this is shaped like a Sea bream fish, and commonly sold as a street food. The most common filling is red bean paste that is made from sweetened adzuki beans. Though Custard, chocolate and cheese are also offered.
Kanom Rung Peung
Hailing from Thailand, the name means literally 'Bee Hive Snack', and they are made with coconut milk, palm sugar, coconut, and sweet corn. Being sweet they can usually be eaten without additional toppings.
Liege Waffles
Another entry from that little European country of Belgium. See, they are famous for more than just sprouts. Liege waffles are made using a yeast dough and pearl sugar, giving them mush more of a chewy consistency than most of their competitors.
Num Poum
Made with coconut and rice water, this hails from Cambodia. Another popular Khmer street food.
Pizzelle
Italy's take on our favourite food. The Pizzelle, made from flour, eggs, sugar and butter and typically flavoured with anise, lemon or vanilla. These are flat, crispy, and commonly sprinkled with sugar.
Hong Kong Bubble Waffle
A rather unique shaped snack, called "gai daan jai" in Cantonese these taste a little like a cross between a cookie and a sponge cake. Crispy on the outside and fluffy inside the little bubbles.
They are all waffly good, which one is your favourite?