Catering, Event Planning, Fun Story
20 January 2021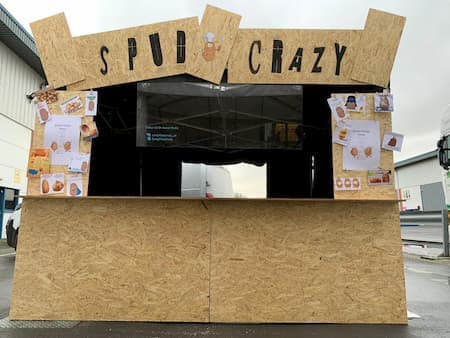 We have had the same range of carts for quite a period now for everything from street food carts to weddings. Heck, we average over 500 events a year, so obviously they are popular. Why change when it works?
Thing is during the lockdown, we have had that rare luxury, time. We began looking at many of our competitors, and realised that they are doing things we are not. What is more galling is the knowledge that at one time, we would have been doing them first.
Because of this we have designed and produced a range of removable panels that totally alter the styling of many of our ranges of carts and bar sections.
No1 daughter has also been pestering for us to add a more quirky street food type of catering unit.
To this end we eventually did just that, it was for a series of outdoor events, where we were serving 450 jacket potatoes a day, and we felt that the extra room this design allowed us would make it easier to operate.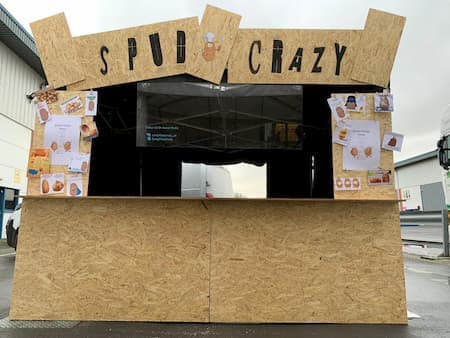 Basic Street Food Option
Our first design is a bare bones, patterned plywood unit, meant to look slightly third worldy for a quirky feel.
It was used successfully for a number of the aforementioned jacket potato jobs, as well as doughnuts and hot dogs.
Sticking with the theme, the menu boards and clip art was all held on with mini cloths pegs, and the top sign stencilled with our favourite Sex Pistols font.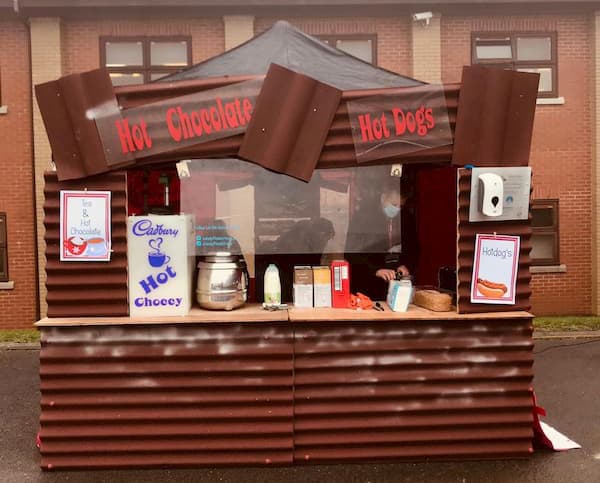 Red Ribbed Stall
Our next version was made using deep red corrugated panels, this gave a more industrial feel and was used for a number of Hot Chocolate/Hot Dog days at local schools.
Either unit can be used for any of our range of catering options. Indeed it is plenty roomy to add two or three offerings in the same stall.
Over the coming year we intend adding a number of additional options to our street food carts. So keep checking back. Or keep checking our website for more details of street food units.