Catering, Event Planning, Fun Story
4 March 2021
We use a wide range of suppliers for our catering operations. Many of them are major catering suppliers, however we do like to use small boutique companies where possible.
One such supplier is a small batch distillery that produced a range of gins, and a vodka.
Coastal Distillery
Based in the small coastal town of Mablethorpe in Lincolnshire. The company has an unusual history, being formed by a printer and an undertaker. They shared an interest in the drinks industry and a love of unconventional design.
Dam Raider Gin
Wanting to draw upon the rich RAF heritage of the region, they launched a gin as their first product. Named after the famous 617 squadron of operation Chastise fame. The famous dam busting raid in case you weren't following. Contrary to popular misconception, they weren't christened the 'Dam Busters', that was a film. They were actually known as 'Dam Raiders'.
The bottles are fabulous, the front contains an image of the famous Lancaster bomber flying over RAF Scampton. The rear an extract from an actual pilots log book.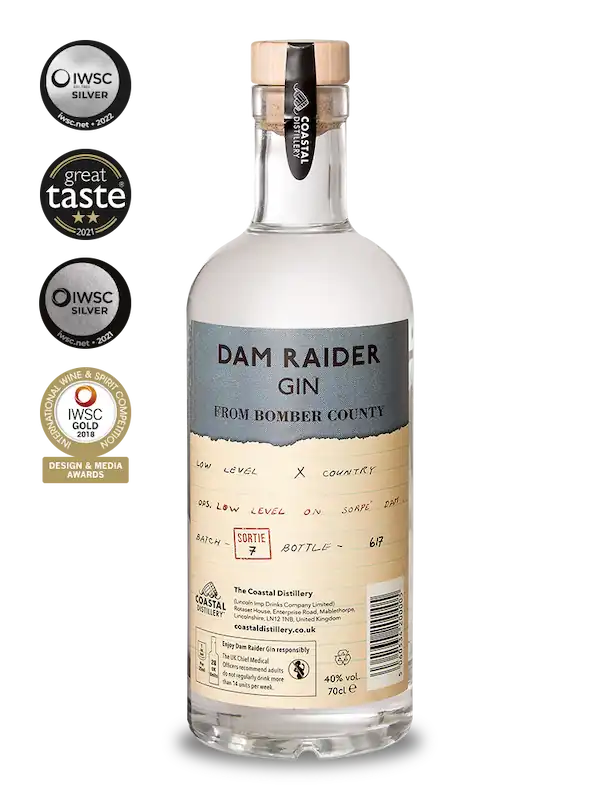 A donation from every bottle sold is also made to the International Bomber Command Centre and Thorpe Camp Visitor Centre. Home to the squadrons that flow out of RAF Woodhall Spa during the war.
Mosquito Vodka
Their other aviation related product is a vodka offering, named after the De Havilland Mosquito twin engined plane of WWII fame. This wooden wonder could fly faster that most fighter planes. It was used as a night fighter, fast bomber, pathfinder and reconnaissance airplane.
Again the rear of the bottle contains an extract from a pathfinder squadron crew member. The neck tag contains an airman's poem tied to the bottle with genuine WWII parachute silk.
We tend to use these on our gin bars, especially when providing services at the many military functions we attend.