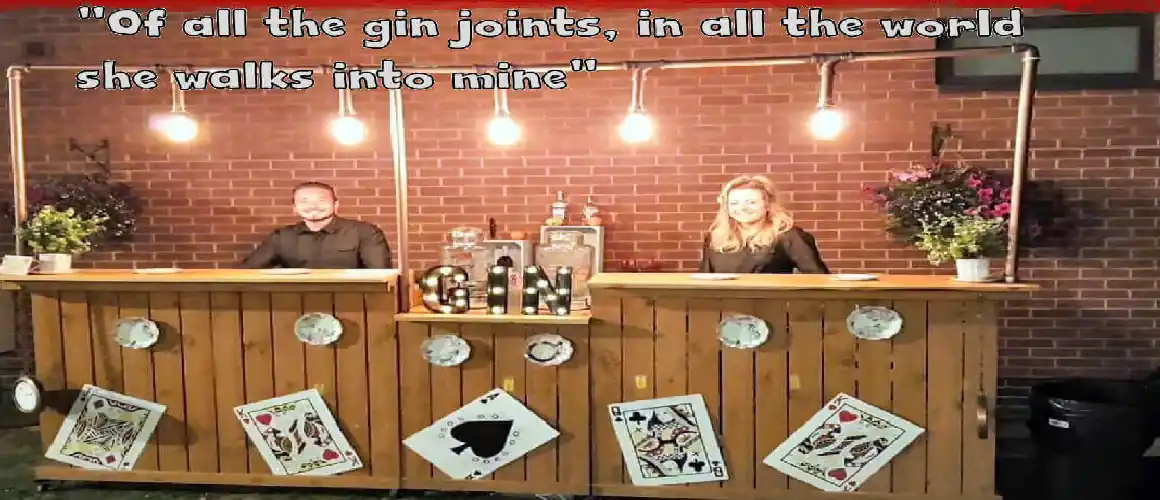 Hire Gin Bar Services
It's Gin O'Clock

Gin is the new on trend drink. You can have a bar service, offering a range of fun and quirky gins, with mixers, garnishes and a range of themed bar units, this is perfect for reception drinks, exhibitions, weddings and corporate events. Or choose from our whisky bar, prosecco and Pimms bar, or any combination to suit your requirements, and wow your guests.
Flavoured Gins
Currently the in vogue drink, gin has been elevated from the staid old mothers ruin of yesteryear, to the must have drink for the in crowd, join our gin loving community.
Gin Drinks Menu

You have the choice of a range of gins in various flavours including;
•Rhubarb & Ginger
•South African Truffles
•Pink Gin
•Raspberry Gin
•Sweet Violet Gin
•Chocolate Gin
•Passion Fruit Gin
•Blackberry Gin
We can source and supply virtually any flavour to suit your requirements, ranging from an artisan gin company to more popular offerings. If required a bespoke menu can be created just for you to include craft gins, and gin cocktails.
Hire A Gin Bar Unit
You can choose from a range of bar units to suit different events and requirements. Or we can theme them to specific requirements such as Alice in Wonderland etc.
Your choice of bars as include;
•Rustic Pop Up Gin Bar Units
•Horse box
•Contemporary Bar
•Modern LED Bar
•Tiki Bar
•Converted Horse Trailer
•Pop Up Gin Bars
Ask us for a full  custom design and build service for specific mobile bar units for exhibitions and custom events, this can range from a small pop up cart, to a unique converted horse trailer gin bar.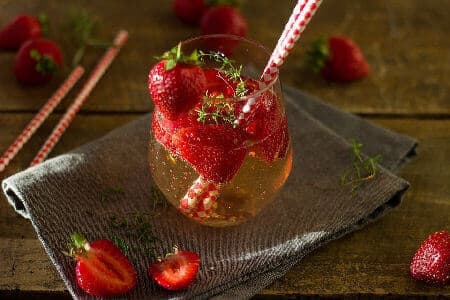 This makes a great reception drink at indoors or outdoors events, or as a gin tasting event at private parties. You can even have a gin and Prosecco Service
History Of Gin
Gin has a history stretching back to production in the Netherlands in the 13th Century. Originally known as genever, the drink was distilled from walt wine to around 50% ABV. The original drink wasn't really drinkable, so it was softened with herbs and spices, Juniper berries initially for their supposed medical properties.
Depending on the method of distillation, the alcohol tasted similar to vodka or whiskey. The British discovered the drink whilst fighting in Antwerp, assisting the Dutch against the Spanish in the 80 Years War in the late 16th and early 17th Century.
They would drink genever before battle due to its supposed calming properties, some claiming this was the origin of the phrase 'Dutch Courage'.
English distillers began to make their own version, shortening the name to gin. When William of Orange took the throne in the Glorious Revolution, the drink saw a major jump in popularity.
What a lot of people fail to remember, is that at the beginning of the 18th Century, much of our drinking water was pretty unclean. Drinking gin was probably a healthier choice. Additionally during that period,we were engaged in one of our many spats with the French, and as a result increased levies on French Brandy.
The government of the day reduced taxes on gin and encouraged the production of the beverage in small workshops. Additionally the drink could be distilled fairly cheaply from homegrown British produce, poor quality barley that was unsuitable for beer brewing, could be used to make gin.
At one point over half of London's 15,000 drinking establishments were dedicated to gin.
Sadly as time went on, the drink became similar to the modern drug epidemic, with widespread drunkenness being blamed on the low cost of the drink. Finally the government imposed an expensive licensing requirement in the Gin act of 1736. When no one bothered to pay for a licence the drink was promptly banned. Sadly, as in the U.S. prohibition produced the opposite effect to that intended, and the drink became more popular than ever.
In 1751 a new Gin Act lowered the taxes but made it illegal to sell the drink from premises whose rent was less than £10 per year, intended to prevent the sales from unreputable premises. By the turn of the 19th Century the gin craze had pretty much ended. The only major manufacturer to survive was Alexander Gordon, whos brand survives today and accounts for over 50% of the U.K. market.
F.A.Q. Click Here
WHERE CAN I HIRE A GIN BAR NEAR ME;
We cover the full U.K. with our bar services.
CAN YOU SERVE ANYTHING OTHER THAN GIN;
Yes we offer vodka, whisky and rum bars as well.
ARE GIN BARS SUITABLE FOR CORPORATE FUNCTIONS;
Yes they work exceptionally well at that type of event.
Hire a gin drinks bar for a great reception treat at military functions, bar/bat mitzvahs, college balls, company fun days, corporate events, weddings, parties and exhibitions, and they are available throughout the U.K. including London, Scotland, The North East, The Midlands, Yorkshire and Lancashire.