Catering, Equipment, Fun Story
13 September 2022
Over the years, Citroen, the French Automobile manufacturer has stood out for doing things its own way. It has designed and utilised a number of systems for its cars different to anyone else. WIth it's DS model in 1955 it gave the world a quirky hydraulic suspension system, swivelling headlights, a single spoke steering wheel, all wrapped up in a quirky streamlined body. Withs its 2CV, it gave something else.
A Legend Is Born
Post war France, like many nations was struggling with austerity, rebuilding, the after effects of that cataclysmic conflict. At the time in the Gallic nation, most people were still using horses and carts. The roads in most of the country were rural and unpaved.
 Citroën Vice-President Pierre Boulanger wanted to design a vehicle that would be suitable for the many French farmers. Legend has it that the car he came up with was designed to allow a farmer to cross a ploughed field with a basket full of eggs, without them breaking.
Whether that was true or just an apocryphal story is open to debate. Either way the car features an unusual suspension set up, with a single horizontally mounted spring connected to both front and back wheels via shock absorbers, also mounted horizontally.
The Tin Snail
The novel suspension system was wrapped up in a simple tin body, corrugated for strength, whilst keeping the weight down, the car had a full length canvas roof, and has received a number of less than flattering names. An Umbrella On Wheels, The Duck, Tin Snail. Powering this new Citroen, was an air cooled, two cylinder boxer engine. Initially around 375 with a stunning 9HP. This was increased first to 425cc with 12.5 HP and then to 602 and 32 horses.
To keep costs down it came with no locks on the doors, a single taillight and no heating or ventilation system. Subject to much derision by the motoring press at launch, Citroen was flooded with customer orders, indeed at one point a second hand 2CV was more expensive than a new one due to the waiting list.
3.8 Million
The motoring press got it wrong. Citroen sold 3.8 million of these little quirky cars, and it kept selling for over 40 years.
The car gradually became more 'luxurious' over the years, receiving upgrades such as wing mirrors, and two headlights. There was even a 4×4 version called the Sahara. True to form whilst everyone else in the automobile universe added a transfer box to split power between the front and back wheels, Citroen added a second engine in the boot to drive the back wheels. The car could run on front or back engines, or both, with two keys and starter buttons in the cabin, but a single linked gearstick, and two petrol tanks, one under each front seat, with holes in the doors for the filler caps.
Citroen Fourgonnette
Now you might wonder why a blog about a catering company has an article on a primitive French car? It's simple really, the French didn't just make the 2CV as a car, they also made a van version called the Fourgonnette. This was rapidly adopted by everyone from the local florist, to the French Post Office.
It has also been adopted by us. Well, not technically a 2CV van, but rather an Acadiane van. Basically this is a 2CV running gear and engine, with a slightly modernised cabin added. So instead of the single round headlights, you get a more modern streamlined wing mounted light. It is also slightly more powerful, and is based on the Dyane car, itself basically a facelifted 2CV.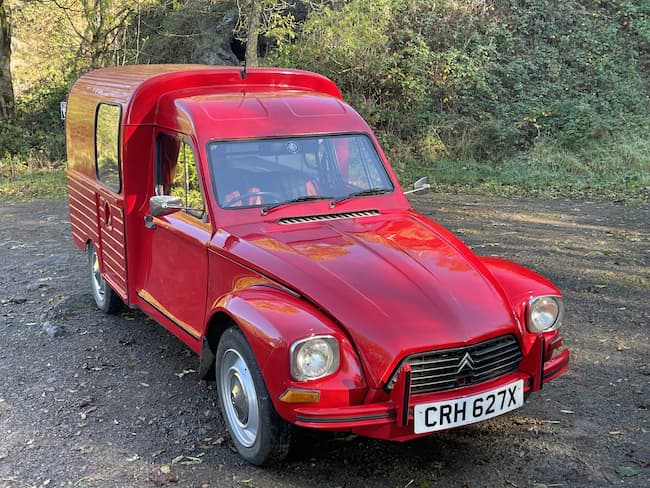 This, like the rest of our fleet of food trucks, will be designed for multi use. From an espresso coffee bar, to a frozen yoghurt dispensary. Over the coming weeks we will post some more details as it is fitted out ready for launch.