Hire French Crepe Carts.
Just For You, A Pancake With Style.

Fabulous wafer thin French crepes, available in either sweet or savoury options (known as Galettes in France).
The French claim that a perfect crepe should be thin enough to read a love letter through. Trust them to bring sex into it!
With a delicious range of fillings, sauces and toppings, including everyone's favourite treat, Nutella. All served with style for you.
Cooked fresh in front of your guests, this is an act of theater, not merely a snack.
The crepe chef twirls the mixture on the hot plate, cooking it to perfection. Then adds the fillings, various sauces and toppings, folds it into a triangle, and presents it to your guest. Voila!
Zut Alors! I want crepes, so what are you waiting for ask us for a quote.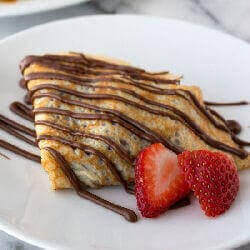 Sweet Dessert Crepes
Your perfect dessert option for weddings, parties and corporate events, sweet crepes can come with your choice from;
•Bananas.
•Strawberries.
•Kiwi Fruits.
•Nutella.
•Chocolate Sauce.
•Raspberries.
•Maple Syrup.
•Lemon Juice.
•Sugar.
•Chocolate Flakes.
•Ice Cream.
•Nutella.
If you have a favourite topping you would like, let us know and we will source it for you.
High speed crepe irons supply a steady stream of delicious desserts for your guests. Although thinner than the traditional British pancakes, crepes make an ideal presentation at a pancake day event, or to celebrate shrove Tuesday. Check out our range of quirky carts for your crepes.
Savoury Crepes (Galettes)
You can also have your crepes served as a savoury option. Ideal when you need more of a meal rather than just a dessert with;
•Cheese.
•Ham.
•Beef.
•Chicken.
•Tuna.
•Sweetcorn.
•Pesto & Tomatoes.
•Mushrooms.
Made using a less sweet mix, but with all the theatre and entertainment value of the dessert crepes, these make a tasty alternative option to baked potatoes or frankfurters.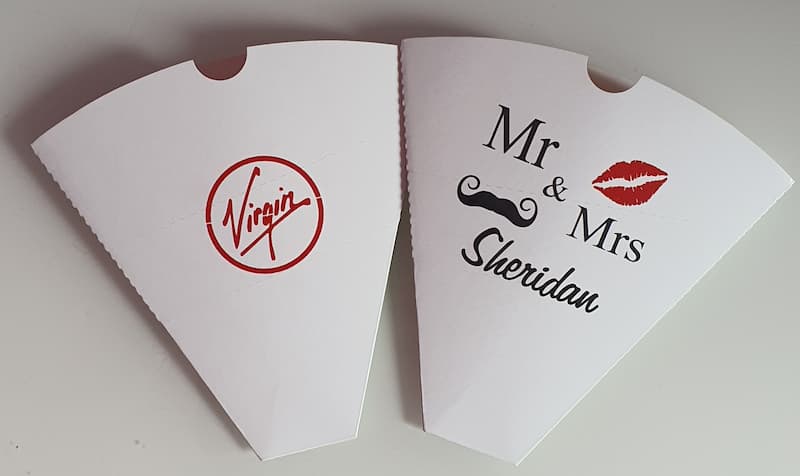 For corporate clients we can personalise the crepe holders with a logo or sales message.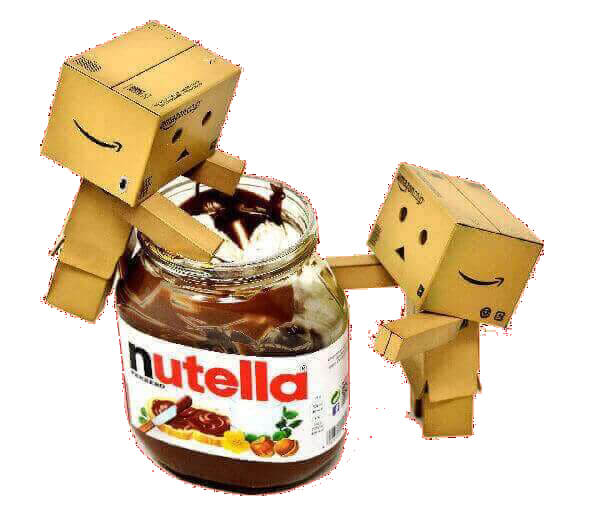 In France crepes are traditionally served on 2nd February. Originally Virgin Mary's Blessing day. Now called the day of the crepes or Le Jour Des Crepes. Legend has it that if you toss a crepe from a pan. With your right hand, catching it whilst holding a coin in your left, you would become rich that year.
Although they look like pancakes, the main difference is they are much thinner.
Nutella, is one of our most popular toppings. Perfect for crepes, doughnuts, waffles and churros.
If you are looking at adding an international flavour to your event, in addition to our French Crepes you can also choose;
•Spanish churros
•Belgian waffles
•Dutch poffertjes
•Mexican nachos
Crepe Fun Facts
Crepes were originally made of buckwheat flour and eaten as bread, sometime after buckwheats introduction into Europe in the 1100's.
It is recommended to add hard liquor to the crepe mixture, not only for its flavour, but to break down any hard lumps.
Jour Des Crepes is national pancake day in France.
Lambig, an apple brandy distilled from cider in Brittany is sometimes added to the crepe batter.
In the middle ages, wine mixed with water was used in the batter mix, rather than milk.
Blinis, are the Russian-Ukrainian version of crepes, small and leavened they are reputed to be excellent with caviar.
Lemon or orange zest is often grated into crepe batter to add a touch of sweetness.
F.A.Q. Click Here
WHERE CAN I HIRE A CREPE CART NEAR ME;
We can provide a cart anywhere in the U.K.
CAN WE HAVE CUSTOM TOPPINGS;
Yes we can work with you to provide a fully custom menu.
Hire Crepe Carts For Weddings And Events Throughout The U.K. including London, Scotland, Lancashire, Yorkshire, The North East and The Midlands. These are simply perfect for weddings, parties, corporate functions, military events, company fun days and exhibitions.