Hire Mulled Wine Carts The Hot Winter Drink For Your Event
Wine is sunlight, held together by water.

You can have a great complement to hot roast chestnuts, steaming hot mulled wine the perfect warming treat for a cold winter event.
Red wine with added spices including nutmeg, cinnamon, star anise, and fruit such as oranges and apples. Slowly heated up to allow the spices to permeate the wine. Then served steaming hot to your guests.
You choose the style of cart to serve from , an Alpine hut perfect for serving mulled wine with, with the advantage of making your event look good. Though for smaller Christmas events it works equally well if you choose a traditional Victorian cart.
Your perfect reception drink at those chilly evening events, or festive celebrations. Find Out More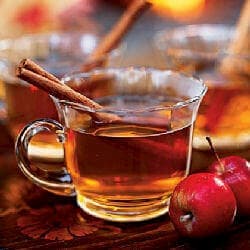 An International Beverage
Mulled wine, known in Germany as Gluhwein and Scandinavia as Glogg. As originally developed it was a way to reuse wine that had spoiled. By warming it up and infusing it with spices, the taste of the sour wine was hidden.
Nowadays it is made using good wine, but with the same mix of spices and fruit. It is regarded as a traditional winter drink.
Of course not everyone likes their alcohol steaming hot, so you can also have;
•Gin Carts
•Jagermeister Bars
•Prosecco Bars
•Pimms Carts
•Absinthe Bar
How Is Mulled Wine Made

Our mulled wine is made from a quality red wine. Steeped in a mixture of spices consisting of nutmeg, cinnamon, star anise, lemon zest, cloves and cranberry.
Its then heated (but not boiled as this destroys the alcohol). With lemon rind and orange added to the mixture before it is decanted and served to your guests.
Fresh hot mulled wine has to be tried to be appreciated. The aroma is just oh so good.
We can also offer a non alcoholic version, all of the great taste, but non of the alcohol, ideal for daytime events, or when religious reason prohibit alcohol.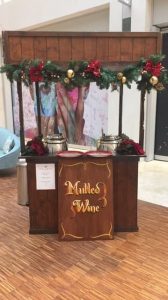 Mulled wine can be combined with spiced cider and hot Pimms to give your guests a choice of winter drinks.
You can choose a cart that can also accommodate a hot  chestnut oven. Offering a complete winter reception service, just perfect for Christmas parties, or a great addition to any event.
If you are planning an exhibition or corporate sales promotion contact us. You can have a custom design and build service to suit your brand requirements.
Many of the consumables such as the chestnut bags can be custom branded for you. Helping promote your corporate brand. You can also have a complete service with branded vehicles and staff workwear.
F.A.Q. Click Here
WHERE CAN I HIRE A MULLED WINE CART NEAR ME;
We provide a range of mulled wine carts throughout the U.K., so we cover all of your requirements.