Hire Jagermeister Carts
Jager Bombs, always seem like a good idea at the time

Treat your guests to our selection of Jager shots or bombs and give them a night to remember, or one they don't depending on how much you give them!
Made from a blend of over 50 herbs and spices, (although it doesn't contain stags blood contrary to popular myth).
Jagermeister is one of the most popular shot drinks around. We use real Jager machines which chill the drink to minus fifteen degrees, this adds a real kick totally transforming the taste of the drink.
When you add Red Bull to create Jager bombs you have the makings of a fabulous night.
We serve shots in branded Jagermeister test tubes, and the bombs in specialised bomb cups which keep the 2 drinks separate until you pour them down.
Available on a range of themed carts, or on one of our special Jagermeister branded carts, add some fun to any wedding, party or corporate event.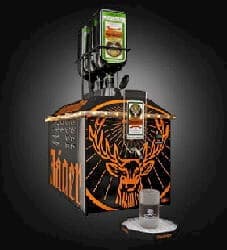 Jager Cart Hire
Most people have tried Jager, or Jager bombs, but what many don't realise is that the drink is intended to be served at an ideal temperature of minus fifteen degrees, ie below ice cold. This super chilled beverage adds a real kick, bringing out the true flavour. It is completely different to drinking it at room temperature as is served in most bars and clubs.
Our genuine Jagermeister machines, super chills the drink and serves it at precisely the correct temperature. Letting you experience Jager the way it was intended to be served.
Jagermeister Branded Cart
Our Jagermeister Branded Cart leaves no doubt as to what a treat your guests have in store. This is sure to become the focal point at your event with shots and bombs galore. We can also serve it from any of our range of themed carts.
If you have a specific theme, or corporate requirement, we can design and build a one off Jager cart to your specifications. Alternatively we can supply Jagermeister from one of our mobile bars, available in a range of various themes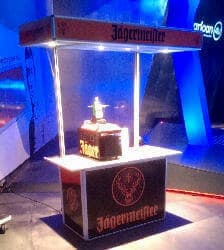 Hire Jager Bomb Cart

Jagermeister carts have proven super popular at;
•Weddings.
•Parties.
•College Balls.
•University Balls.
•Military Balls.
•Corporate Events.
•Company Fundays.
•Exhibitions.

Anywhere people like to drink, which is basically everywhere. Please note however that as a responsible company, we do ensure that guests use the jager cart responsibly, and we would refuse to serve guests obviously intoxicated.
Of course if Jager is too hard core, you also have the option of our other fabulous drinks bars;
•Gin Bars For Events
•Mulled Wine
•Prosecco Bars
•Pimms Bars
•Absinthe Bars
F.A.Q. Click Here
WHERE CAN I HIRE A JAGER CART NEAR ME;
We cover the full United Kingdom so can provide a service anywhere you hold an event.
Jagermeister carts are available throughout the U.K. Including Scotland, The North East, The Midlands, Yorkshire, Lancashire and London. Perfect for private parties, corporate events, weddings.