Hire Pimms Cart Service
When you need Pimmspiration
Looking for the perfect beverage service for your upcoming event?
Look no further!
Introducing our exclusive Pimm's service – the ultimate way to add a touch of sophistication and refreshment to your special occasion.
We offer two types of Pimms cart hire. The traditional refreshing summer drink, mixed with lemonade, and full of fresh fruit, with a sprig of mint garnish.  Or for the colder months, a fabulous Pimms, mixed with Apple juice and served steaming hot. Much like our mulled wine service but with a classy touch.
For a really quirky service have it served from our little red Pimms Van, a classic Citroen with cool Gallic flair.
When you want to be quintessentially English ask us for help.
Pimms Mobile Bars The Great British Tradition
Long lazy summer days, and Pimms complement each other perfectly. What a great idea for a reception drink at any event, be it a wedding, a company funday or on your exhibition stand.
Mixed with refreshing cool lemonade, and with fresh fruit steeped in the mix, garnish with a sprig of mint and voila, who can resist.
The drinks are supplied on your choice of cart to be served from, and staff to interact and serve your guests. You can even have hostess trays and promotional staff to mingle with your guests or clients keeping them topped up.
We can also offer complimentary services to go with your Pimms, such as vintage ice cream carts, mobile bar hire, canapés.
Decoration And Branding Your Cart
Any of our bars can be decorated up for say a wedding or party, we are even happy for you to add your own decorations. For corporate clients at a sales promotion or exhibition we offer;
•Full Colour Branding.
•Branded Consumables Such As Glasses Or Napkins.
•Full Design And Build Service For Custom Carts.
When Its Cold Try Our Fabulous HOT Pimms Cart
The same perfect gin based drink, but mixed with apple juice, and warmed up to become a fabulous winter treat. Served at the same temperature as mulled wine, but with fruit rather than spices simmering away. This is one really refreshing and classy beverage.
Of course if Pimms isn't what your after, we also offer;
•Mulled Wine Carts Hire
•Gin Bars
•Prosecco Carts
•Jagermeister Bars
•Absinthe Carts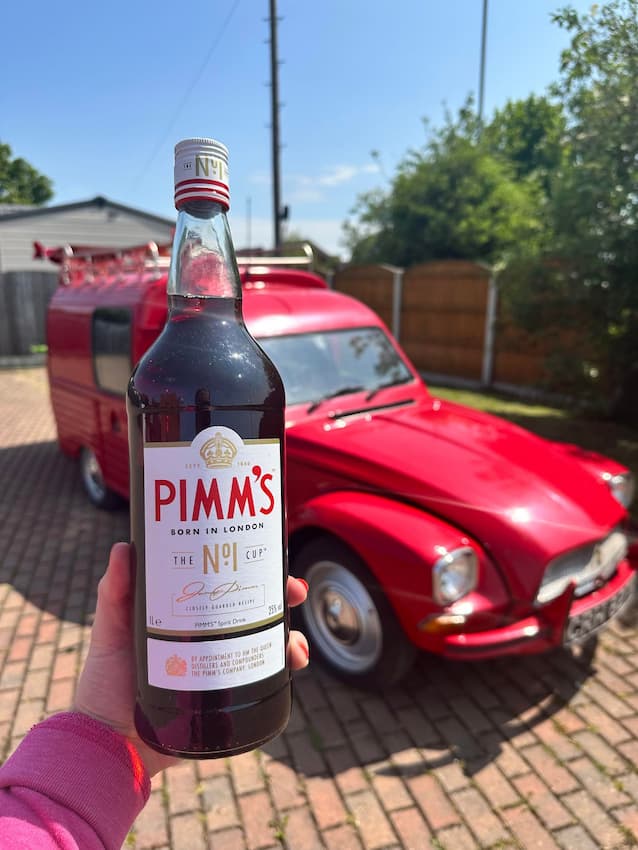 Our Range Of Pimms Bars
The days are gone, or should be, when your chosen drinks service would be dispensed from the top of a table. We offer a range of fun and funky carts that will cover any theme or requirement for your big day. When you hire a Pimms bar, choose to have your Pimms served from;
•Vintage French Van.
•Victorian Hand Cart.
•Rustic Wooden Bar.
•Wild West Saloon Bar.
•Contemporary Branded Bar.
•Ultra Modern L.E.D. Bar.
•Winter Alpine Hut.
•Pimms Tricycle
History Of Pimms
First produced in 1823 by James Pimms, a farmers son from Kent. He became the owner of an oyster bar in the City Of London, and offered his drink in small tankards as an aid to digestion . He called it No1 cup. In 1851 No2 Cup and Pimms No.3 cup were introduced.
Eventually the business was sold to Frederick Sawyer in 1865 and then to Horation Davies.
A  chain of Oyster houses were  franchised,and Cups No 4 to 6 produced.
When the brand hit hard times in the 1970's the oyster chain was sold and a number of the drinks phased out. Before the brand was taken over by the Distillers Company, eventually through mergers and acquisitions becoming part of Diagio.
F.A.Q. Click here
WHERE CAN I HIRE A PIMMS CART NEAR ME;
We can provide a service for you, anywhere in the U.K.
CAN YOU DO WINTER PIMMS;
Certainly, we also offer hot Pimms with apple juice, perfect for those long winter nights.
Traditional Pimms and Hot Pimms carts are available throughout the U.K. Including Scotland, The North East, The Midlands, Yorkshire, Lancashire and London. Perfect for private parties, corporate events, weddings.