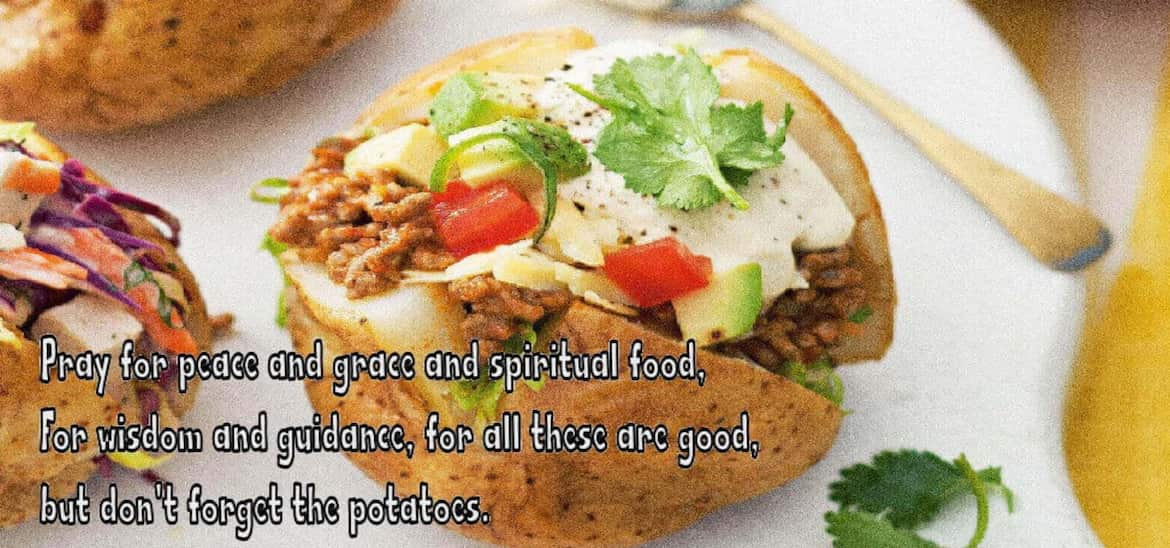 Jacket Baked Potato Cart Hire.
Juicy Jackets, When You Need The Food To Be Remembered.
Reputed to have been introduced by Sir Walter Raleigh, if you don't like 'taters' you could always try his other offering, tabacco. but we don't think 'baccy' goes with chilli too well.
Everyone remembers what the food was like, poor food can totally ruin your event.
Don't offer your guests or colleagues the usual boring platter of sandwiches and a slice of cake.
You need something a bit more filling, a baked potato cart is just the ticket. Everything is taken care of for you, preparing and serving the food, and the clean up after the event.
Your choice of hot and cold fillings with side salad. to make a perfect late night offering for your guests at a wedding. Although it's just as good through the day at parties or company fun days.
Fancy a Tater, just ask, we don't bite!  Yes Please
The menu lists a small selection of what you can choose for your event. If you have something specific in mind let us know and we can put a customised menu together for you.
We can also offer veggie and vegan options, so everybody can be happy.
You can have the baked potato services on a quirky range of carts, remember nowadays the service needs to look as good as the food tastes. Victorian style pickwick potato ovens are used to cook your juicy jackets to perfection fluffy on the inside, crunchy on the exterior.
•Victorian
•Alpine
•Contemporary
•Tikki Hut
•Horse Box
•Gazebo
You have the option of a custom design and build service for promotional events and exhibitions. Check out our carts…
Branding
For sales promotions and exhibitions your baked potato carts can be branded to suit your theme. This can be as simple as adding a logo to the front, right through to a complete custom design and build, you also have the option of;
Custom Branded Napkins.
Custom Branded Plates.
Custom Signage.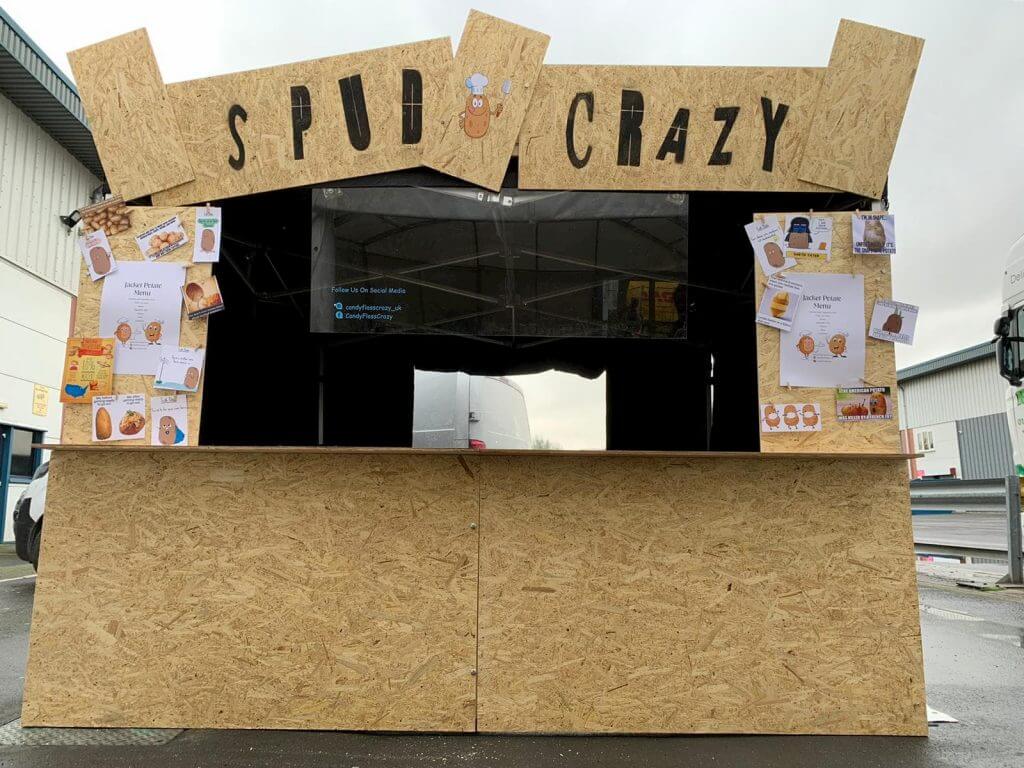 The same old buffets are beginning to look a bit stale. Adding a baked potato cart serving a range of healthy options is a sure fire way to keep your guests happy. Add a touch of class your event with our delicious hot fresh spuds and range of both hot and cold toppings. Perfect for private parties, and wedding receptions.
History Of The Potato
History Of The Potato
The humble potato has become the world's 4th largest food crop. Quite a feat for a vegetable which was first cultivated in Peru around 8000 to 5000 BC.
When Peru was invaded by the Spanish Conquistadors in 1536, they discovered the taste of the potato and carried them to Europe. Sir Walter Raleigh introduced potatoes into Ireland around 1589, planting them on 40,000 acres of land near Cork.
It took around 4 decades for the potato to spread to the rest of Europe
Fun Facts
Did You Know
At one point during the Alaskan Klondike gold rush, the potato was worth its weight in gold. They were valued for their vitamin C, and gold at that time was more readily available than nutritious foods!
The potato was the first vegetable to be grown in space. NASA and the University of Wisconsin created the technology with the aim of feeding astronauts on long space voyages, and eventually providing a staple crop for future space colonies.
F.A.Q. Click Here
DO YOU OFFER VEGGY OPTIONS;
Yes, we can provide a range of veggy toppings, or a mixture of both.
CAN YOU PROVIDE HALAL OR KOSHER TOPPINGS;
Yes we can work up a menu to suit your precise requirements.
HOW MUCH IS A JACKET POTATO CART;
The price varies depending on where you require the service and how many guests you need us to serve, but expect to pay around £500 for upto 100 servings.
WHERE CAN I HIRE A JACKET POTATO CART NEAR ME.
We offer a service covering the full U.K. and can provide a cart for you.
WHAT IS THE DIFFERENCE BETWEEN A JACKET POTATO AND A BAKED POTATO;
In reality they are the same thing, basically the English call it a jacket, the Americans baked.
U.K's Premier Traditional jacket potato carts are available to hire throughout the FULL U.K. and Europe. Including the North East, The Midlands, London, Scotland, Lancashire and Yorkshire, and they are perfect for military balls, corporate events, college balls, weddings, parties, university balls, company fundays, barmitzvahs, bat mitzvahs and any other type of public or private event catered for. Hire Jacket Potatoes Near Me. Baked potato food trucks and carts for any event. Waffles make a perfect complement.