Event Planning, funfair events, Funfair Rides, General
7 November 2020
How To Choose A Corporate Events Theme
This should be first on your list when planning A Corporate Event . Setting a theme will dictate many of the requirements for things like catering, entertainment and the size of the venue you will need.
Certain times of the year lend themselves to themes. Mid December and a Christmas party can be just that, Christmas. Middle of the summer it doesn't work as well, though we have actually done Christmas at that time.
Are there any major sporting events on, tennis themed parties are popular around Wimbledon time, or a football theme to celebrate the World cup, though if you are English there will probably be very little to celebrate.
Fancy dress is always one of our favourites. People seem to really let their hair down when they start dressing in character and it seems to amplify the fun.
Finding A Perfect Venue
This needs careful consideration. Most venues will also provide the food for your event, and this can really make or break it. Your theme and entertainment will to some extent dictate your venue requirements. Are you thinking of having something like funfair attractions as part of the event, if so then you won't be able to use a city centre hotel, as you will need somewhere with it's own grounds to accommodate them.
If you are not having outdoor entertainment, then it allows a wider selection of locations. Traditionally events were held in 'fancy' hotels. This might still be the case depending on the expectations of your guests. However there are some really quirky venues popping up now, places such as Hawker House, a large warehouse type venue, with resident street food vendors and plenty of space is one we have worked at in the past, this gives you pretty much a blank canvas, though with an on trend industrial feel.
If you are trying to plan a party for a small amount of party, say an office with 20 people or so, then it might pay for you to go down the shared party route. This is a venue that provides the catering, entertainment, venue etc, and then hires out tables. So you can take as little as half a dozen guests, but still get the big event experience.
Planning The Catering
This one is the biggie. Nothing can break an event like the quality of the food. At one time everyone expected a 3 course meal, hotel style, and if your guests are of this persuasion then that's the way to go. On the other hand, there is so much more to choose from now. A younger crowd will delight in street food style catering, and that opens up a wide vista of choice. You will need a venue that allows you to bring external caterers in, and make sure there are no 'corkage' charges for food. We once provided a hot dog cart to an exhibition client, they ended up being billed for more by the venue for the hot dogs than we actually charged them.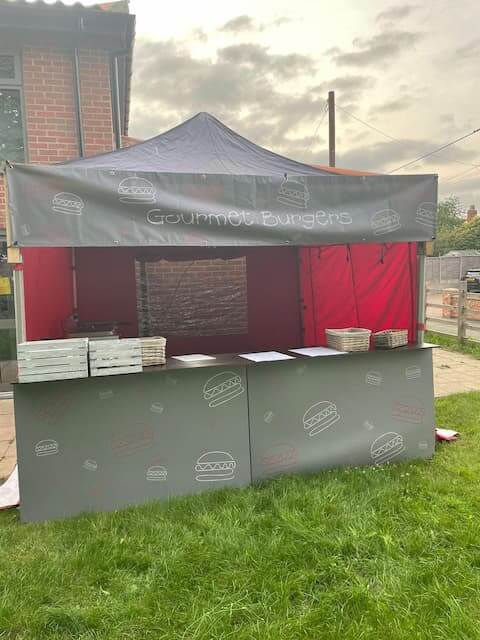 Planning A Corporate Event, Entertainment
After the food this is the next big one. The usual is something like a wandering magician, some music on arrival, perhaps a live band followed by a DJ and disco. Booooring! Well, not the magician, we like them, but the rest is formulaic. Kick it up a beat and give the guests something to do. Some competitive games on arrival, fake paparazzi or a themed photo booth. All a bit different to the norm. Something like a dodgem ride never fails to impress if you have the room and budget. In fact we have provided full scale fairgrounds to some of our larger clients for the maximum wow factor.
We have looked at this from the point of view of it being an adults event, however many companies run family fun days for their staff, so don't forget to factor in entertainment for all age groups.
DIY, Or Bringing In The Professionals
This depends on your budget, and whether you have someone who is not only capable of planning an event, but more importantly actually wants to do it.
Professional planners are not cheap, but, they not only save you time, but can in many cases save you costs, as they will have deals in place with caterers, venues and entertainers. So don't dismiss them purely on a cost basis.
Many planners are happy to put together a proposal without cost, so you could always have 2 or 3 pitch for your work. With the time saving element, they may be the way to go.