Event Planning, Fun Story, Photo Booths
21 January 2020
Jasper is our British Racing Green Classic Mini photo booth. One of our most popular booths he has travelled the highways and byways of our green and pleasant land. Dispensing lashings of fun and weddings and corporate events. This will be a running tale of Jasper's new clothes, also known as a full restoration.
After much hard work it was felt that Jasper was starting to look a little frayed around the edges. The decision was taken to patch up some of the rust that is starting to appear. Then to paint the engine and engine bay to spruce him up a bit.
However, like many of the best laid plans, once we started stripping him down, this suddenly morphed into a complete nut and bolt restoration. Similarly it was felt that a little extra power would be nice on the engine front. Which rapidly became a full engine rebuild with numerous upgrades to increase the power and drivability.
Currently Jasper is in bits, (and we mean in bits, there isn't any 2 pieces still connected together). Pictured below he is being carried into the shotblasters. He is going to be taken back to bare metal before the new body panels are fitted.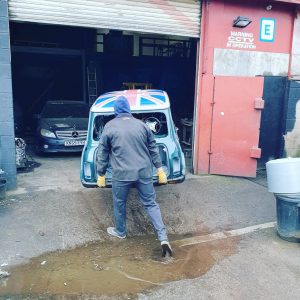 Over the next few months we will post regular updates to keep you informed of how he is coming along. At the minute the shell is in being blasted, the engine parts are at various experts getting work done. The sub frames are at our base being rebuilt by us.
All in all we are sure Jasper's new clothes will result in a stunning example of this classic British car.