Another in a long line of distinguished British Marquees, that are now sadly defunct. Foden trucks was a major British heavy goods vehicle builder for almost 120 years, and a major presence on the British funfair scene.
Edwin Foden started out apprenticed to Plant & Hancock, a maker of agricultural equipment. Leaving for a spell at Crewe Railway Works he returned to Plant & Hancock at the age of 19, eventually becoming a partner in the business. On the retirement of its proprietor George Hancock in 1887 the company name was changed to Edwin Foden Sons & Co. Ltd. Initially building industrial engines, small steam engines and traction engines.
The firm moved from traction engines into Steam Lorries when restrictions governing road transport were eased in 1896 which allowed speeds over 12mph, and removed the requirements for a man to walk in front of the vehicle with a red flag.
E.R.F.
By 1930, Edwin's son, E.R. Foden left the company after a disagreement over the future direction of road transport, he feeling that the future lay in Diesel engined lorries. He founded the rival firm of ERF, (his initials) another firm favourite on British fairgrounds and subject of an additional article at a future time.
Foden eventually realised he had been right thereafter rapidly switching to diesel production with the launch of the Foden F1.
By 1948 Foden were producing a range of vehicles including buses. Launching their own 2 stroke diesel engine which powered many of their heavy models. They also began offering Gardner diesel engines as an option.
By 1958 glass reinforced plastic cabs were introduced, leading to the first mass produced tilting cab in 1962.
It was this combination of rugged construction, Gardner Diesel engine and rot proof cab which led to the Foden range becoming a major force on British fairgrounds. Most vehicles used in the industry were purchased used, and the cab being rust proof was a major plus point. This, along with the Gardner engine which had a legendary reputation for reliability, and the tough build quality was a perfect combination for vehicles expected to have a hard life on the funfair circuit.
Micky Mouse Cab
One of the most popular of the early Foden's was the Micky Mouse Cab. So called due to its resemblance to the cartoon character.
Foden Trucks S108
Probably the most widely used type of Foden trucks on British fairgrounds was the 8 wheel S108. The usual rugged build quality, Gardner engines, now putting out upto 350HP and plastic cab.
Eventually with the downturn in the truck market, and economic woes in general, Foden fell into receivership in 1980. Subsequently being bought by the huge American firm Paccar, who manufactured amongst others, Kenworth and Peterbilt.
The Daf Cab Years, Foden Alpha
After Paccar took over Leyland trucks in 1998, Foden use of the GRP cabs was stopped. Being switched to the steel cabs used on Paccar's other European marquee, DAF. Which were being produced by Leyland for DAF.
Sadly the Alpha was to be Foden's swansong. In 2005 Paccar announced that production was to cease. Ostensibly to allow the Leyland factory to concentrate on increasing DAF production. The final vehicle to roll off the production line being an 8 wheeler. Which was delivered to the British Commercial Vehicle Museum
Our Trio Of Foden's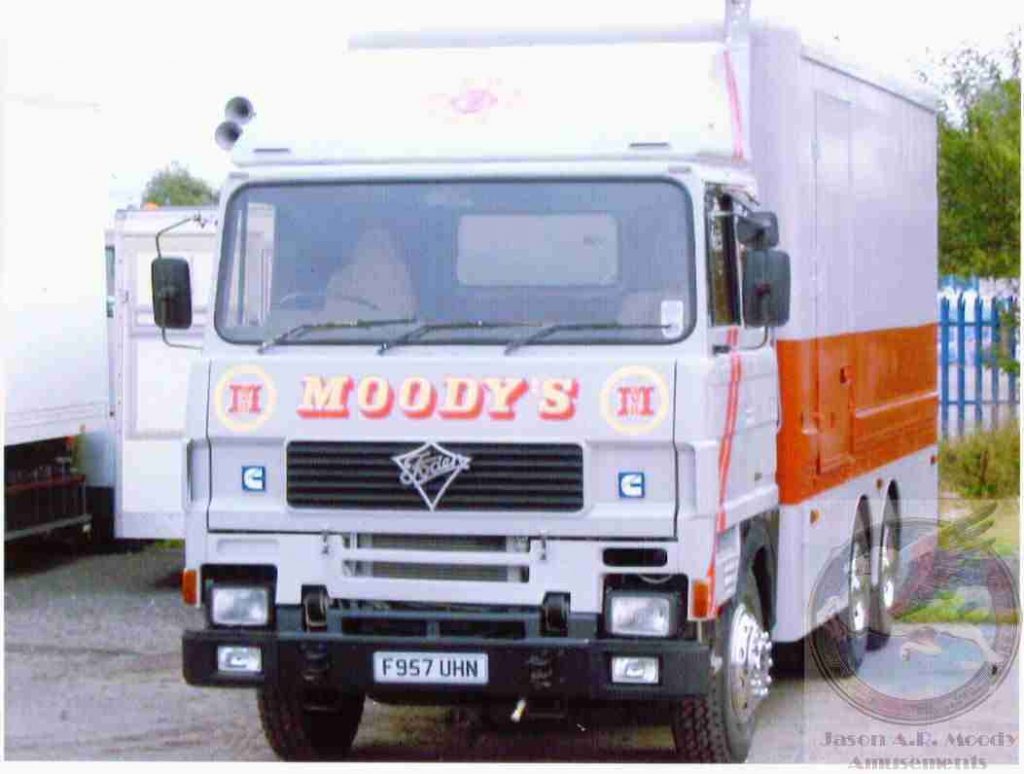 The trio of Foden's we operated while still attending traditional funfairs.