funfair events
9 April 2022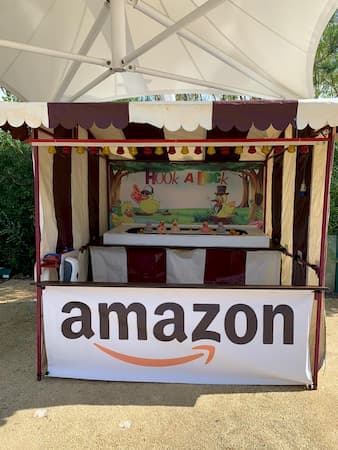 We are often asked what are the best funfair stalls for a wedding. There is a huge range of games available for weddings, parties and events. Having provided them for thousands of events over the years, we have a good idea of what does and doesn't work. Unfortunately many clients have different ideas.
Working on the 'customer is always right' principle, maybe we should just say nothing and let them have what they want. However that usually leads to dissatisfaction, and that isn't our measure of a good event.
So lets have a look at what you should have, and some of what you shouldn't have at your big day.
Hook A Duck
This is one that crops up regularly, and is firmly in the don't recommend camp. The game is simplicity itself, you are armed with a stick, at the end of which dangles a hook. A tank containing little rubber ducks floats about and all you have to do is hook one. Then you get a prize and everyone is happy.
The trouble is, on a traditional fairground, you pay to play, so people have a single go and the prize giving can be controlled. At a wedding or typical corporate event, the guests play for free. So unless you have paid extra for massive amounts of prizes, the kids will play continuously to the prizes are exhausted. Then the game is left unplayed for the rest of the day, skill games like coconut shie will still see use after the prizes are gone because the guests like to prove they can win.
It is possible to slow the prize giving by marking some ducks as winners and most as losers, but the kids are then disappointed as they expect to win.
The usual argument raised in favour is that it lets the little ones win, but we can operate any game in a manner to 'help' the kids win.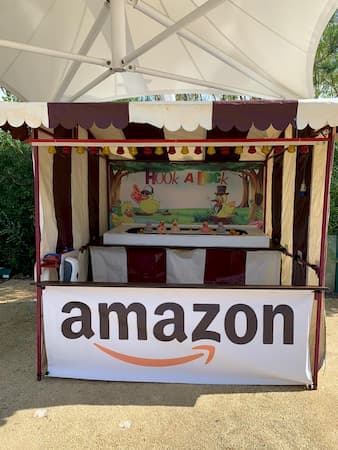 Coconut Shie
This is firmly in the recommended camp. Possibly one of the most classic of funfair games, the principle is easy peasy. Throw a wooden ball and knock a coconut off.
Now, I'll let you into a secret. On a traditional fairground, some of the coconuts were replaced with 'duds'. These were fake coconuts, made from a really heavy wood. Theoretically you could knock them off. But you would probably need to use an exocet missile.
We don't need to do that, prizes are part of the hire price so losing them is already factored into the charges.
For the younger players we can move them closer to the targets, and for the really little ones we let them toa coconut rather than knock it off.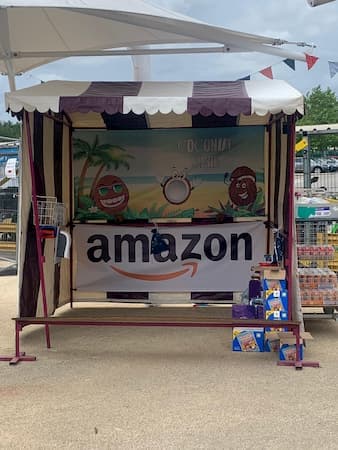 Test Your Strength
Another of the old tyme classics. Swing the hammer, hit the peg ring the bell to win. Again we can adjust the force required to make it easier for smaller guests. Or instead of ringing the bell we can set a number on the 1 to 10 scale for them to win.
It is a common misconception that its pure strength that wins, but in fact its an equal part of strength and accuracy. You need to hit the peg perfectly flatly. Sometimes its fin when a smaller lady is just the right height to hit the peg properly and win, leaving the big musclebound guys hitting it with all their might and walking away failures.
Cans Off The Shelf
This is one of our harder to play games. Knock the cans off the shelf using the three soft balls. Sounds simple, but the cans are heavy and they have to be completely off the shelf to win. This does require a fair bit of strength, along with accuracy. We help the smaller guests by reducing the can count, knocking some off for them, in fact we can guarantee a win when we need do.
This makes a great second game, being a bit harder it gets the competitive juices flowing, testosterone kicks in and the guys need to prove who can do it.
Hoopla
Another of those, dead easy to play, really hard to win. Well not so hard really, cos our rings are larger than normal. What happens on the fairground, (another of those secret things we are letting you in on here), is that usually the square blocks with the good prizes on are only fractionally smaller than the rings. It is possible to win, only just. Some of the blocks with the boxes of sweets on are smaller so it appears that a stream of people do take prizes.
Shooting Gallery
Traditionally we used air rifles and pellets. Sadly with the Health and Safety Gestapo, sorry executive, its too much hassle. A little known fact is that as members of the Showmen's Guild, we actually have a firearms exemption certificate which allows us to buy actual live guns that fire real bullets without needing a licence, although we are restricted to 0.22 calibre. I would love to see the local HSE guys face when we turned up with that one.
Anyway the easiest solution now is cork firing guns. Totally safe and still fun we have a range of targets of differing levels of difficulty so can tailor a game to suit any requirements.
Corks also add a random element to the game as they tend to fly in random directions. Probably why the British Army use bullet shaped bullets rather than corked shaped ones.
What I love is when someone who has never fired a gun picks one up and is transformed into a long range sniper. Well in his own head at least.
So what would we recommend as the best funfair stalls for a wedding? Our most popular package is coconut shie, hoopla and cans off the shelf. These provide a selection that suit all ages and abilities. As well as being different enough from each other to make it fun. If you want to add to them, shooting gallery would probably be our recommendation.
Whatever your requirements, if you are looking to hire funfair games, get in touch and we can tailor a package for you.