Fun Story, Photo Booths
30 January 2020
Continuing our restoration we have just finished the front subframe. That's the classic Mini version of a chassis, they have one front and one back. The front one here carries the engine, front braking system and front wheels.
This one was a bit worse for wear than the rear frame. Necessitating replacing the entire metal structure with a new one. We took the opportunity whilst doing this to replace and upgrade the braking system, drive hubs and brake pipes.
We replaced the entire front subframe to give us a firm base to start from.
We also made the decision to go back to solid mounts on the front subframe and semi solid on the tower mounts. Although it is meant to slightly worsen the ride quality, it is supposed to vastly improve the handling, and lets face it, the best part of a classic Mini is the ability to throw it around corners, fast.
We also decided that we were going to replace the brake discs with some uprated versions. After much research settled on some Red Calipers from KAD. To be honest this was as much for the looks as anything else. They are absolutely stunning in anodized red, we also added vented and grooved discs, and lightweight alloy drive hubs for a little weight saving.
Braking System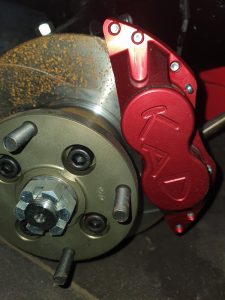 We also added the obligatory Goodridge braided brake pipes. Fully adjustable tie bars and bottom control arms to allow the suspension to be set up to perfection.
The late great Colin Chapman once said, give a car more power and its faster on the straights, make a car lighter and its faster everywhere. To this aim, we swapped the tower bolts for lightweight alloy alternatives. Another product from Specialist Components, a little weight saving along with stunning looks.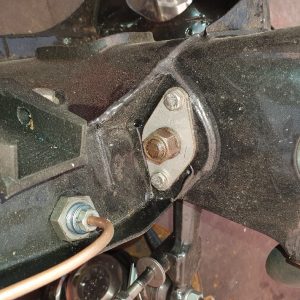 Its meant to be a classic mini restoration, but the aim is to use modern components to make it better than original.