Catering, Event Planning, funfair events, Funfair Rides, General
28 August 2020
Like most of the rest of the events industry, our previously full order book for 2020 disappeared literally overnight due to the pesky little microbe doing the rounds. Like all of our compatriots in the industry we sat and wondered if we would ever work again, and if so when. So when we suddenly started picking up bookings for August it was both a godsend and a worry.
A godsend obviously as we would be earning again. A worry about how things were going to be under the 'new normal' as it is being called. The first of the jobs to arrive was for a previously regular client, Amazon. Usually through the year we do a mixture of work ranging from handing out catering goodies during Prime and peak periods, to providing a full fairground for their summer barbeque.
The first job was giving popcorn out at one of the Northern fulfillment centres. We had done the same thing a number of times over the years at the same centre so usually this would be a nice easy repeat job. However after talking with the client and doing our own research we put together a package of anti Covid-19 measures.
Catering Carts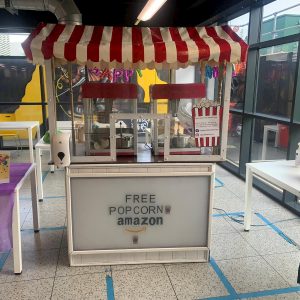 The first change was to install clear polycarbonate screening on the carts we use to separate our staff from the guests. Although we could still interact with them to a degree, it did feel weird and somehow strangely disconnecting. Usually we engage in a bit of banter and joking, but this felt more 'institutionalised.'
Zoono Anti Microbial
After researching most of the sanitisation options, we settled on Zoono. Not a cheap option, this bonds a film to the surface of whatever you spray it on that lasts for upto 30 days. The product actively kills virus molecules after application, rather than just during the cleaning process. For complete safety our standard operating procedure is to apply it at the start of each job. We also use their hand sanitiser, which creates a similar barrier on your hands, this time lasting for 24 hours.
Boris Says, Hands – Face – Space
The carts have a hand sanitiser mounted for the guests to use. We also built a number of portable units that can attach to hand rails, counters, carts, rides etc. This means that even when we are using sub contractors we can ensure that all the attractions we supply come with approved sanitisation facilities for the guests and staff.
To round off our anti Covid activities, we supply all of our staff with full face shields to help protect them and the guests from each other. These are far more comfortable to wear for extended periods of working than the little face masks that we tried. Well and truly back in the saddle