Event Planning, Photo Booths
6 May 2021
Meet Betsy the camper van. A photo booth with a difference. The original photo booths on the party scene were basically boxes. Much like the old Woolworths or Post Office booths where you would go for a passport photo. Indeed some of the first models used inkjet printers, so not only were they slow. but you would have to wait for the ink to dry.
As things progressed they started to use dye sublimation printers. These used rolls of paper matched to rolls of ink, the paper would be run through the print mechanism four times. Cyan, Magenta and blue would be overlaid on the paper to form the image, then a clear laminate film sealed over the top. The prints were not only quick, but instantly dry and water proof.
The booths themselves though tended not to change much, still being basically boxes. Then quirky booths began to appear. Booths in London taxi cabs, classic mini's, a telephone booth, even a Del Boy Trotter van had a booth in.
Mini Camper Booth
We had booths installed in all of the above. We were always on the lookout for something different we could stick a booth in. Looking around different vehicles we came across a mini camper van. It looked like a VW camper that had been shrunk. So we investigated. It turned out to actually be a Subaru Sambar. It was one of a special range of vehicles sold in Japan called Kei cars. These had to be no more than 3.4 metres in length with an engine no bigger than 660cc.
Our particular model was actually a high spec version. It had the 660cc supercharged engine, along with four wheel drive and an interior that allowed the front seats to swivel around and face the rear seats. Along with two sunroofs.
The car in its basic guise looked nothing like a camper. However the Japanese seem to have an obsession with VW campers. This led to numerous firms converting them with fibreglass panels to look like the VW T2 campers.
The main change is the addition of a large VW front grill, along with side panels and stainless steel bumpers. A close look will rapidly reveal it isn't a genuine VW, but it is surprising how often people will ask if we had a VW specially shortened.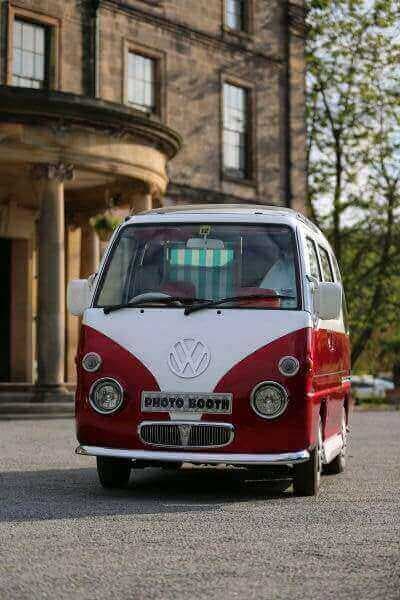 Ours was a blue and white colour when it arrived. We had it resprayed pearl white and candy apple red. Along with a new leather interior in red and white and an internal respray of all the panels.
For festival themed jobs we added a roof mounted surf board to dispense the prints, a music system playing Beach Boys songs and tiki themed dress up accessories.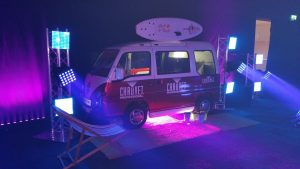 Betsy The Camper is definitely a perfect match for festival themed weddings and events.