Photo Booths
26 June 2020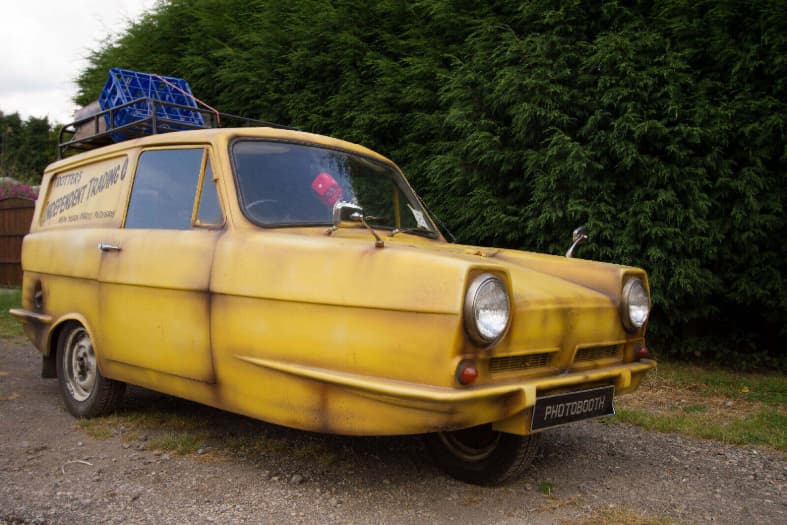 We have a number of different iconic and quirky vehicles. None attract as much attention as our Del Boy Trotter 3 wheeled van. Driving along the road you will suddenly realise that no one has overtaken you for a while. When you look in the mirror, a car will be level with the trailer containing the van, taking photos. Once they start to pass us and get level with our towing vehicle, they look disappointed. I think they expect David Jason to be driving.
Pull into a service station for a McDonalds and when you come out there will be a crowd around the van, never fails.
The van itself is not, as Del claims in the series, a Reliant Robin. The Robin is a much newer vehicle. The actual van has the much more grandiose title of Reliant Regal Supervan MkIII.
Raleigh Cycles
The Reliant motor company was actually formed when a management buyout occurred of the motorised division of Raleigh Cycles. They had decided to concentrate on pedal bike production so sold the motor division off.
The new management needed a name for the company, and as many of the parts they had acquired were stamped with the letter R for Raleigh. They decided to choose a name beginning with R so they could reuse the parts.
Photo Booth
We acquired the van to convert it into a photo booth. You sit inside and it takes your photo, then the print pops out of the suitcase on the roof. It was actually taxed and tested and fully road worthy when we bought it. The day we fetched it home, I picked my daughter up from school in it. That was the last time I drove it on a road, what a nightmare. The handling, was like driving a jelly, the engine was about 2 inches away from your left leg so it got rather warm. The gearbox was like stirring a knitting needle in a ball of wool. The acceleration, well, I think from a standing start I could beat it on foot to about 25 mph at least.
But for all its faults its fun. We did a job in a shopping centre in West Brom. The amount of elderly gents that come to talk to me and reminisce about it being their first car. How they used to pile 6 or 7 in the back and go to the seaside, boy they were brave men in that generation.
Restoration
During the lockdown, we took the opportunity to carry out a full restoration on the car. The chassis was taken back to bare metal. Repaired where necessary. Treated and fully resprayed. The engine was stripped down for a rebuild but found to be to damaged for economical repair. We managed to source an excellent running moderner version of the Reliant engine. This was fully refurbed then fitted into the chassis, along with a fully restored rear drive axle, clutch and brakes.
The body was sanded back to its gel coat. The myriad of small cracks, dings and gouged sections filled with a carbon fibre compound for strength, then coated with a top glaze. Two coats of high build primer were followed by two coats of Ford Daytona yellow with a matting compound to take the 'newness' from the look of the paint.
Finally Craig Ainge, a local signwriter reapplied the lettering (actual signwriting this time rather than vinyl stickers), and added the rust streaks and dirt to the body to make it look, well, dingy!
Del Boys Props
We always provide a box of props for people to use with our photo booths. Usually hats, wigs that sort of thing. With this one we provide props themed around the series, so there is triggers broom, granddads hat etc. We did have Del's sheepskin coat, till some light fingered prat decided to purloin it on a job. I remember on the West Brom job, my daughter going barmy, all because I had her inflate the blow up doll, cos I was a bit out of breath.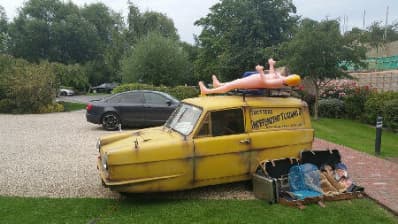 The photo booth software is custom reprogrammed to play short clips like 'You Plonker' and 'This time next year we will be millionaires'
In short I don't think we have anything that is quite as much fun. So if you need a photo booth that will make an impression, then Del Boy Trotters 3 wheeled van is definitely it!